Beds for a dog is a place where they do more than just complete their sleep. Just as humans relax and make themselves comfortable on their bed. They take a rest and reboot themselves after a tiring day, the same way dogs do. After having a hectic day, sniffing and barking around, they find peace after laying down on their bed.
That said, you will have to give your dog the best bed so that they have their "me time" too. To choose the right one based on the needs of your furry friend, there are several things that you should consider. Do your research before putting in money to make sure that you don't end up disappointing your friend.
A few basic things that should go into consideration include material, size, color, hygiene, etc. Before buying that cozy spot for your mate let us find the things that should be kept in mind. If you are looking for fancy dog beds, visit this site.
Considerations To Buy A Dog's Bed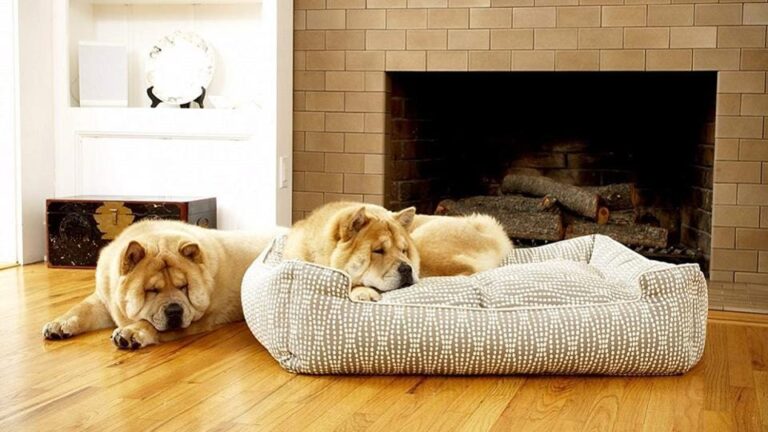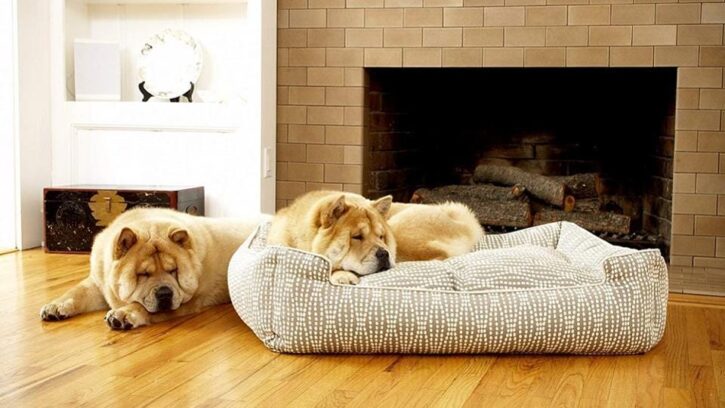 Several brands are manufacturing dog beds and have their products released on the market. There are several different kinds available for you to choose from. The material of the bed is an obvious thing that needs consideration just as the size and fabric.
Some of the common choices available are orthopedic beds, mattress pad beds, elevated beds, doughnut beds, etc. Keep reading to know some other factors that should be considered.
1. Material of The Bed
Watch the habits of your mate, do they keep chewing anything that they get their hands on? Or is it that you have an old friend who needs extra care now, and you want to give them a bed with extra cushioning? There is something available for everyone. That said, for a dog that chews everything, metal frames with elevated beds of woven material are available. Such beds are claw-proof and chew-proof so that dogs don't damage them often.
On the contrary, your senior friend will be comfortable in a memory foam mattress that comes with bolsters. This bed provides the required support to dogs right from head to toe. Breeds that get overheated or have hot spots in their body will feel relaxed and calm on a bed made of cool fabric. No matter which bed you choose, it should be a durable choice with a cover that can be easily washed in a machine.
2. Sizing Guide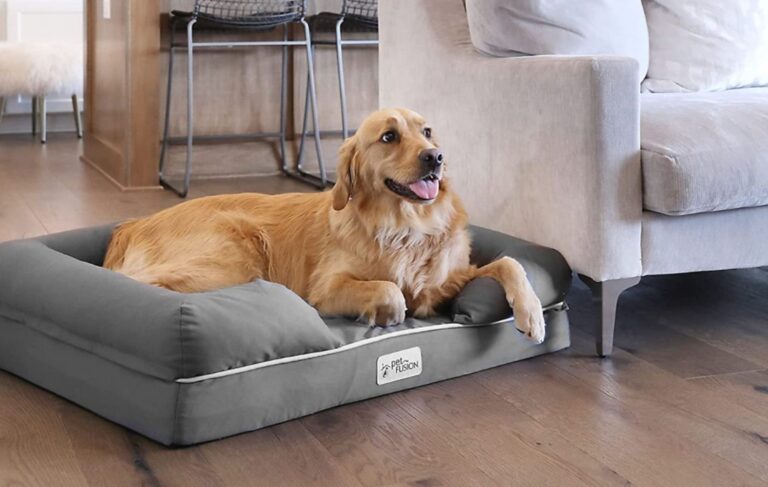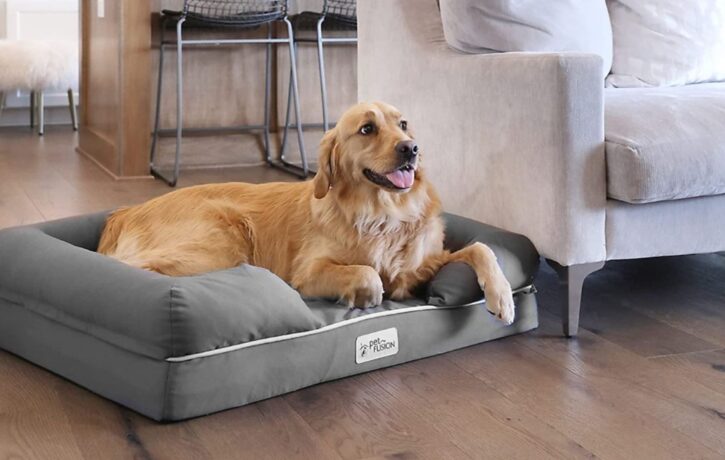 The size of the bed for your mate should be purchased keeping the size of your dog. That said, if you have a breed that has a huge build, you should buy a big bed that can fit a bigger dog. Furthermore, dogs who have a habit of stretching out while sleeping will need more space compared to the ones that sleep in curled positions.
Though the size of your dog is a critical indicator in deciding the size of their bed, it is not always a key indicator. It is because some larger dogs may have a habit of sleeping with their tail curled up to the nose, whereas some smaller breeds may like to sleep with their hands and legs stretched out. Hence, based on the sleeping habits of your dog, you need to decide.
3. Its Price
Another major considerable factor that should not go unnoticed while buying new things is the cost. You should have a budget of the amount that you are ready to spend on the bed. If looking for a bed that will need a one-time investment but lasts long, you will have to keep a budget of around $50-$150. Based on the features, brand, and design, the price can go up as well.
Even if the price gets steeper, you should have in mind that the bed is for the comfort of your mate, and you should give him the best. Give your friend the sense of home, with a bed that fits your budget and is comfortable at the same time. Hence, make a wise choice.
4. The Design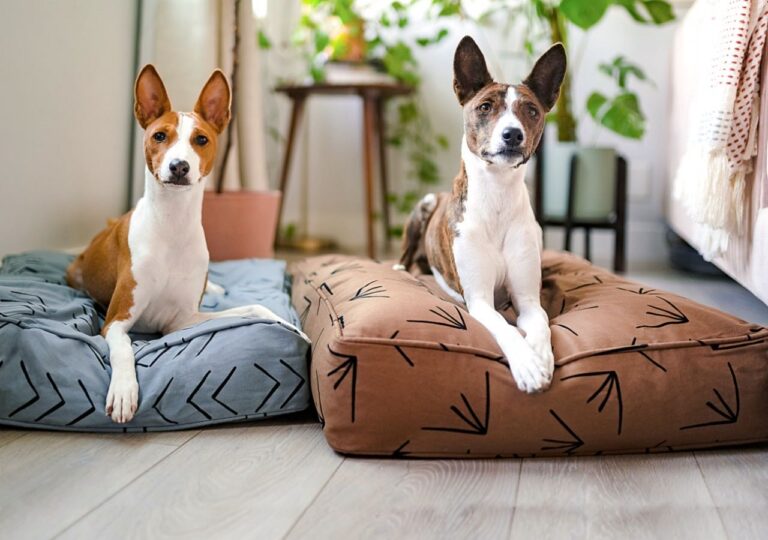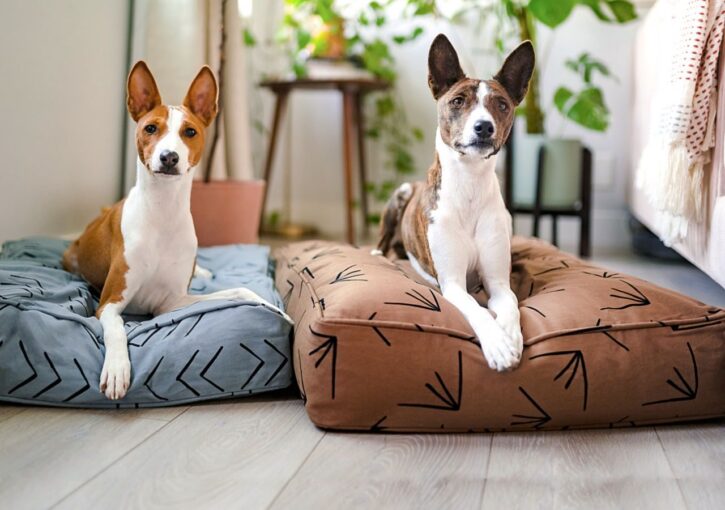 Aesthetics are important as well. Just as when you buy something for yourself, you keep the interiors of your home in mind. While buying a bed for your bed, you should do the same. You will be keeping that bed in your home, so it shouldn't be an odd piece. Furthermore, nothing is more exciting than getting the best bargain for a product, but quality matters too. Several cheap quality products are available at incredibly lower rates, but such beds may fall apart only after the first wash.
Additionally, the market has some cheaper beds as well that are stuffed with loose polyester, and such beds cannot be re-stuffed if required. You should go for a choice that has a separate case so that you can just pull off the case and wash them off. This ensures the hygiene of your dog and their bed as well.
Washing the bed of your dog is something that you will have to do quite often, much more than what you think.
5. Raised Beds
If your dog is the one that likes to stay off the floor all the time, you should pick a different bed made for them. Such digs survey the environment for their satisfaction and so raised beds are available in the market for them. That said, keeping the traits of different dogs in mind, different kinds of beds are available so that it meets their specific demands. You can visit a pet accessory shop and let them know the traits of your dog and they will suggest better.
Raised beds are also good for people who like to keep their dogs away from the cold floor. Such beds look like a sofa and are made for resting the dogs.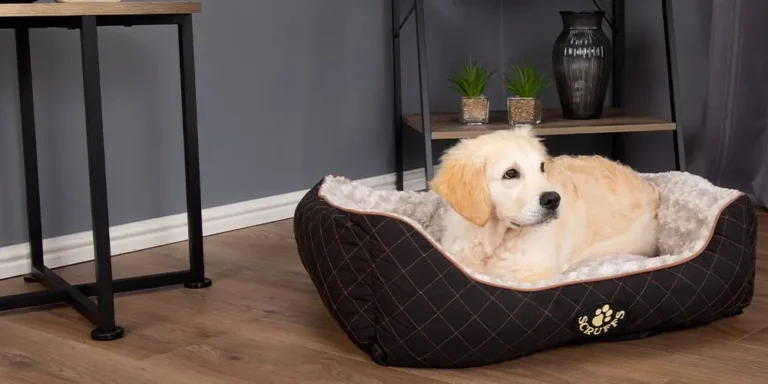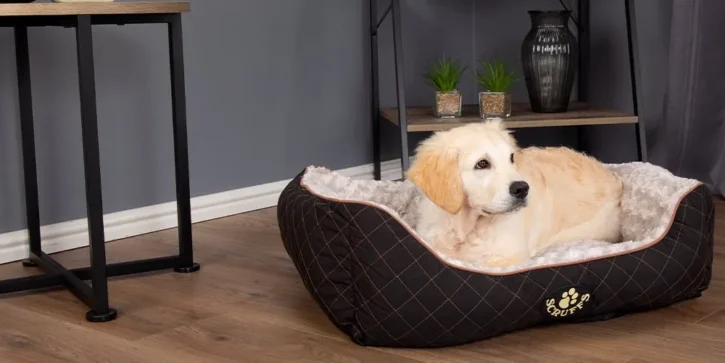 The Bottom Line
Above mentioned are a few pointers that will help you go ahead and make an adequate choice when it comes to the bed for your pet. When you give them that much-needed comfort, your companion will be overjoyed and will start sleeping peacefully at night. If you are new to the world of pet accessories, we hope this guide helps you make an ideal choice.