Whether you're planning on totally redoing your bathroom or just spicing it up with some simple accessories it is vital for you to have a vision. Switching things up with your new tissue box cover, soap dish, lotion dispenser, and similar items can make a difference while allowing you to transform and play with your DIY style, but on a budget! Not too sure what to look for or how to change your vibe? Keep on reading and get some ideas down below.
What are the different types of accessories that you can go for?
1. Toothbrush holder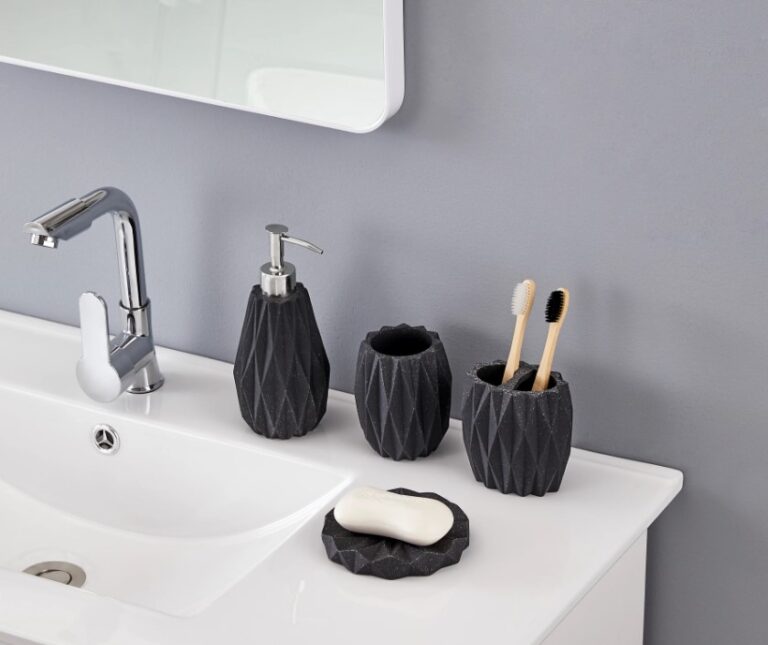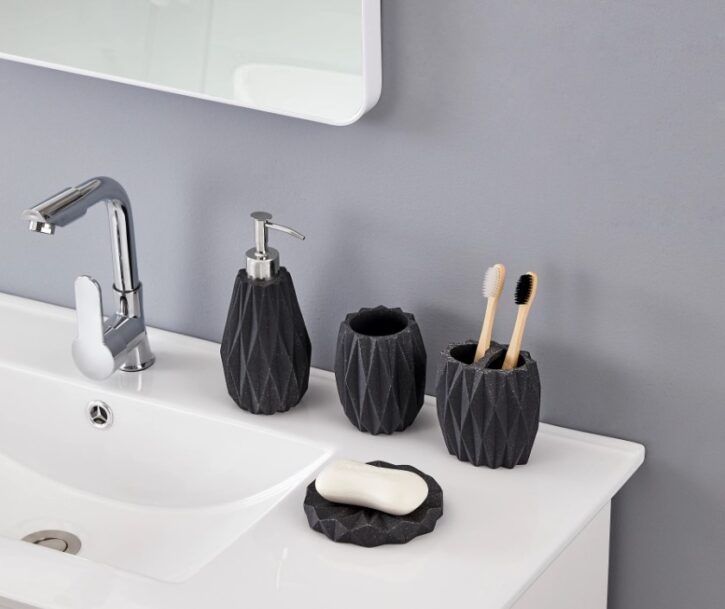 A toothbrush holder can come in any color, fabric, or size. You can stop using your pre-historic coffee mug as a toothbrush holder and finally get a stylish piece that will add taste. You can go for a set and use the same color combo as the rest of your family, or you can have everyone pick out their favorite color and have it fully personalized.
2. Soap holder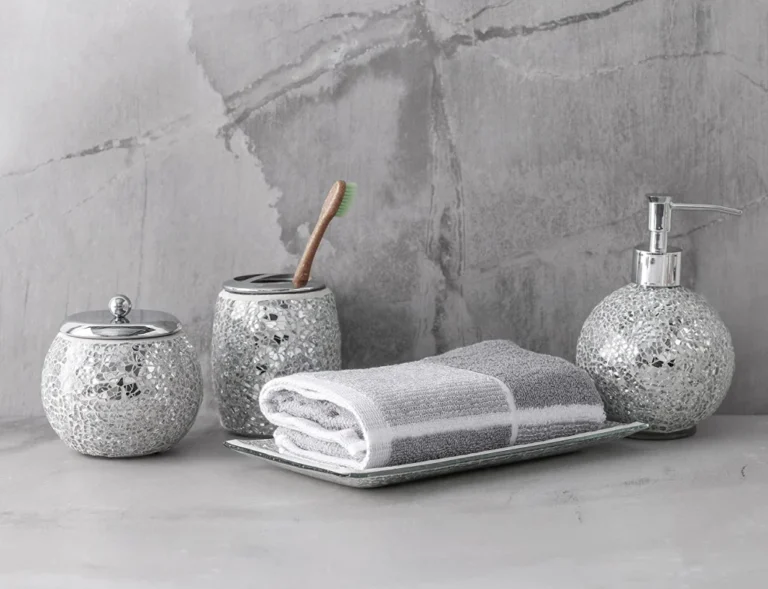 No soap should be neglected! Both liquid and firm kinds can have their own holder or a cute little box. You don't have to buy liquid soap from the store and leave it in its simple, plain, and plastic packaging, with that ugly label showing upfront. Go for a fun, unique & cute shape and match both soap holders for that finishing touch!
3. Toiletpaper holder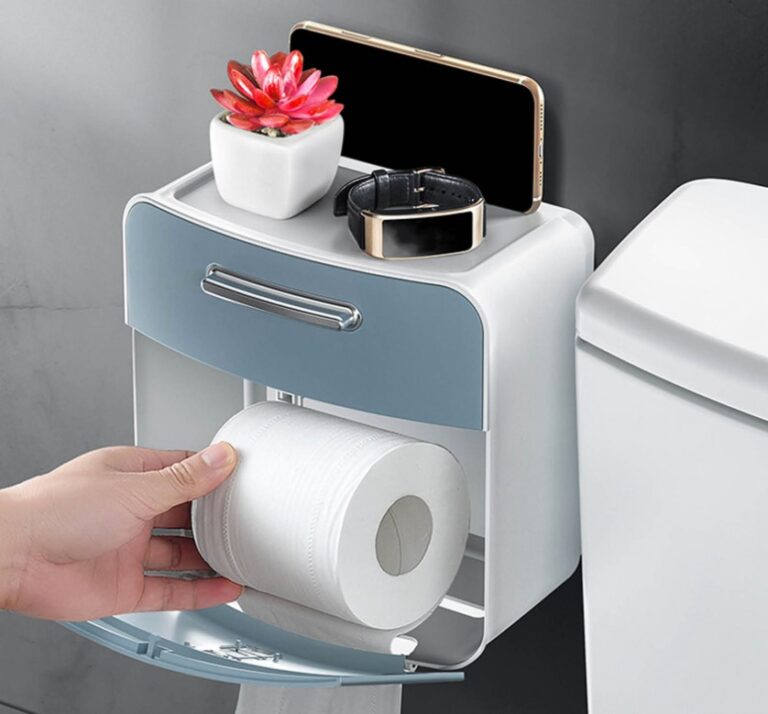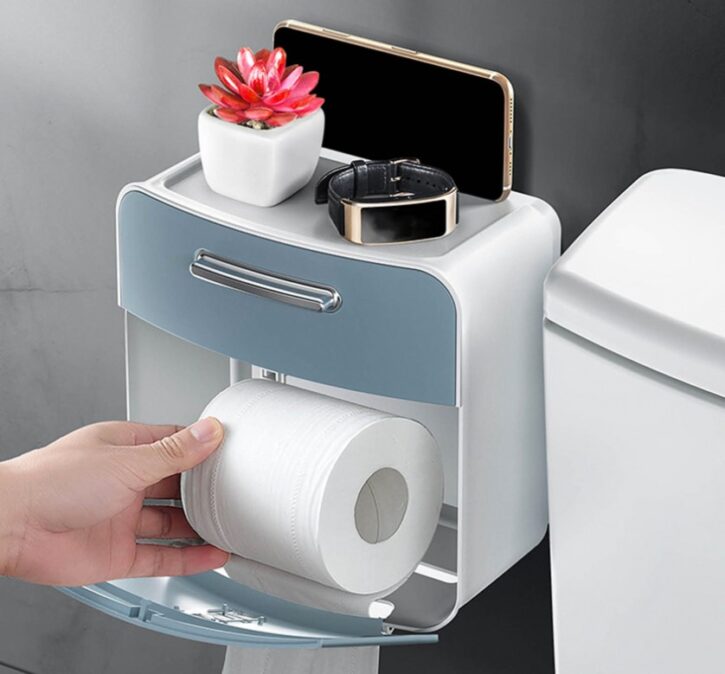 A lot of people don't have a TP holder. The truth is that it gets tossed around, and can often be found on a washing machine, on top of a bin, next to the sink, on top of a cabinet, and only sometimes on a holder. Well, if you had a cool golden TP holder with some golden gems you wouldn't mind showing it off properly, isn't that right?!
4. Decorative trays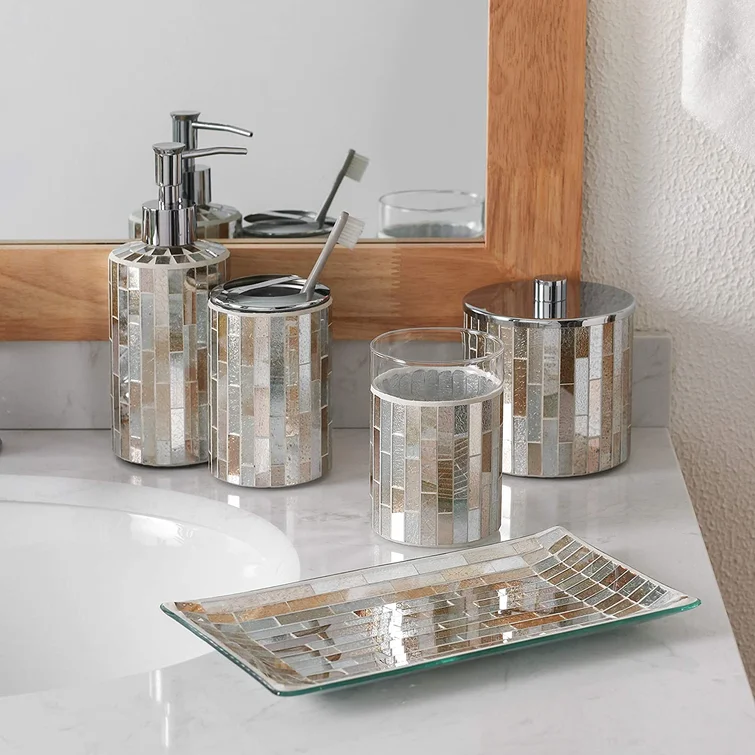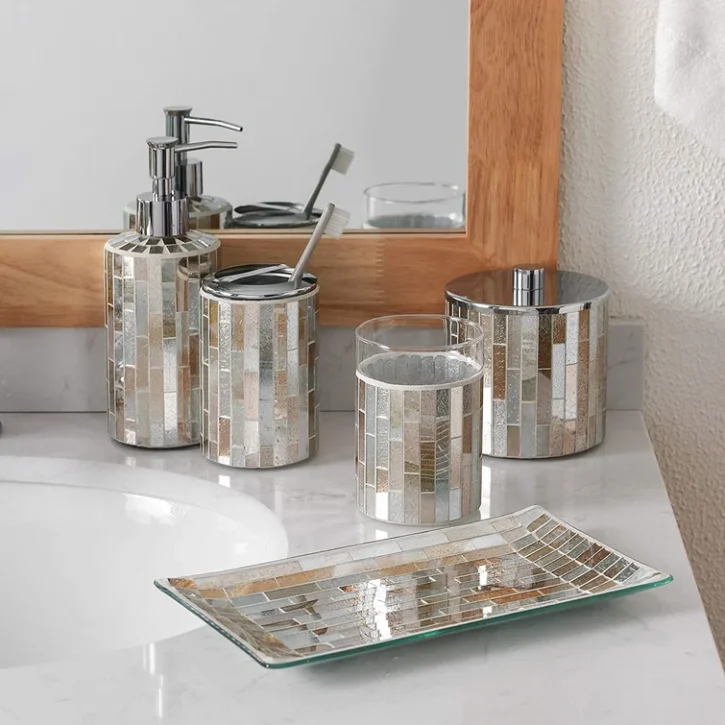 Trays are a new thing and have become a popular trend in 2023. We can thank TikTok for making them come back! Nowadays, golden or silver trays are everywhere! You can use one yourself to store your candles, soaps, or jewelry when taking a shower! Your bathroom will definitely look a lot more formal and luxurious due to this accessory.
5. Trash can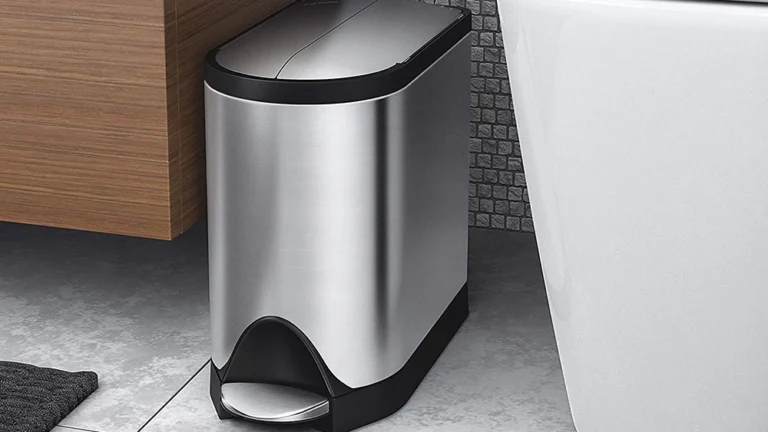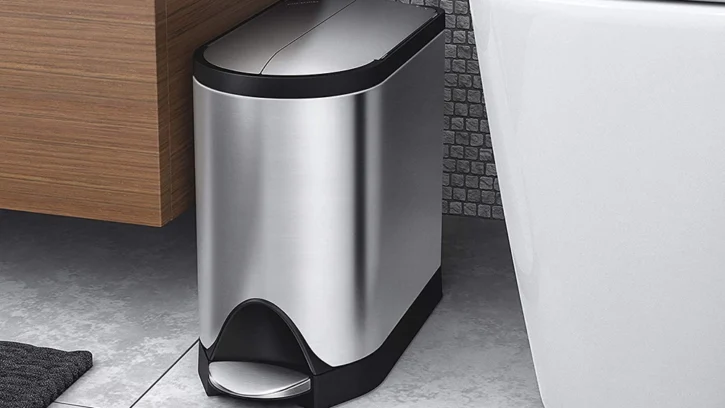 No reason to keep it plain and simple when your trashcan can have a unique finish! Don't stick to the dark brown rusty and rustical type. Go for something durable, with high shine and that comes in your favorite color. Pair it along with the rest of your items.
6. Toilet brush holder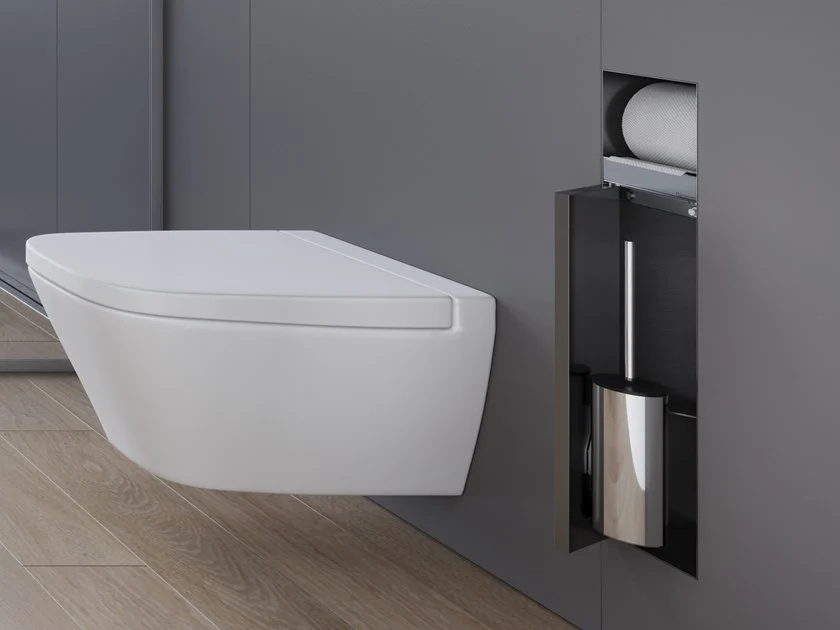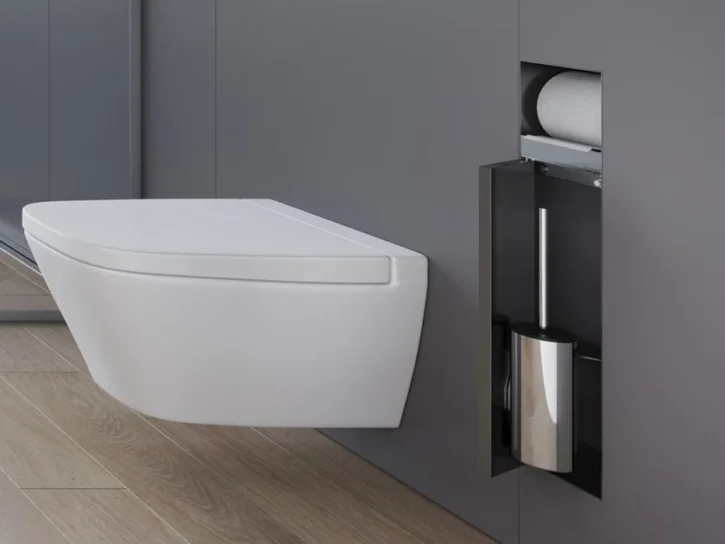 Not a lot of people care or even pay close attention to a toilet brush and its holder. However, if you do or if you wish to leave a good impression try spicing it up and going for something different! Avoid the old-school all-white plastic model, but add a bit of color that will go well with your bathroom aesthetic and tiles.
What are the different materials and prints?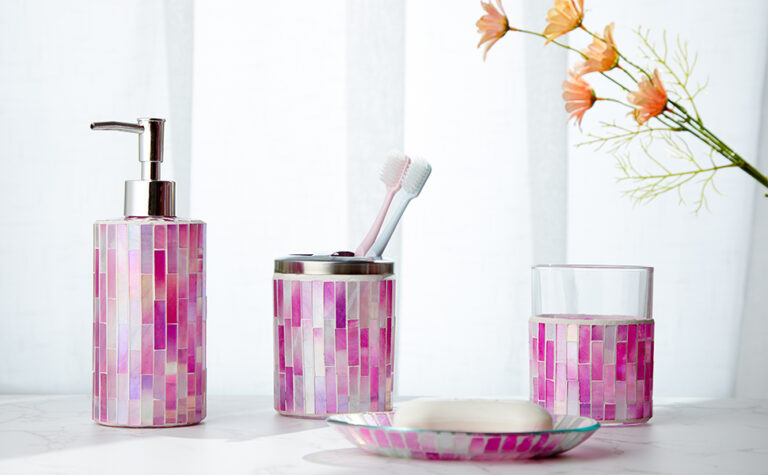 1. Pink glass
You can't go wrong with an affordable glass bathroom set that's super pretty and pink. The clear color with a hue of pink will add class and sophistication. You will enjoy a pink soap dispenser on top of a pink glass tray! A must-have for that romantic soft vibe.
2. Marble
Marble elements will never go out of fashion. If sleek white marble is your signature sign, go for a soap dispenser, tissue cover, soap dish, toilet brush holder, and toothbrush holder! Marble might be a bit pricey to go for, but it is well worth it in the end. Great for newlywed couples who like classy looks and those who can handle the maintenance.
3. Mosaic
Mosaic prints have been around since ancient Greek, and they don't plan on going away anytime soon! If you love a bit of sparkle and you want to add that sea-like aqua experience to your bathroom, this print is a must-do for you! You can find a ton of different items in mosaic colors.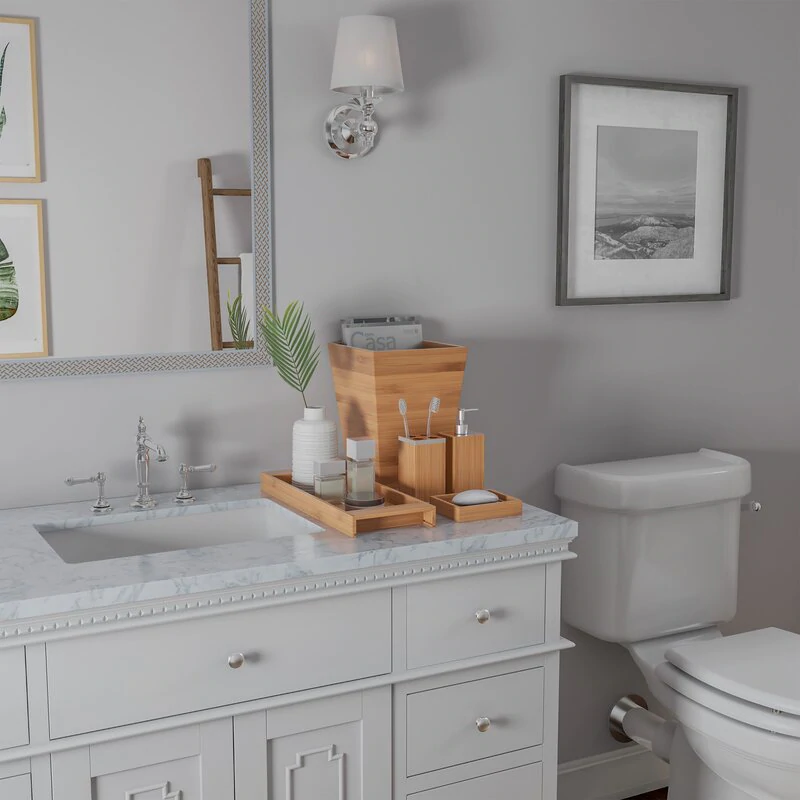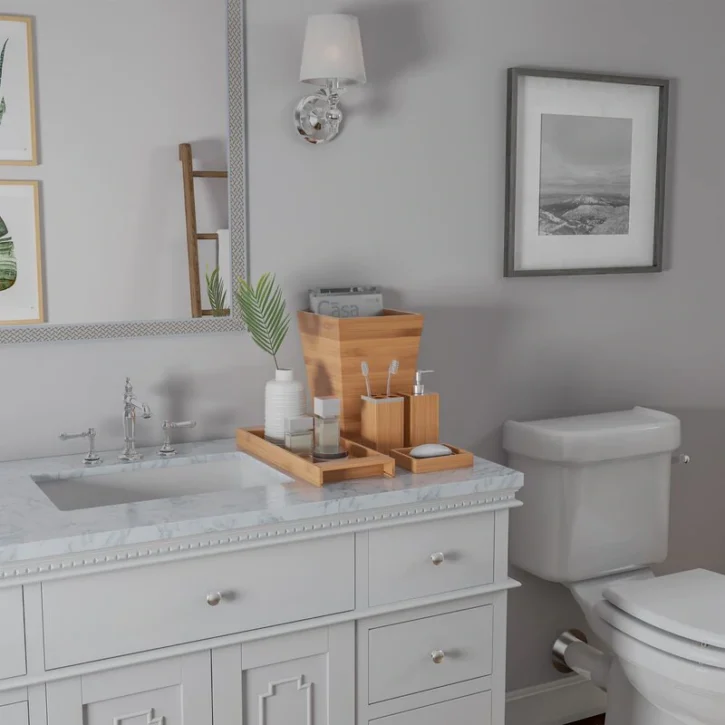 4. Wood
Wood accents will leave your bathroom looking rustic, natural, and organic. If you like clean lines, brown or nude colors, and simplicity, go for sustainable bamboo and wooden elements. You can go for this color for your trinket tray, soap dispenser, jewelry box, and even laundry basket!
5. Brass
Do not go for the "typical" brass, but instead add a hue of gold to it! A delicate circle overlay design in brass is a must-have for most homes.
You can install a brass shelf to tie the whole thing together. Go for your brass golden tray, toothbrush, and soap holder and enjoy its luxurious outcome.
6. Clear
Some people like to keep it looking clear and simple. If that is the case with you consider going super minimalistic with your bathroom. Going for clear elements and accessories you are allowing yourself to make a statement with bathroom tiles and a rug. A clear vibe is usually a safe choice and a go-to for families who can't mash everyone's preference into one style.
How to clean your bathroom accessories?
Keep your bathroom accessories looking fresh by using a drop of dish soap and warm water to clean them. Every material and fabric, as well as the finish of your accessories, is different, meaning that you will have to adjust your approach. Depending on the material, soft, non-abrasive cloth in the mixture should take off any hard water stains, toothpaste, and soapy residues. Clean them weekly and prolong their lifespan.
Where to find high-quality and pretty bathroom accessories?
If you want to add style to your bathroom but don't know where to begin or what to look for you are in good luck! In fact, we can help you pick out items that will suit your at-home use and your specific style. Find here high-quality bathroom accessory sets and enjoy their huge selection. They have a ton of different elegant and luxurious set options, all of which are durable, elegant, and timeless!