Just because your back hurts does not mean you have to go out and change your mattress. Sometimes, it could be the sofa that's causing your problems. Even if it isn't the sofa that's causing the issue, having a bad, non-supportive one certainly won't help take the pain away.
Now, we understand that it is quite difficult for an average consumer to find a good sofa. The possibilities are virtually endless and that can be quite overwhelming. On that note, we've decided to present you with some of the finest sofas on the market. These ones not only look good, but they will also help you battle through the pain. Let's check them out!
1. Our Top Pick – Novogratz Brittany Sofa Futon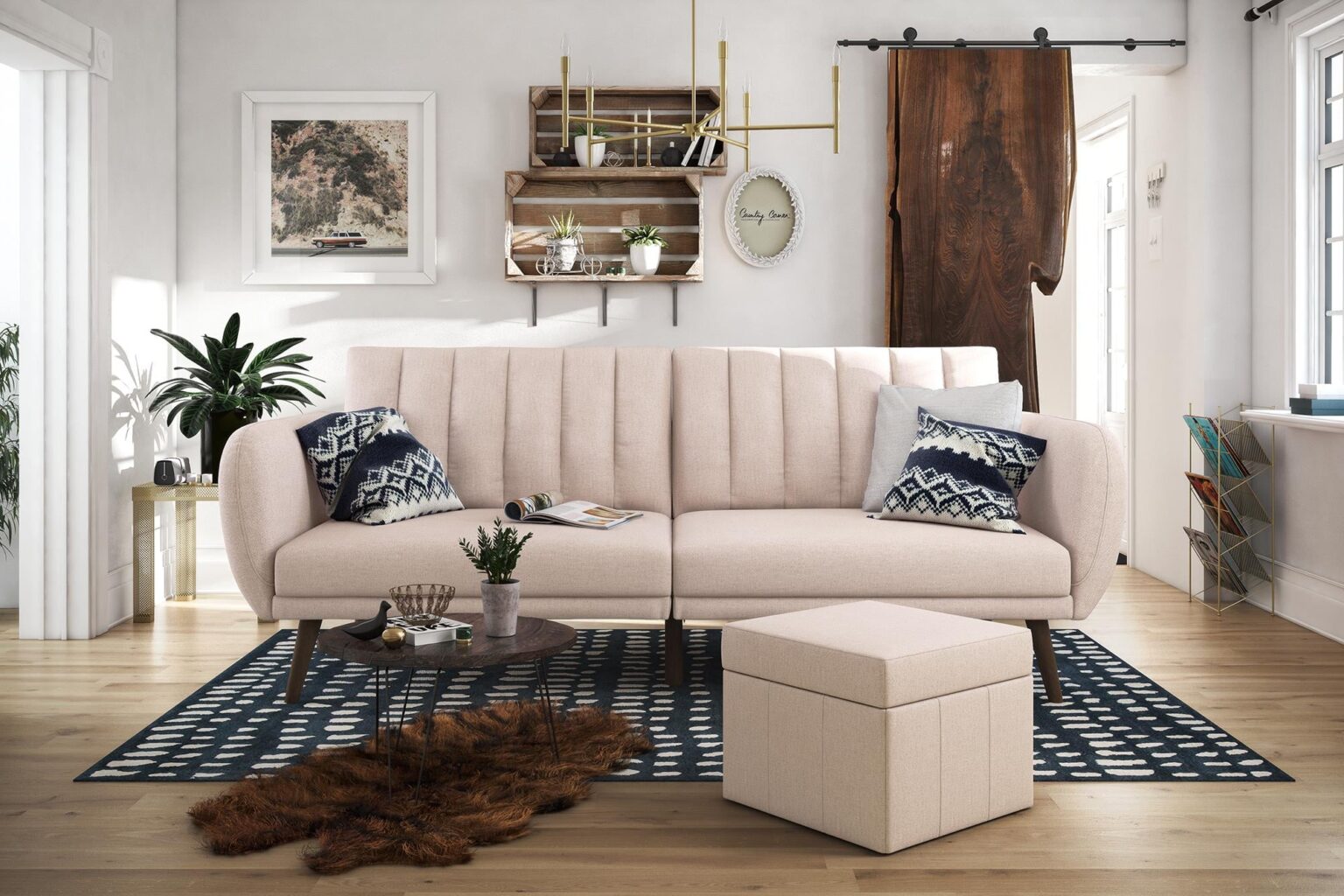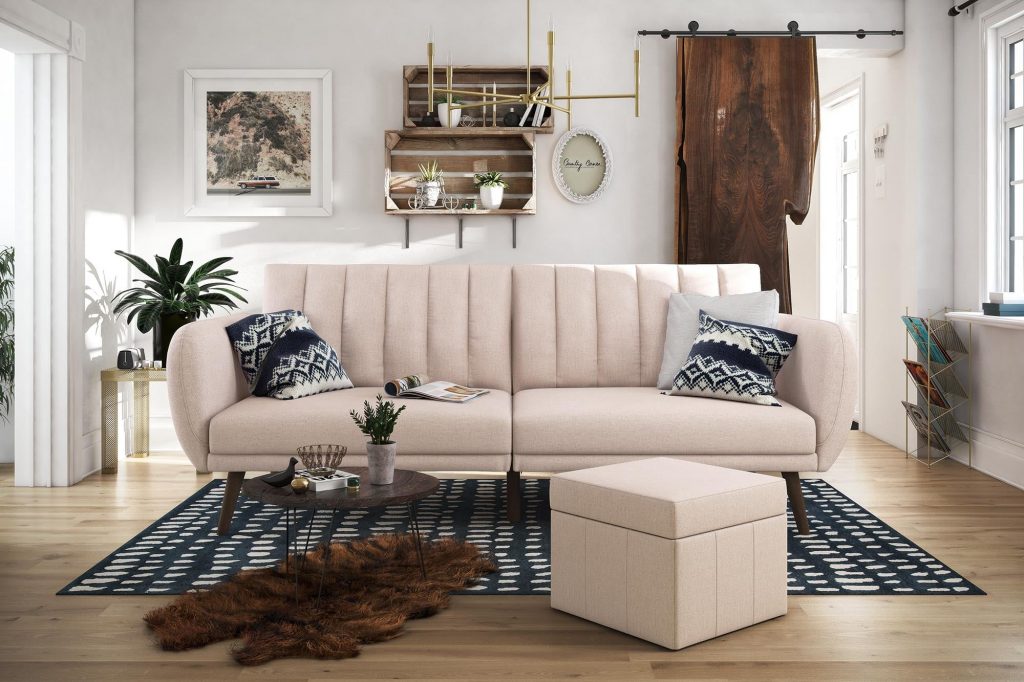 If you like spending a lot of your time in front of your TV, just watching shows or playing video games on your console – this sofa might just become your best friend.
This one is quite firm and supportive and pretty much ideal for those of you suffering from lower backaches. What's great about this one is that it can double as your bed, so this is also quite useful for small, studio apartments. The frame of this one is made from wood, so it is sturdy and durable. It will last you quite a long time, so no worries there.
As far as the cushioning is concerned, this is where this sofa shines the most. The cushions are ribbed tufted and filled with polyester and memory foam, ensuring great comfort, support and adaptability. Whether you're sitting or lying down – this sofa should provide enough support and comfort for your back.
Furthermore, it's a very stylish sofa. It comes in 11 different colours, which pretty much guarantees that you'll be able to find one that matches your interior perfectly.
2. Our Luxury Pick – Upminster Luxe Velvet 3-Seater Sofa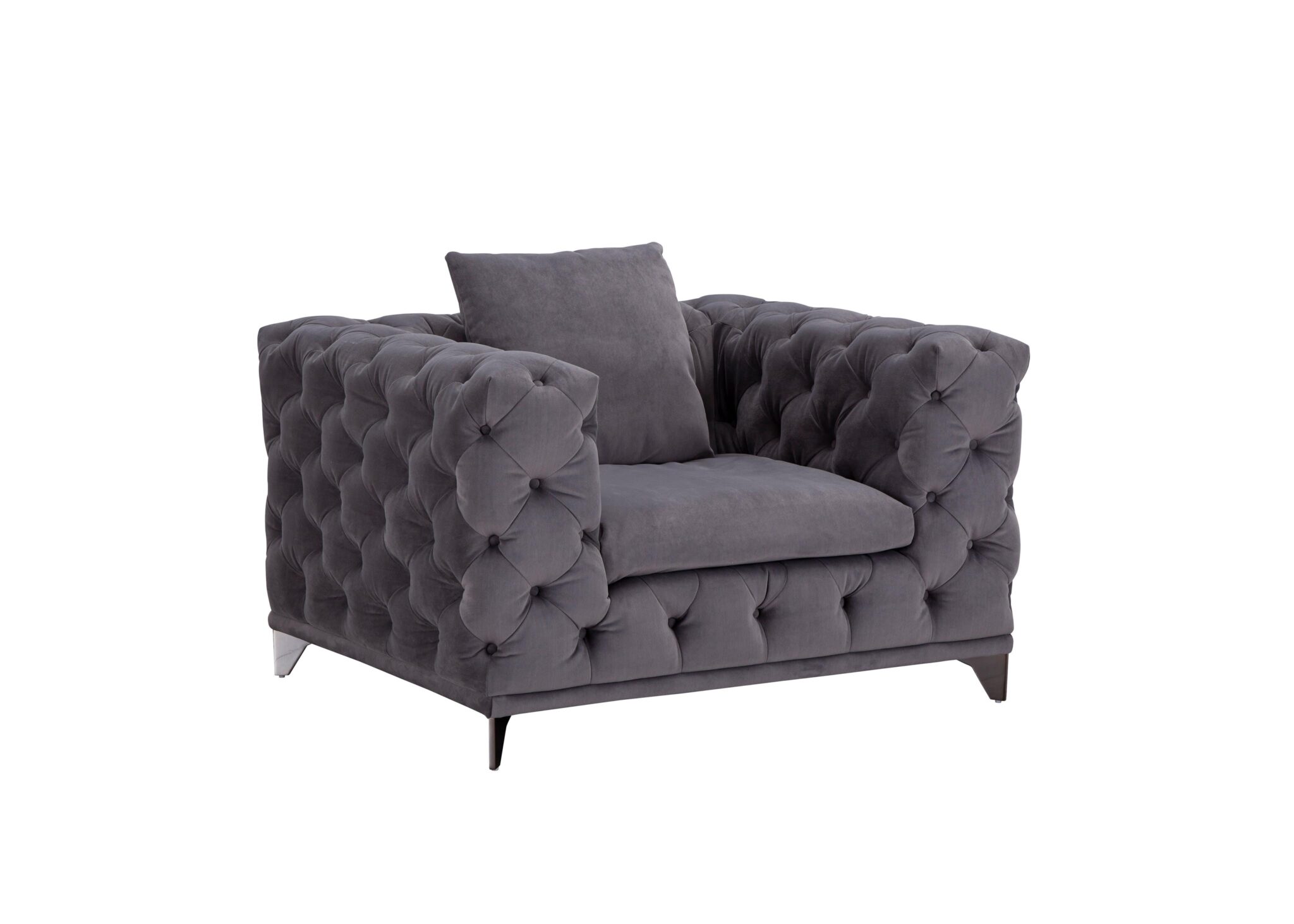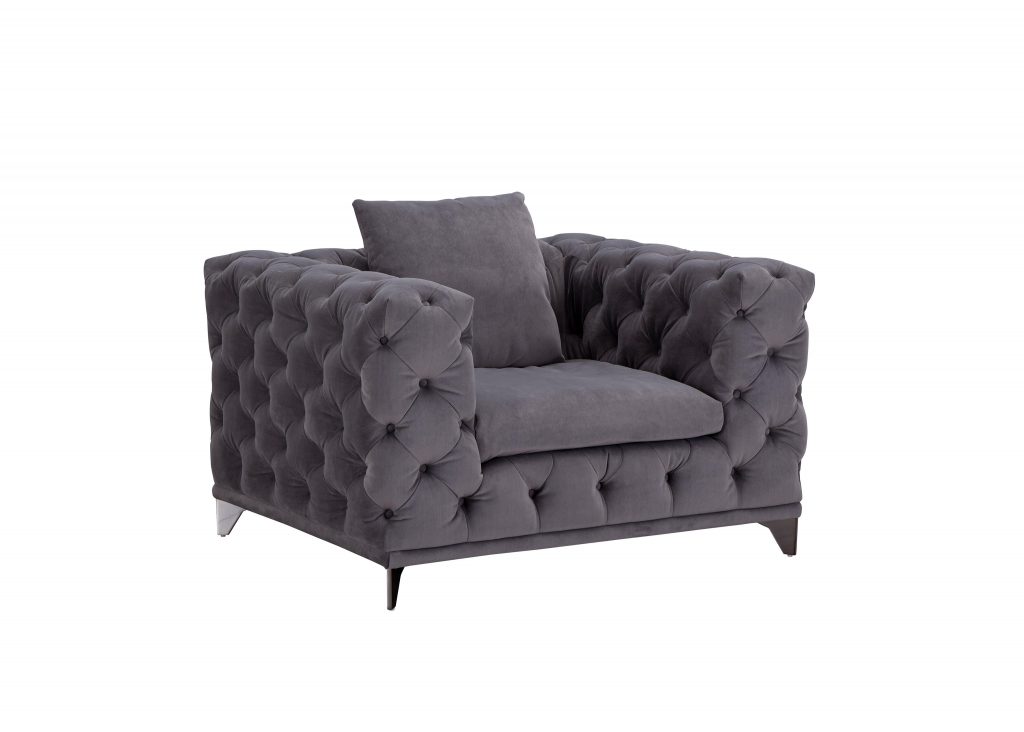 If you don't mind splurging for your new sofa, then, we recommend looking at the Upminster Luxe Velvet sofa from Sofa-club.
First of all, the design of this sofa is striking. You can see the level of skill and craftsmanship put into making this piece of furniture right from the get-go. The velvet cover looks and feels marvellous and even though it only comes in one shade of grey – it's enough. It just looks premium.
The frame is made from solid hardwood, guaranteeing durability and longevity. However, since grey velvet and hardwood don't really go hand in hand, the legs on this one are made from metal. However, the frame isn't what makes this sofa great for your back – it's the cushions.
The cushioning for this sofa is quite firm, which is just what you need to support your back. Just so we're clear, it's not too firm and it won't feel like you're sitting on a bench. It's quite comfortable, even though it is firm and supportive. Furthermore, you get two additional, removable pillows, which are great for both sitting upright and lying down and taking a nap.
All in all, if you don't mind spending a little bit more than you usually would – this is a great product that will certainly help your back.
3. Our Ultimate Comfort Pick – Signature Design by Ashley, Power Reclining Sofa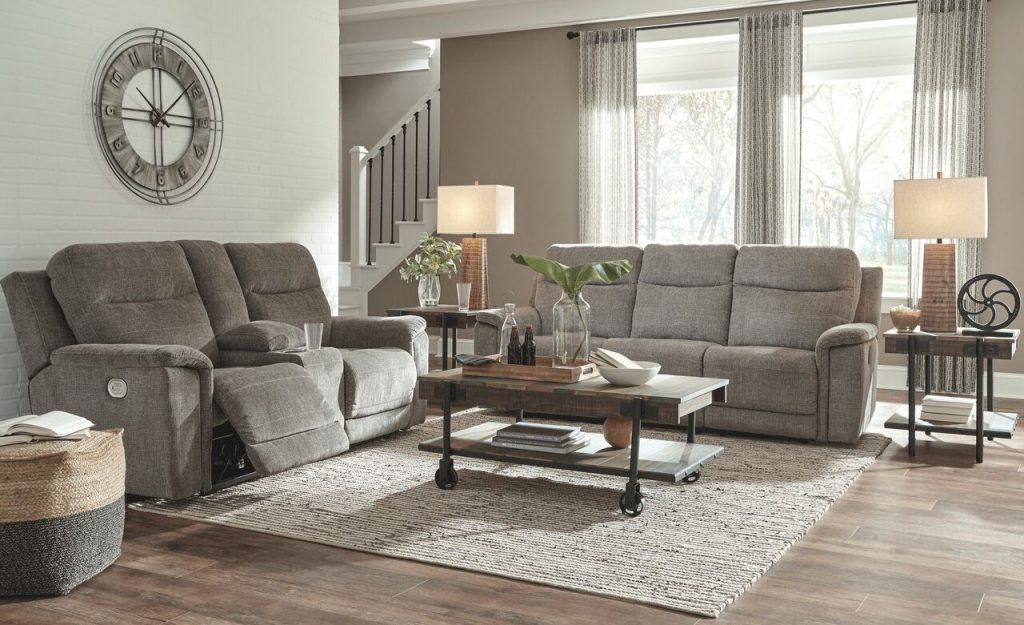 If you're someone that spends a lot of time on your sofa and you don't really care about aesthetics as much as you care about comfort and alleviating the pain in your back – you should probably look at this one.
This is a reclining sofa, in its essence, but in reality, it is much more than that. This is a whole comfort station. The middle seat can transform into a literal bar with cup holders and everything. It also comes with LED lights and USB charging ports. Both left and right armrest open up, so you can store your drinks and snacks while you game or binge-watch your favourite TV show. The leg rests go up, so you won't need an additional leg rest.
The frame of this one is made entirely from reinforced metal, which is to be expected from a reclining sofa. The cushioning is made almost entirely out of polyester, but it is remarkably comfortable. You could easily spend hours lounging in this one without any back issues whatsoever.
4. Our Traditional Style Pick – Stone & Beam Bradbury Chesterfield Tufted Sofa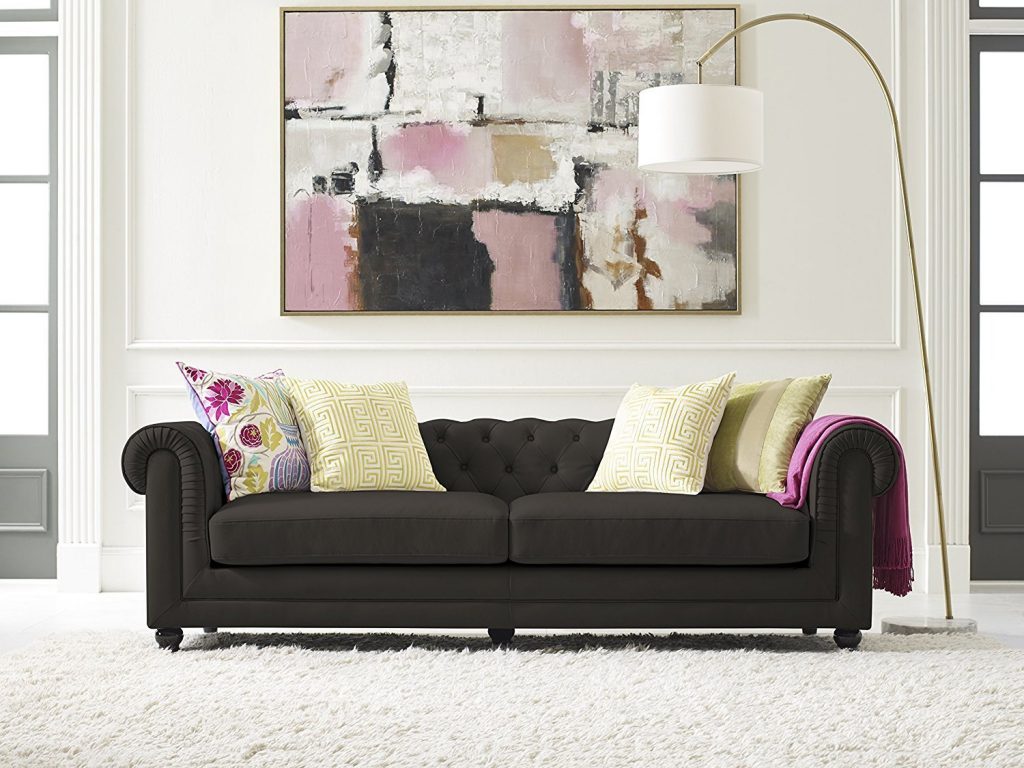 This is arguably one of the prettiest sofa couches you can buy. It's elegant, well-designed but more importantly, very comfortable and supportive, so your back will most certainly thank you for lounging in it.
This is by no means an affordable sofa, but it's a well worthy investment if you ask us. Not only does it look amazing, but it's very durable and long-lasting, meaning your money won't be spent in vain. You even get a 3-year warranty, which is not something you see too often.
The frame of this one is made from solid hardwood, which is always lovely to see. More importantly, the cushioning is great. This is a hand-tufted sofa, with firm, supportive cushions that are going to keep your back properly supported and aligned. The fabric is made from a mixture of polyester and nylon, which is not something you'd expect at this price point, but it does feel good and it doesn't get very hot after you've been sitting in it for a while.
5. Our Budget Pick – Honeypot Weronika Sofa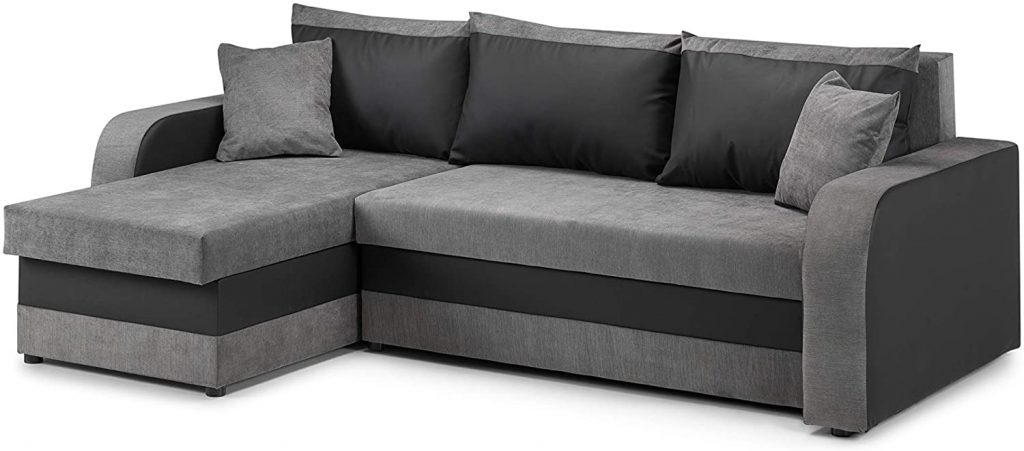 If you don't want to spend a lot of money on a sofa, but you still want a comfortable sofa – then this one might just be for you.
Weronika from Honeypot is a lovely 2-seater sofa that will most definitely have your back feeling brand new. It's simple and elegant in design, so it will match most interiors, but most importantly, it's remarkably comfortable. The cushioning is both firm and supportive, but not to a point where it is too firm for a prolonged lounging session. It will most certainly offer support to your back, both when sitting and lying down on it.
If you need some extra support for your lower back, the sofa does come with two separate pillows that you can use for some additional comfort and cosiness.
Conclusion
Those were our top 5 picks for best sofas for back pain. All of these are different from one another, so we hope you manage to find the one that's just appropriate for you.