No products found.
Sowtech Espresso Machine comes in the lowest range in terms of price but not regarding functions. Sowtech single-knob espresso machine is designed to facilitate with a moderate frequency of espresso cups per day.
The pricing and functioning perfectly customized for home users. The 3.5 bar pressure is sufficient for normal brewing. Manual frother option makes it the best espresso machine for frothing milk. Let's get into the detail.
Parts & Functions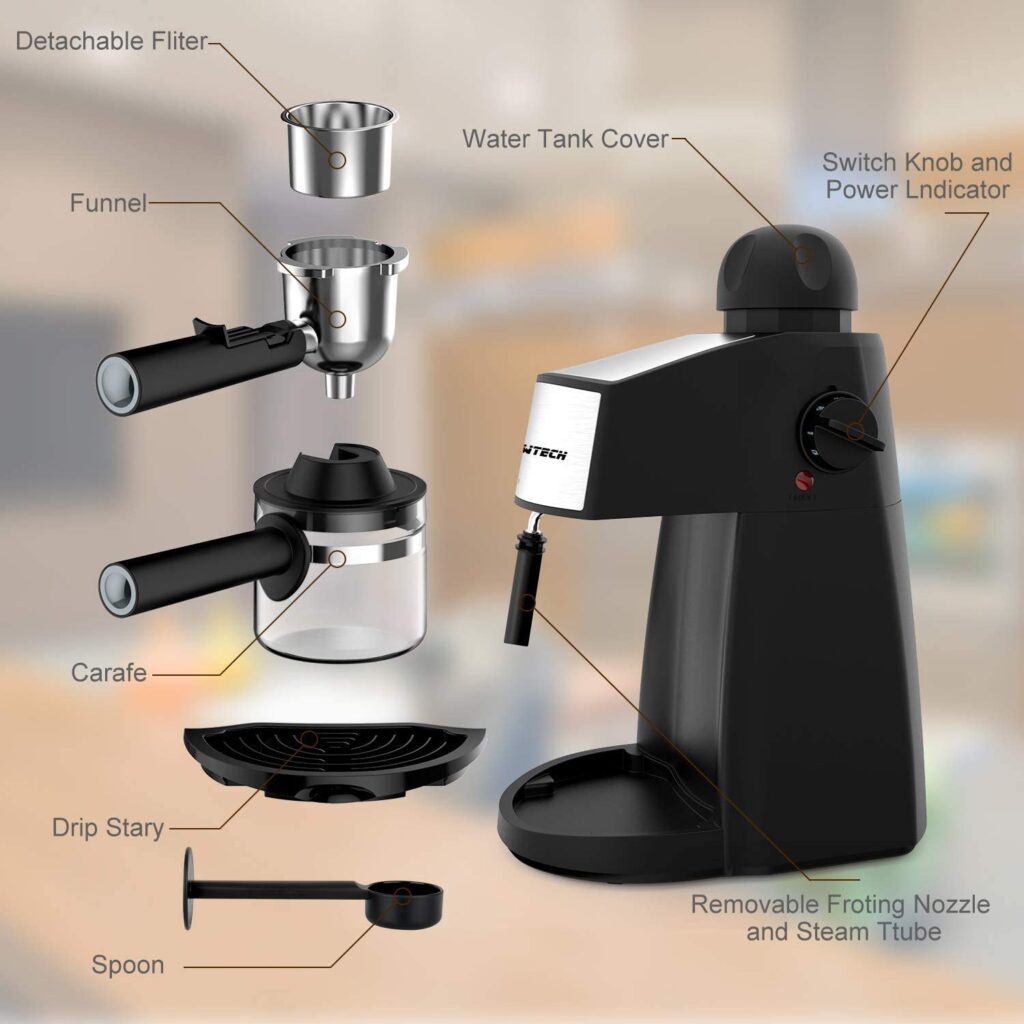 Making espresso is very feasible with this non-illusive machine. Dial placed on the right-hand side to start the brewing process. Single-knob operation makes things simple with the help of indicating light. The integrated temperature control mechanism works fine as it delivers me consistent taste most of the time.
Design is efficiently smart and elegant. Due to its slimness, the smallest kitchen as mine can also afford this machine without creating any mess. Most parts of the body made with plastic but, fortunately, compact enough for regular handling. Here, the drip tray is playing a double role, as it firmly grips the brewing jar and collects drips and splits during the process.
The drip catcher is detachable, so, I never linger on its cleaning because of the rapid removal of this small tray.
Check More: Best Espresso Machine Under 100
Fortunately, the milk frother is built-in and the second good news is that it is manually adjustable. It helps to create creamy foam according to my desire. The front nozzle of the steam wand is also removable, so, no chance for milk to clogged-up and disturb the flow of steam. The velvety texture of my cappuccinos and lattes is just because of its wisely-placed steam tube. The manual wand delivers frothy layout to set a soft & rich top-off to your cappuccino.
This versatile coffee maker converts ordinary cold milk into a desired level of foam with smooth consistency to decant it precisely. All is fine and acceptable besides the instruction book that comes with this handy machine needs improvement. I got my best frothing techniques after some trials but manual adjustability renders a playing-like experience during the process.
The size is mentioned/printed according to the number of cups on the glass-made transparent. Hence, I flawlessly prepare my beverage without wasting precious beans.
In one go, you can get 4 cups of (240 ml) that looks grand in this range of price. The coffee extraction, frothing quality, operation alls stand at the top along with the convenience of storage.
The small part of stainless steel around the decanter brings a sleeking look for the machine. The steam arm and multiple decorative steel-made pieces are adding beauty to the top and front of the machine.
Pros
Economical regarding price and features
Integrated temperature control
No elusive buttons
Elaborated coffee size on brewing jar
Manual frothing
Compact & slim design
Single knob operation
Size and weight is perfect to carry while traveling
Cons
Modest capacity for commercial use
May release Plasticky odor on nonstop usage, but it is very rare.