Breville BES870XL Barista Espresso Machine is an award-winning machine by The FCA. It is a semi-automatic machine that combines both brewing and grinding in one unit and has some technical features which are typically only going to find on higher-level consumer machines.
It carries the legacy of thoughtful design and craftsmanship that we need in the Best espresso machine with grinder. It is a thoroughly modern implementation of what it takes to make espresso and milk based drinks including lattes and cappuccinos. Generally, when you buy a semi-automatic espresso machine you need to buy grinder separately, but amazingly there is a built-in grinder which pretty good one made with stainless steel conical burrs and 16 grinding settings with moderate size hopper.
Parts and functions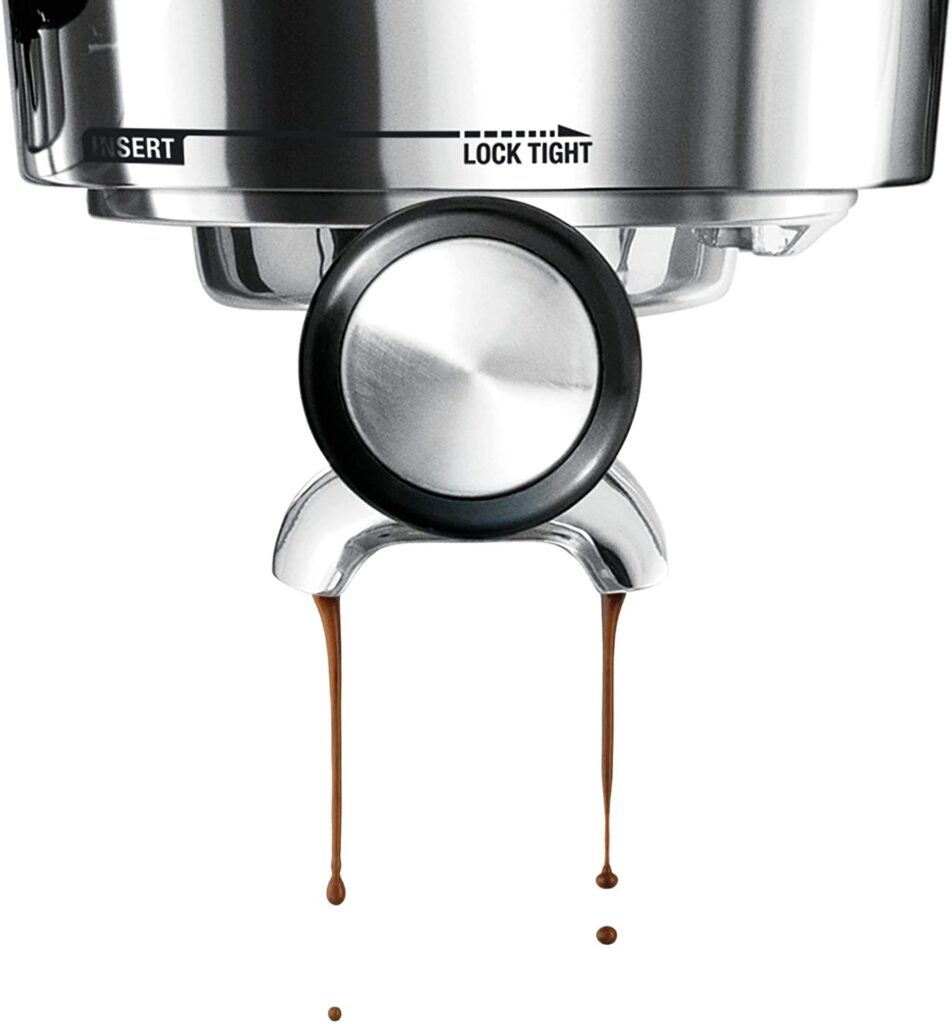 The hopper size is not large but it is good enough because we know that it is not a place where we will store beans. It makes easy to return beans to a storage container or to change them while switching between different types of coffee along with the facility of 16 grind settings.  This machine allows adjustable automatic as well as manual dosing for single and double shots as well as manual dosing to select single or double.
Breville BES870XL Barista Espresso Machine comes with four filter baskets. It holds a single and double pressurized basket and single and double non-pressurized basket. The pressurized baskets require little or no tamping at all. On the other hand, with the non-pressurized baskets, the machine comes with a tamper for squeezing the coffee in the portafilter.
The design of tamper is expedient and it is magnetic as well. The machine holds the 54-millimeter Portafilter which is made of stainless steel but it is slightly smaller than a commercial size standard 58 millimeters.
Check More: Best Espresso Machine Under 100
High-end brewing features, firstly, the vital and foremost is PID temperature control which provides highly precise brew water temperature control. The consistency in the temperature of brewing water is very helpful to produce the same shots. The brewing temperature is customizable up to 2 degrees Fahrenheit up or down.
Secondly, the dry puck is a very handy feature where the incorporated valve releases the pressure used while brewing and excess water. Resultantly, it brings dry coffee puck which is feasible to bring out of the portafilter.
It starts brewing process with short pre-infusion on low pressure and makes the grinds slightly wet and facilitates the uniform passage of water through the coffee for rich extraction.
Steam wand placed on a swivel joint of 360 degrees which allows complete control to use for the creation of desired foam texturing. Pitcher for milk frothing also comes in the packaging and the capacity of water tank is 2 liter. Indication on the large drip tray is very useful that tells you the right time to clean it. There are separate sections in the drip tray for liquid and solid material.
Pros
Tamper and grinder is included
Pressure gauge for constant results
"Clean me" indication light is useful
Very clearly elaborated machine manual
Cons
The portafilter is smaller than the commercial size
Milk steamer takes little extra time to start