A deck is a perfect space to relax and enjoy the fresh outdoor air, with your family and friends, especially when the weather is pleasant. It provides an elegant transition space between the indoors and the outdoors.
While there are limitless possibilities when it comes to designing the dream deck for your house, certain accessories or furniture will accentuate it. Listed below are seven of the best deck accessories that will transform your custom deck into a warm, cozy, and gorgeous outdoor space.
1. Outdoor Area Rugs
An outdoor, weatherproof area rug will add the right amount of vibrant flair to your outdoor space. These come in a wide range of beautiful patterns, tones, and colors, holding a great opportunity to add some dynamism to your deck.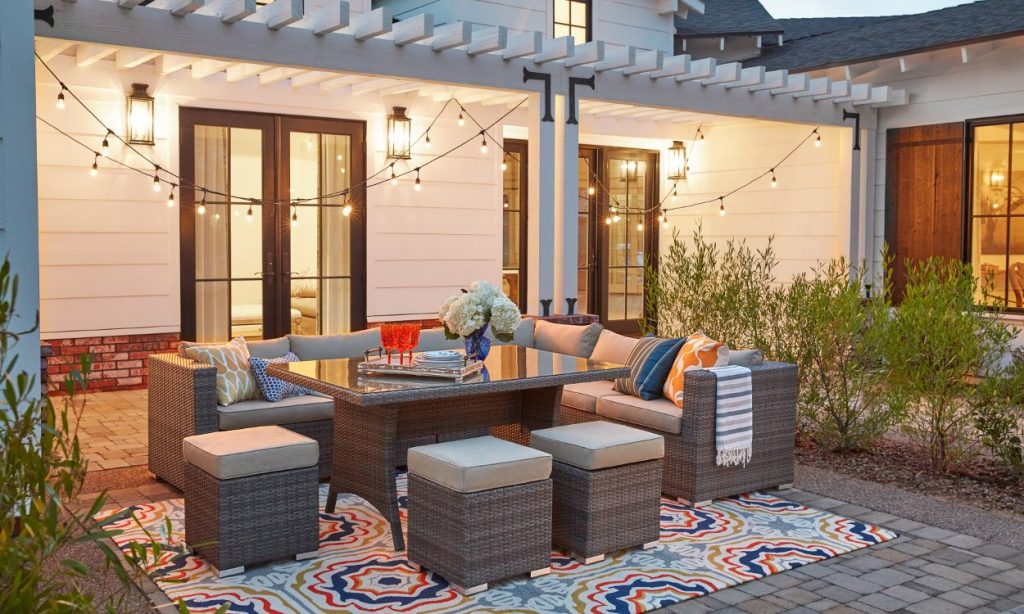 Not only do area rugs help you break the monotony, but they also help to bring in some ambiance and coziness to your space. If you do not want to opt for an outdoor area rug, the same effect can be achieved by using a composite deck, such as the ones offered by decksforlife. Composite decks, too, come in a myriad of styles and colors, while being easier to maintain.
2. Portable Deck Heater
To enjoy your deck to its fullest potential, and gather around cozily, melting smores, even during the winter, you can opt for a deck heater. While some people may prefer to use a permanent heat source, a portable heater provides added convenience.
Portable heaters usually function with the help of propane gas and are therefore super easy to refuel. They are also light in weight and therefore, can be easily moved around. They add light and warmth within a matter of minutes. The heaters come in numerous styles, so you can select one that matches your deck's overall ambiance.
3. Entertainment System
You can create a picturesque living room in the space occupied by your deck, by installing a television and entertainment system. If you have an exposed brick wall or rustic stone decor in the proximity of your deck, then you should definitely opt for this accessory as it will fill your deck with liveliness.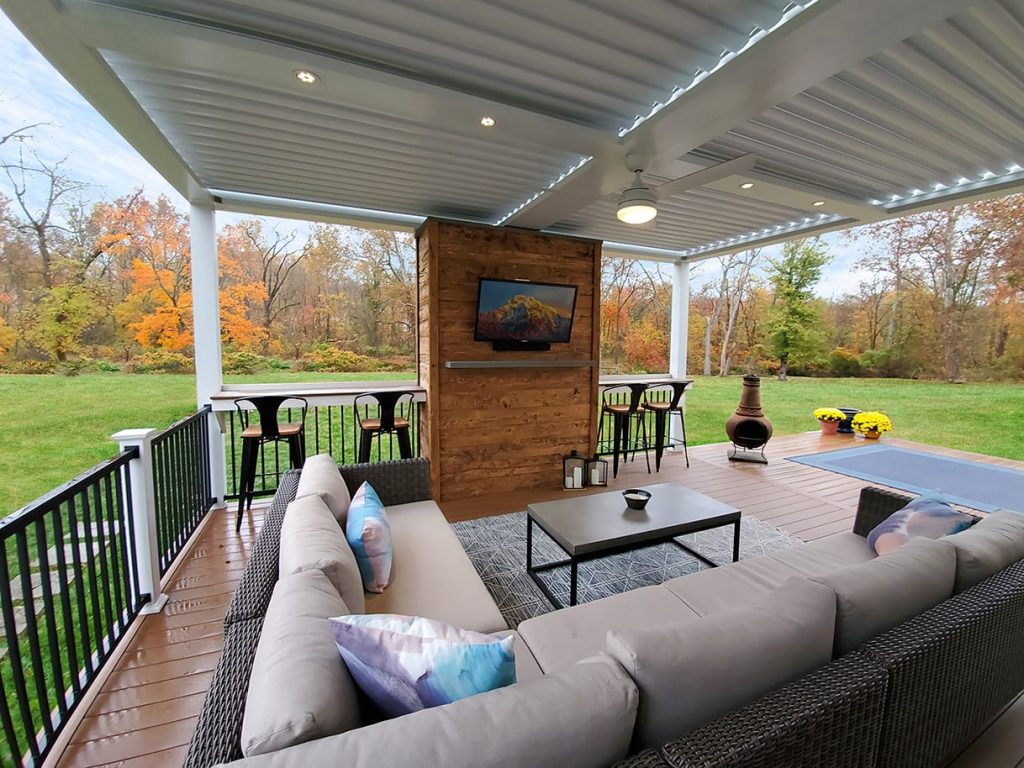 An entertainment system can become the focal point, while setting the perfect mood for spending a cozy, relaxing evening with your friends or family. Of course, if you want to add this accessory to your deck, you'll have to ensure that it is both weather and waterproof.
The addition of an outdoor entertainment system may be costlier as compared to its indoor counterpart, the fresh air and view are unbeatable. Throw in some plush seating and ottomans, and your dream deck space will be complete.
4. Potted Plants
If you love plants, and enjoy being surrounded by nature, adding potted plants to your deck space is the way to go. Plants will not only beautifully augment your outdoor furniture and landscaping but will add life and vivacity to your customized deck.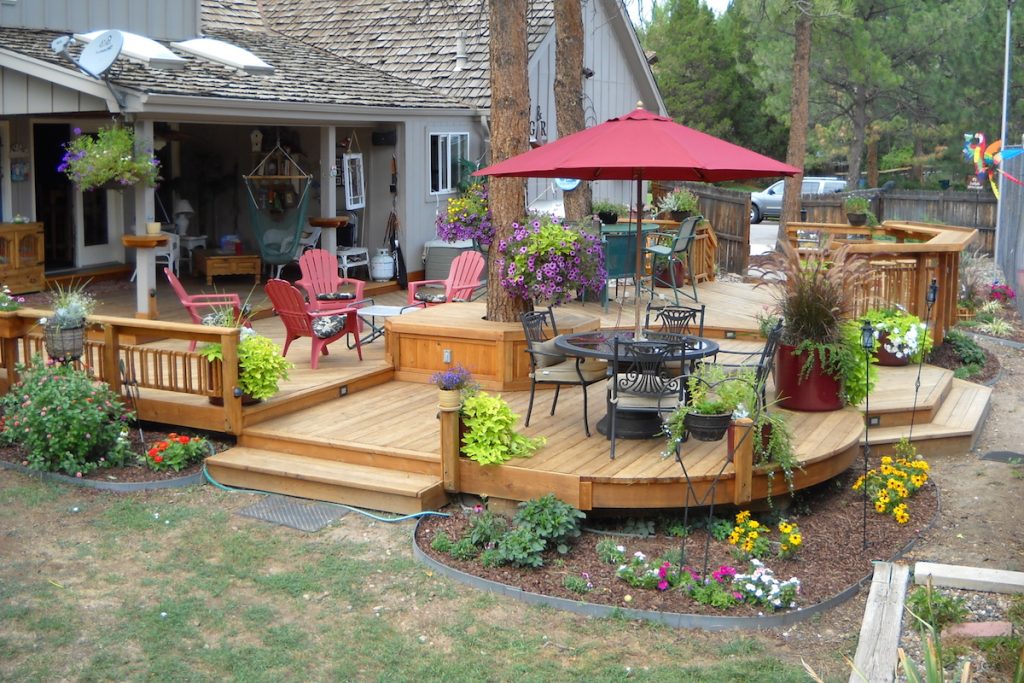 You can either hang the potted plants on a wall hook or rafter or just place them on the deck. Potted plants can also be switched out every few months, according to the season. For example, in winters, your plants can be moved indoors and replaced with ones suitable for the chilliness outside.
This makes for a convenient, yet affordable way for revamping your deck regularly, while also allowing you to enjoy the plants all year round.
5. Portable Lighting
The best advantage that portable lighting has over fixed lighting is that it allows for significantly more customization. Portable lights include candles, string lights, luminaires, tiki torches, and more.
These lights can be shifted around based on the weather conditions, or ambiance you want to create. For example, you can opt for softer candlelight for a romantic dinner, and then turn on some brighter ones for a fun-filled party with friends.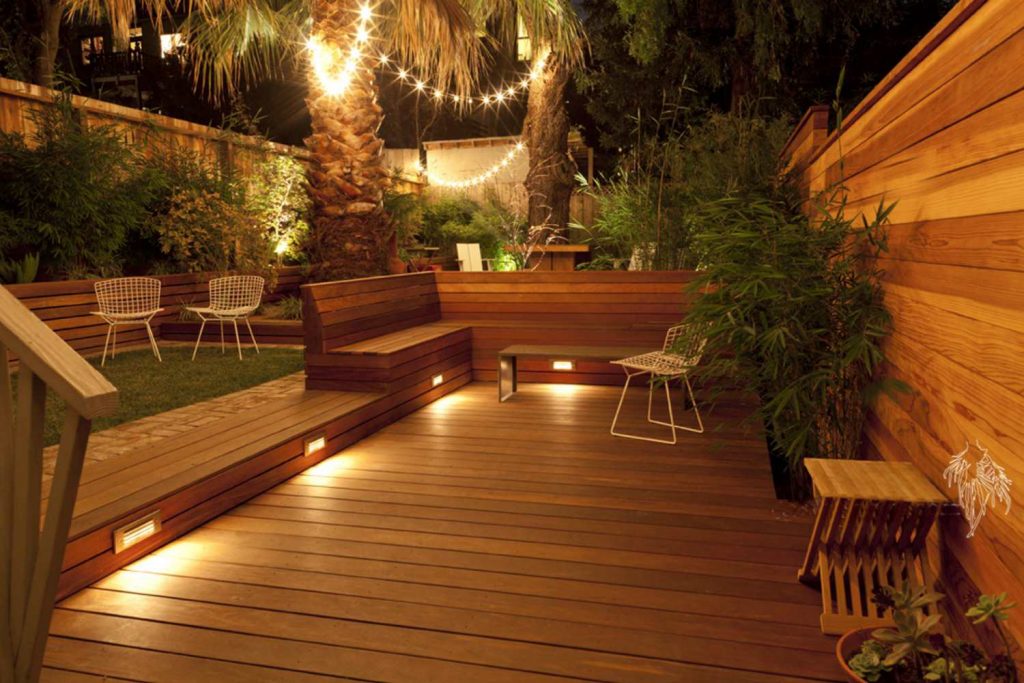 It is important to explore different kinds of portable lights to select one that sets the perfect mood for the transition space. The lighting should complement all the elements on the deck, and not overpower any of them.
6. Artwork or Pictures
Most outdoor areas will not have a lot of space for hanging artwork, but if your deck structure allows room for this you can include some fantastic pieces. It is important to ensure that the artwork or pictures you choose enhance the space's beauty, and do not distract guests from the scenic outdoor views.
Pictures are one of the best ways to personalize the space and enjoy a cozy evening surrounded by snaps of cherished memories. A strategic way to pick out artwork that complements your space is to avoid extremely vivid or gaudy pieces and keep the number to a minimum to avoid clutter.
Just like a television, artwork, and pictures look best when mounted on an exposed brick or stone wall, or placed over a fireplace.
7. Seating and Pillows
Old lawn chairs, dull pillows, and outdated furniture will hamper the aesthetics and vibe of your outdoor deck. When choosing outdoor seating, it is important to ensure that it is resistant to fading or precipitation, and durable. So, a material like leather may not be the best option if you live in an area where it is humid.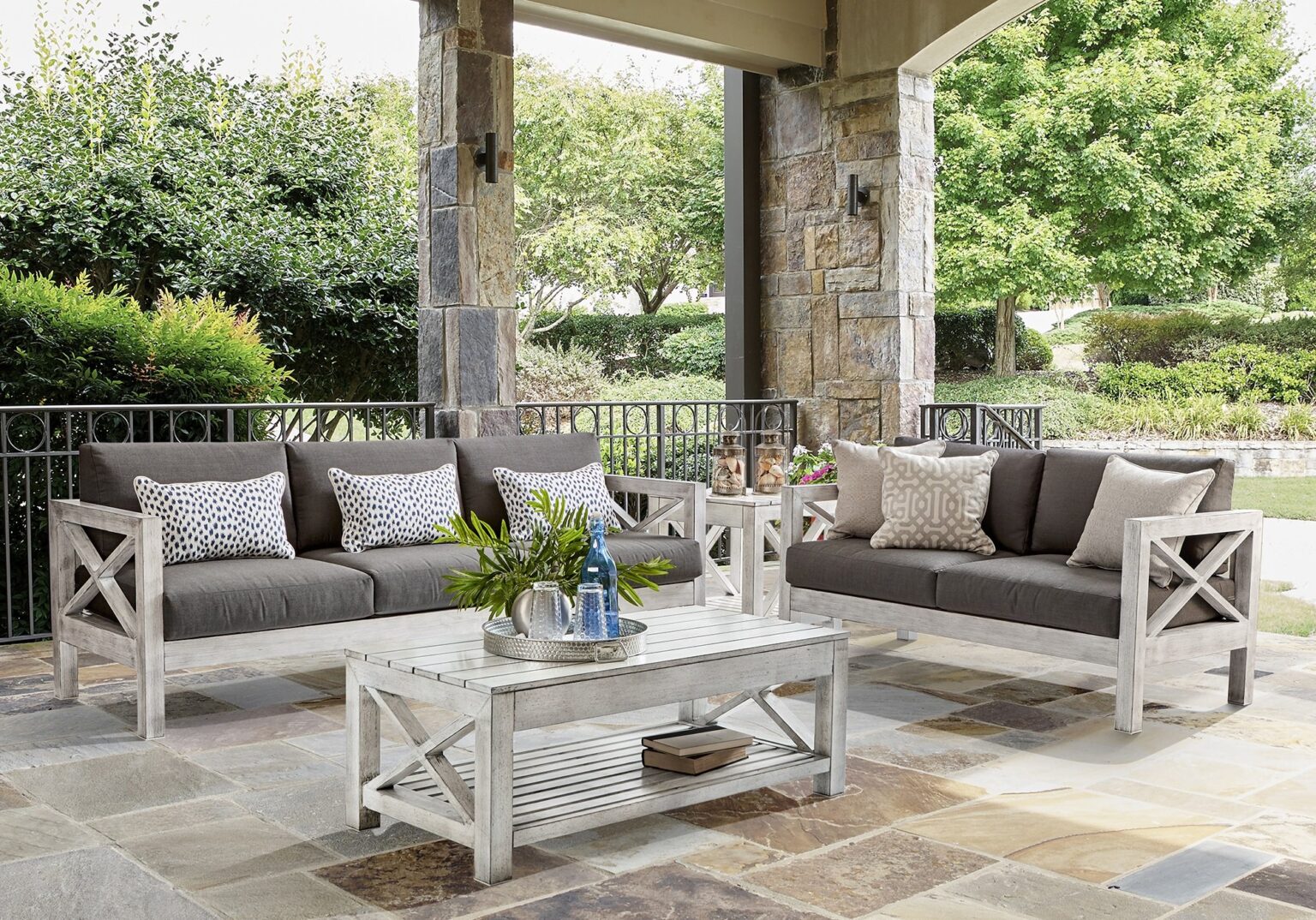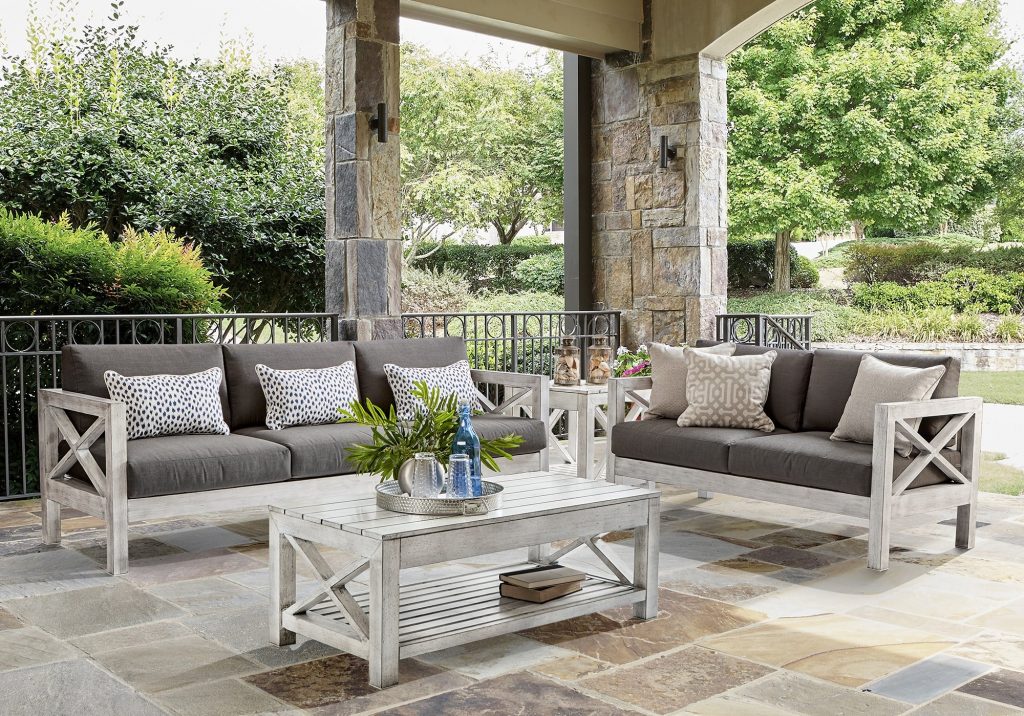 The colors and theme that you opt for should merge seamlessly with the architecture of your house, and the outdoor landscape that the deck opens out into. For seating, beauty and function go hand in hand with comfort.
Some of the most popular seating choices include rope or wicker furniture, classic wooden seating, and sleek, modern aluminum pieces. Pillows are also a great addition to your deck space for they add a pop of color and accents that add depth to your space.
Conclusion
With the right deck accessories, you can take the vision for your dream outdoor space up a notch. A common rule that you must follow while picking out accessories, is to ensure that they are weather-resistant and durable. This way you can transform your deck into a space enjoyable for all.