Cluttered wires under the table? The only thing killing the aesthetics of your computer desk is cable management? Well, you can now stop worrying about unnecessary cables anymore as this is 2023 and the world is moving towards a completely wireless world of computers.
With smartphones already taking the lead by introducing wireless headphones and wireless charging, the world of computers is also rapidly marching towards a wire-free world.
Best Choice
Don't Miss
Wireless Display Adapter
Dell S2317HWi 23" Screen LED-Lit Monitor with Wireless Connect and Wireless Charging Stand
KYY Portable Monitor 15.6'' FHD 1080P USB C HDMI Gaming Monitor Ultra-Slim IPS Display w/Smart Cover...
Microsoft Wireless Display Adapter - USB/HDMI Display Adapter
Best Choice
Dell S2317HWi 23" Screen LED-Lit Monitor with Wireless Connect and Wireless Charging Stand
Don't Miss
KYY Portable Monitor 15.6'' FHD 1080P USB C HDMI Gaming Monitor Ultra-Slim IPS Display w/Smart Cover...
Wireless Display Adapter
Microsoft Wireless Display Adapter - USB/HDMI Display Adapter
Anywhere from mouse to keyboards, speakers, printers, microphones and headphones, everything is becoming wireless nowadays. The only thing left behind with a clutter of wires is your computer monitor. Unfortunately. There are only a few true best wireless computer monitors in the market right now. The main reason behind it is the standard HDMI cable.
The picture and audio quality provided by an HDMI cable cannot be provided over wifi or Bluetooth-based wireless connection, that is why it is mostly preferred. But as told before, we are slowly moving towards being truly wireless and this article will hopefully help you with the best wireless computer monitors.
Buying guide for best wireless computer monitors – 2023
Truly wireless?
A true wireless computer monitor is the one that does not require any cable connection at all. The best examples of true wireless displays are your smartphones and tablets. In the case of computer monitors though, due to more usage, it is optimal to use direct power using a cable instead of installing a battery inside it. These monitors are truly wireless in the sense that there is no physical connection required using a wire to your PC for display.
Expectations 
Being truly wireless has its own back draws. When streamed over a wireless connection like Miracast or Dell wireless display, it can greatly affect the picture quality, response time and frame rate of the computer monitor. You may not get that great of picture quality as you will get using an HDMI cable.
Wireless monitors for gaming?
If you are considering buying a wireless computer monitor for the sole purpose of gaming, then these wireless computer monitors can be a bummer for you. They are not that bad, but live action gaming requires maximum productivity of the computer which can lag over a wireless connection. Other than gaming, wireless computer monitors are almost perfect for any other task.
Best wireless computer monitors: Top picks
After reviewing and researching for hours, we have come to a conclusion and curated a list of top and best rated wireless computer monitors in the market for you.
Editor's choice:
If you can't come to a conclusion and want to avoid the hassle of going through the reviews of each product, then our top pick after a detailed thought process for you for the best wireless computer monitors is Dell S2317HWi 23″. With its ergonomic looks, true wireless display and the software support by Dell for wireless streaming of your devices, this is the best rated wireless computer monitor for you.
1. Dell S2317HWi 23″ – Editоr's choice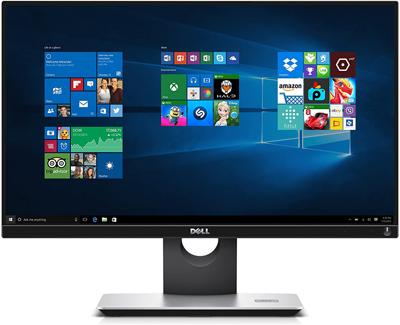 What is so special about the Dell S2317HWi 23″ display? Other than wireless streaming availability built-in, it provides a fine quality of the picture, color accuracy, brightness and response rate which makes it the best wireless computer monitor. It is a 23 inches IPS display LED monitor with a 1080p HD resolution. Despite the screen resolution, the monitor looks amazing and you merely notice the low pixel density. With very thin bezels and a great looking stand, this monitor increases the aesthetics of your workspace. Of Course, it has an HDMI input, two USB 2.0 ports and an audio port. It has a standing bottom that offers wireless charging for your phone.
This monitor utilizes two methods to achieve wireless functionality; The first is the Wireless connection, the method provided by Dell using drivers. It is capable to display two devices at once. The second is the stand of the monitor itself that provides wireless charging for your smartphone.
2. Dell Ultrasharp U2417HWi – Best Wireless Computer Monitor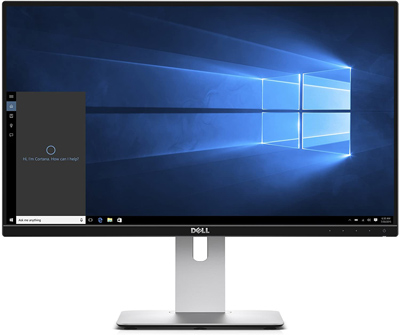 On the second place of our list for best wireless computer monitors is the Dell Ultrasharp U2417HWi. This is the latest monitor from the Dell wireless monitor series. With a lot of similarities, it has some changes and tweaks from its brother Dell S2317HWi. It has a 24 inches IPS panel display with ultra thin bezels. The special thing about this specific monitor is that it was honored at the CES 2016 innovation awards for wireless streaming. With consistent color accuracy and adjustable features, this monitor promises to provide an all in one display.
With a high response rate of 8 ms, it is a good option to be considered for gaming if connected via an HDMI port. Speaking of ports, it is equipped with an HDMI input, 4 USB 3.0 ultra fast ports and Dualscreen cast with Wifi Direct for wireless connectivity. It uses the same mechanisms for wireless streaming as the above mentioned Dell S2317HWi.
3. Corprit 15.6″ Wireless Portable Computer Monitor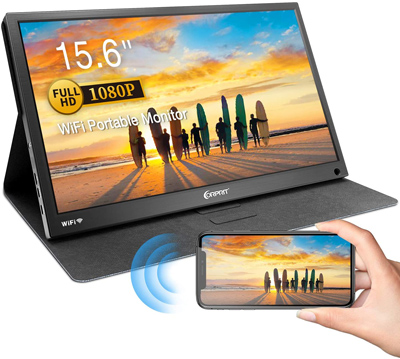 The portable wireless monitor displays are worth mentioning in our list of best wireless computer monitors. Specifically, the Corpit wireless Display is the best one out there. It is a portable mini 15.6 inches display screen is a wireless monitor that can be used to stream both your mobile screens and laptop devices. It is the easiest to use and adapt to among all. For streaming your mobile screens on it in order to stream movies, it is as simple as connecting it to the same wifi network to which your smartphone is connected, and then using the Screen Mirroring or Smart View feature, without installing any extra drivers or software on your mobile. It also supports Miracast streaming.
It is a 1080p IPS HD display with 250cd/m2 brightness capability. You can take it anywhere with you due to its compatible size and still can enjoy streaming your movies on a bigger screen instead of using your smartphone. It is also supported with USB type c and HDMI input ports so that you can take advantage of portable gaming with it with a 60Hz refresh rate. It has a 170 degrees viewing angle and is supported by Airplay / Miracast / DLNA mode.
4. Microsoft P3Q-00001 Wireless Display Adapter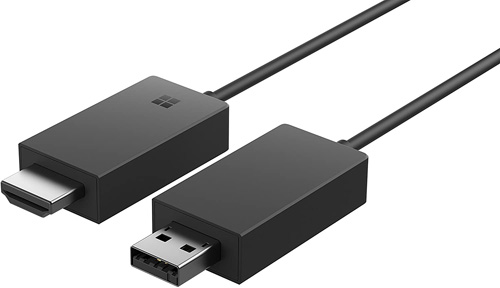 Unfortunately, you have only a few options for best wireless computer monitors. But we won't leave you hanging if you didn't like any of the options provided above. This is kind of a hack with which you can convert any regular monitor or display into a wireless one and that too, at a very minimal cost. This is a Microsoft P3Q-00001 wireless display adapter which can be connected to any wired monitor and convert it to a wireless computer monitor.
Unlike the best wireless computer monitors, there are tons of adapters available in the market which do the same job. But the best wireless display adapter for computer monitors is the microsoft P3Q-00001. It is certainly the cheapest way you can wirelessly cast your display onto a monitor, without buying a separate wireless computer monitor for this purpose.
It has a very sleek, minimal-looking design and comes in black color. It has two small plugs connected together by a wire and for travelling purposes or carrying it in a bag, you can hook these two plugs to keep it safe during travel. One end of the plug has an HDMI output option and the other side has a USB Type-A plug. The best thing about this adapter, of course other than the price, is that it has Miracast already installed into it and you don't need to set up a seperate software to get the device up and running.
Frequently Asked Questions (FAQs)
Is wireless computer monitor exist?
There are very few monitors available that have built-in wireless. You can check our top picks to find out the best computer monitors with built-in wireless.
Which wireless monitor is best?
After doing a lot of research, we found Dell S2317HWi 23 inch monitor is the best choice that comes with built-in wireless.
Can I convert my monitor to a wireless monitor?
For those of you who are looking for other options, you can convert any of your latest ultra high performing monitors into wireless streaming displays using one of the following devices:
How can you project your laptop to your computer monitor?
If you want to project your laptop screen to the bigger monitor you've got for your PC, you have two options:
Connect your laptop to your monitor with an HDMI cable. This is a pretty basic method. You just have to get an HDMI cable which has an input and an output on its both sides. Connect the output side to your laptop and connect the input side to your monitor, and you will be able to see your laptop's screen on the monitor.
If you want to project your laptop's screen to your monitor wirelessly, you can do it with various methods. But the best and most reliable method is to use the Miracast software. If your monitor does not support Miracast, you can buy a windows wireless display adapter (reviewed above) and connect it to your monitor. This automatically enables you to project your laptop's screen to your wireless computer monitor.
Conclusion
We hope that this guide has helped you in finding the best wireless computer monitor. While purchasing one, just remember to keep in mind all the details we have discussed earlier. If you have any queries left, feel free to ask in the comments.