The Surface Pro series launched by Microsoft a few years back has since become a favourite for many of its users. With great functionality, excellent hardware, well-integrated accessories and overall exquisite performance, the Surface Pro has even replaced the good old Apple's Macbook as their daily work driver.
Best Choice
Good Choice
Don't Miss
Also Consider
Dell Ultrasharp U2719DX 27-Inch WQHD 2560x1440 Resolution IPS Monitor with Infinity Edge Bezels,...
LG 27UK650-W 27" Inch Ultrafine (3840 x 2160) IPS Display with HDR 10, sRGB 99% Color Gamut, AMD...
Acer 23.8" Full HD 1920 x 1080 IPS Zero Frame Home Office Computer Monitor - 178° Wide View Angle...
HP Pavilion 22cwa 21.5-Inch Full HD 1080p IPS LED Monitor, Tilt, VGA and HDMI (T4Q59AA) - Black
The latest Surface Pro 7 and Surface Pro X is a handy and portable device, but that does not mean that you will not set up a personal office space to use. So why not look for the best monitor for Surface Pro? We get it that the Pixelsense touch display is a wonderful piece of technology, but the display size is still small for many of us. Here is where a big monitor display for surface Pro comes in handy with some great resolution and seamless design.
Why should you use a monitor for Surface Pro?
The Microsoft Surface Pro is a laptop notebook, and the whole purpose of it is being a portable PC which you can take anywhere, so why is there a need for a monitor with it? If you are a photographer or a content creator, who tends to travel a lot, you will notice that you still do most of your work on the Surface Pro at your home or a specific place. And you could convert that place in your home into a home office which will increase your productivity drastically. And for that purpose, a large monitor display is a must have a piece of tech.
Buying guide for Surface Pro monitors – 2023:
In order to choose the best monitor for Surface Pro, you should keep the following things in mind:
Adapter:
The latest monitors nowadays usually have HDMI input and DisplayPort input for easier connectivity as most of the devices support them. Unfortunately, the Microsoft Surface Pro is only equipped with a mini DisplayPort and a USB 3.0 port. So in order to connect your Surface Pro to a monitor, you will need to buy a separate display adapter.
Display size:
This one depends on the space you have for your home office and your requirement. Usually the bigger the display size, the better it is for work and entertainment purposes.
Surface Pro processor:
The processor of your surface Pro plays a crucial part in choosing the best monitor for your Surface Pro. For example, if your Surface Pro has an i7 intel core processor, it can support a screen resolution of a maximum of 4096 x 2304 for an external display. So make sure to check the model and processor of your surface Pro and the details of external displays it can support.
Top 5 Best monitors for Surface Pro
Editor's choice:
After reviewing and researching thoroughly each and every option available for the Surface Pro, we have organized a list for best monitors for surface Pro. And the editor's recommended monitor for the Surface Pro is the Dell U2719DX 27 inch LED monitor.
1. Dell U2719DX Ultrasharp 27 inch Monitor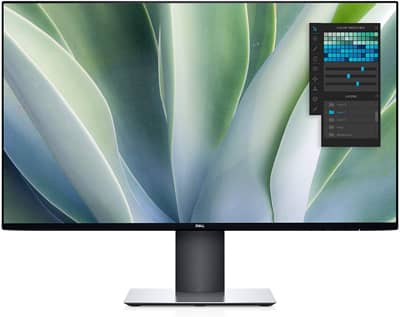 The Dell U2719DX offers you 2560*1440 screen resolution with novel and good looking design. It has a thin and sleek design so that you can free up more space in your working desk. It also allows you to pivot, tilt, and adjust the height of monitors for your comfortable use. Moreover, it has hinges on the top, which makes your life easier. The best thing about this specific monitor is that it comes with the mini DisplayPort input, so you don't have to spend extra on the adapter.
The screen size is perfect, the resolution is top-notch, ergonomics are on point, in short this is the best monitor for surface Pro. Talking about its other various features, it comes with Flicker-Free Technology, which helps your eyes by protecting from blue light emission. It's specially designed to optimize your eye comfort for a more extended period. With its Auto Restore feature, you can easily access your previous position of the application where you left off, which makes your work more relaxed than ever.
2. LG 27UK650-W 27 inch monitor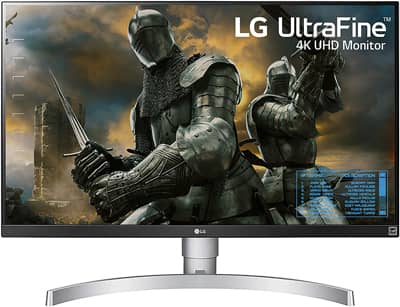 On the second place on our list of best monitors for Surface Pro comes the LG 27UK60-W 27 inch monitor. This monitor by LG is rated the best monitor ever put out by LG! A 4K UHD IPS display makes it the crispest 27 inch monitor which you can use with your Surface Pro. It has a sleek design with a premium-looking ArcLine display which can be adjusted according to your needs i.e; tilted and pivoted with its adjustable stand.
This monitor is surprisingly capable of an industry-level high dynamic HDR10 range, which can support specific levels of color and brightness. If you are looking for a highly accurate color display to use with the Surface Pro, this 27 inch monitor beats all of the others in its league by covering almost 99% of colors on the sRGB spectrum. It features on-screen controls such as volume, brightness, picture mode presets, screen split 2.0 and more.
3. BenQ PD2700Q IPS Monitor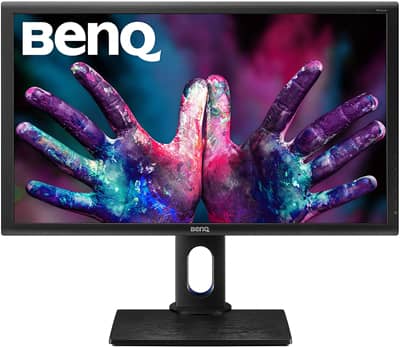 The BenQ PD2700Q Monitors three different sizes; 25 inches, 27 inches, and 32 inches display. This is the best budget monitor for surface Pro. It has a crystal clear image with 2K QHD resolution. The stunning color precision of 19 bit, 100% sRGB, and Rec.709 give you the best color accuracy you can work with on a Surface Pro.
Moreover, it comes with Darkroom features which help you to adjust the image's brightness and contrast and create optimal settings for work in a dark working environment. The CAM/CAD modes of this monitor provide superior contrast on lines of your illustration/editing work. You can also customize your workspace by adjusting the monitor's heights and setting it as you want.
4. Acer R240HY 23.8 Inch monitor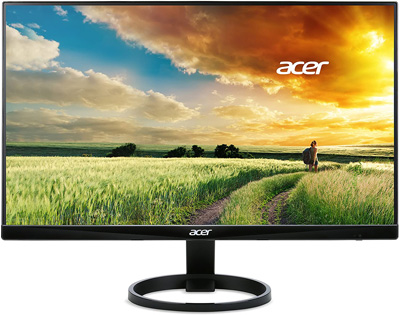 The next one on our list of best monitors for surface Pro is an Acer monitor. This is the Acer R240HY monitor and the size which we are recommending to you is the 23.8 inch. Although other sizes of the monitor are available as well, the 23.8 inches one will fit the best with a surface pro. The bigger screen size will not be worth it as you can get great benefits from the standard size which we are recommending.
Although the benefit you will be going to get from this monitor is the 60 Hz refresh rate. This can enable you to have a smoother experience while watching movies and documentaries on a high resolution. But we have to warn you that if you are planning to play video games on the surface pro (which is very rare) using this monitor, it is probably not the best choice.
This monitor has a very attractive and sleek design which adds aesthetics to your setup. With its size, it can fit easily on smaller desks and compact surfaces meanwhile the bezel-less screen helps in making it look a lot bigger. It also has good built-in speakers which sound better than the surface pro's speakers.
5. HP Pavilion 22cwa 21.5 inch monitor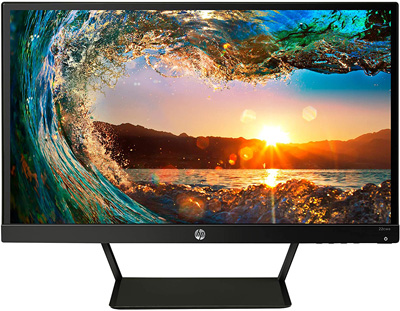 The last but certainly not the least monitor which we are adding today is the HP Pavilion 22cwa. This monitor has been gaining attention at the start of 2023 among not only general regular consumers but surface pro users as well. This is probably one of the best budget monitors for surface pro. HP is a brand known to provide value and quality in their products whether it is a monitor or any PC accessory. And this monitor is a very good example of it.
This is an extremely budget-friendly option for the surface pro users who want to have an extra monitor which offers at least Full HD resolution. It is so cost-effective that you can set up and dual monitor setup using this monitor by just staying under 250 bucks. Unbelievable, right? But it is not just some cheaply made monitor at a low price. It has probably one of the highest ratings and reviews under this budget.
The screen of this monitor is densely populated with 1 million pixels. The response time of this monitor is fairly average, standing at a mediocre 7 ms. The colours of the screen are extremely bright and vibrant. This can be an attractive package for someone who uses the surface pro as their daily driver or for professional video and photo editings.
Conclusion
In order to make the best out of your surface Pro, a monitor is a must-have with it! We hope that this detailed guide has helped you in choosing the best monitor for surface Pro according to the requirements for it. Kindly leave our feedback in the comments below.