If you are a gamer or even professional working long hours in front of a screen; and you're here, you have probably started experiencing side effects of long screen times. With the lockdown imposition, the work from home increased the screen time even more.
Best Choice
Good Choice
Don't Miss
Also Consider
BenQ EX3203R 32 Inch 144Hz VA Curved Computer Gaming Monitor WQHD (2560x1440) with FreeSync2, USB-C,...
ASUS VA27EHE 27" Eye Care Monitor Full HD (1920 x 1080) IPS 75Hz Adaptive-Sync HDMI D-Sub...
ASUS ROG Strix XG279Q 27" HDR Gaming Monitor, 1440P WQHD (2560 x 1440), Fast IPS, 170Hz, G-SYNC,...
ViewSonic VX2757-MHD 27 Inch 75Hz 2ms 1080p Gaming Monitor with FreeSync Eye Care HDMI and DP, Black
Best Choice
BenQ EX3203R 32 Inch 144Hz VA Curved Computer Gaming Monitor WQHD (2560x1440) with FreeSync2, USB-C,...
Good Choice
ASUS VA27EHE 27" Eye Care Monitor Full HD (1920 x 1080) IPS 75Hz Adaptive-Sync HDMI D-Sub...
Don't Miss
ASUS ROG Strix XG279Q 27" HDR Gaming Monitor, 1440P WQHD (2560 x 1440), Fast IPS, 170Hz, G-SYNC,...
Also Consider
ViewSonic VX2757-MHD 27 Inch 75Hz 2ms 1080p Gaming Monitor with FreeSync Eye Care HDMI and DP, Black
You may have neglected those watery eyes, dryness, and headaches, but you should know that gaming eye strain is a thing. There are other health problems related to long screen hours. Eyes get affected first due to their sensitive nature. The monitor manufacturers also realized it and introduced eye-friendly monitors.
Eye care technology in monitors is getting better day by day. Before you get to our list of best gaming monitors for eye strain, you should know what to look for before buying a monitor.
Best Gaming Monitors For Eye Strain – Our Top picks
All the monitors on our list are manufactured with the features mentioned earlier and provide the ultimate comfort gaming experience.
Editor's recommendation
For a quick recommendation, the editor's choice for the best gaming monitor for eye strain is the BenQ EX3203R Gaming Monitor. BenQ is a big name among monitors in terms of performance. It has been working on implementing eye care technology for some time, and EX3203R Gaming Monitor is the perfect blend of both performance and eye care.
Its outlook, features and display are almost the same as a high-end monitor, but at a much affordable price.
1. Asus VA27EHE Eye Care Monitor
Asus VA27EHE is one of the top-rated ones when it comes to eye-friendly monitors. This 27-inch frameless screen with IPS 178 degree viewing angle provides greater visibility. It has been specially designed for gamers, keeping their needs in mind.
The adaptive sync technology syncs the refresh rate of 75 Hz with the display, minimizing the flicker. The high refresh rate contributes to a smooth and steady gaming session with sharp visuals. Asus uses an exclusive eye care technology featuring TÜV Rhineland-certified anti-flicker and low blue light technology, providing comfort and saving your eyes from fatigue.
It's lightweight with a narrow bezel providing easy handling. This monitor also possesses an adjustable tilt and VESA wall mount, ensuring a compact desktop expanse. This is an affordable option for gaming and other professional work.
2. ViewSonic VX2476 Monitor
With an ultra-slim, frameless structure and full HD display, ViewSonic VX2476 works like a charm. It has three size options, 22 inches, 24 inches, and 27 inches, all of which are of perfect proportions. From size to its specifications, this monitor should not be missed. The IPS panel gives a perfect view from all angles.
The 7 ms response time lets you work, watch and enjoy the graphics smoothly and with the best display. The fast response rate, with crisp graphics and user-friendly screen, provides maximum comfort. This monitor has very flexible connectivity, which means that you can connect it with laptops, Macs, and PCs through the input display ports provided. It comes with other components like audio cable, HDMI cable VGA cable, and AC/DC adaptors.
This monitor provides a very sleek and elegant outlook, with its smart and minimalist features. Its eye care technology consists of low blue light and flicker-free technologies. The self-adjusting brightness provides the best graphics in every setting, making it one of the best monitors for eye strain.
3. BenQ EX3203R Curved Gaming Monitor
This 31.5-inch screen with a QHD display provides the ultimate immersive experience you could ask for. BenQ EX3203R curved monitor has a very polished frame adding to the beauty of your house. This is one of the best eye-friendly monitors with exemplary performance.
The refresh rate of 144 Hz makes it a top-notch gaming monitor. The fast response rate of 4 ms provides a lag-free and smooth display. VESA certified display HDR offers excellent contrast and saturation, resulting in crisp and bright image quality. The AMD free sync technology diminishes ant stutter or tearing ensuring steady play. Provided with multiple HDMI, display port, USB 3.1 port, and USB-C; it provides you with many connectivity options.
BenQ's unique eye care technology reduces eye fatigue and stress. The monitor also has a brightness technology that automatically detects the brightness and temperature conditions and adjusts them accordingly.
Read Also: Review of the Best Budget Gaming Keyboards
4. ASUS ROG Strix XG279Q Eye Care Gaming Monitor
Designed for professional gamers, ASUS ROG Strix XG279Q Monitor comes with a 170 Hz refresh rate and 1 ms response time. The low blue light and zero flicker technology provide a comfortable and eye-friendly display, letting you play for long hours without any discomfort. Furthermore, Asus has a unique Extreme Low Motion Blur Sync (ELMB SYNC) technology enabling fast-paced frame rates, eliminating any tearing, lagging, or ghosting, and providing you quality gaming.
This 27-inch monitor with a WQHD display and fast IPS panel gives the best graphics and a professional colour finish. Certified as G- SYNC compatible, it delivers a smooth and fast-paced gaming experience due to its VRR (variable refresh rate). It consists of HDR (high dynamic range) technology yielding a high-class colour gamut of 95%. It also passes the DisplayHDR 400 certification.
It is VESA compatible for wall mounting meaning that you can put it up on your wall, tilt, swivel, and adjust its height according to your comfort. The connectivity ports include two HDMI ports and an input display port providing great connectivity options.
5. ViewSonic VX2757 Gaming Monitor
The last but not least monitor in our list of the best gaming monitors for eye strain is the ViewSonic VX2757. ViewSonic VX2757 comes in 3 sizes of 22 inches, 24 inches and 27 inches. With a modern yet minimalistic design, full HD resolution and TN panel; this monitor is excellent look-wise as well as by performance. The AMD-free sync technology provides a smooth gaming session, without any image tearing or blurring.
The eye care technology includes flicker-free technology and blue light filter, saving you from the harmful rays resulting in comfortable play all day long. The video and image quality is outstanding with extra-sharp graphics due to its response time of 2 ms and a dynamic refresh rate. It has pre-set customizable visual modes aiding in first-person shooting games and multiplayer battleground games. The gaming hotkeys add to the experience.
The monitors have very flexible connectivity and can be connected to laptops, PCs and Mac through its HDMI, VGA inputs and display ports. The wall mounting capability makes it an all in one monitor/ family TV.
Buying Guide for Best Eye Care Monitors
Most of the recent monitors that you see in the market are eye-friendly. This is the reason you would have heard names like flicker-free technology and blue light often. This buying guide will help you learn better about eye care gaming monitors.
Low Blue Light Technology: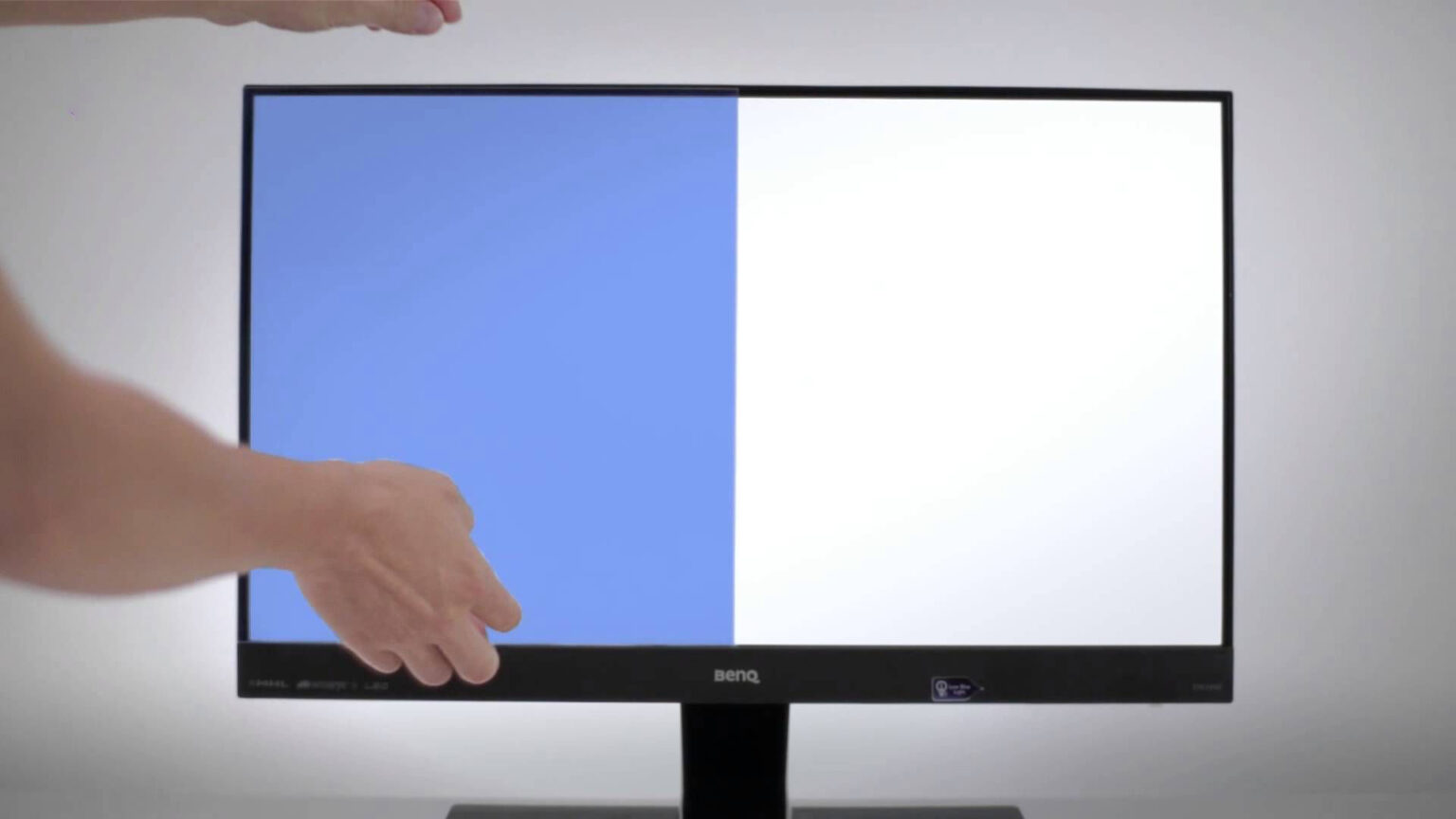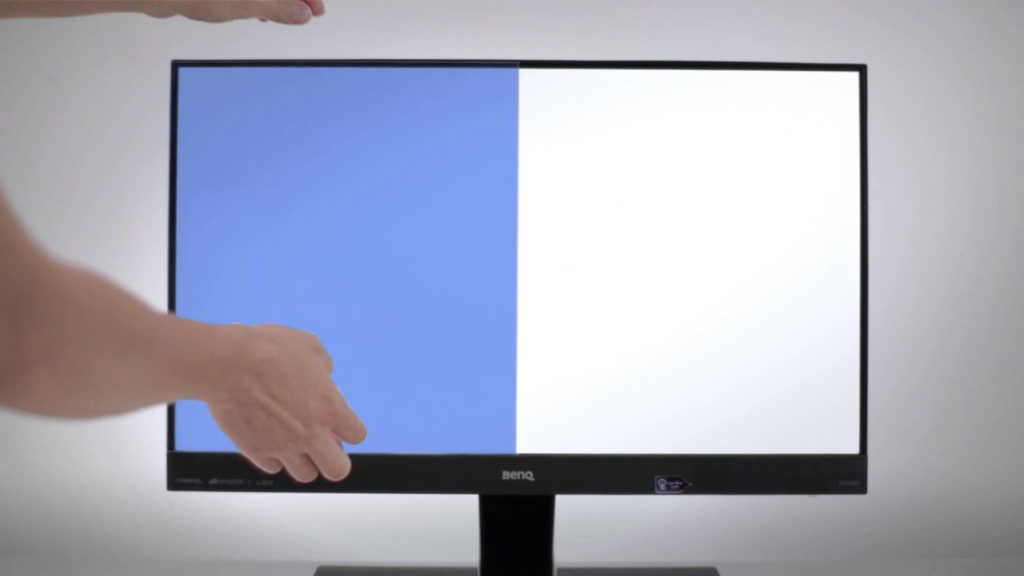 The way ultraviolet rays are dangerous for skin, blue light waves that are a significant component of the screen display are hazardous for your eyes. Extended screen time means more extensive exposure to these rays and in turn affecting your health.
Since blue light is a principal component of screen displays, it can't be eliminated. Therefore, a blue light filter is engineered for the monitors, minimizing the adverse effects without imperiling the picture quality.
Self-adjusting Brightness:
Light conditions in the environment keep changing throughout the day. Therefore, the same brightness level does not suit you and causes discomfort and eye fatigue. Hence, brightness aptitude technology is a great feature.
Monitors now come with smart sensors that sense the environmental conditions and automatically adjust the brightness, saturation, hue, and other settings. This reduces eye strain and provides comfort during long gaming sessions or work hours.
Anti-flicker Technology: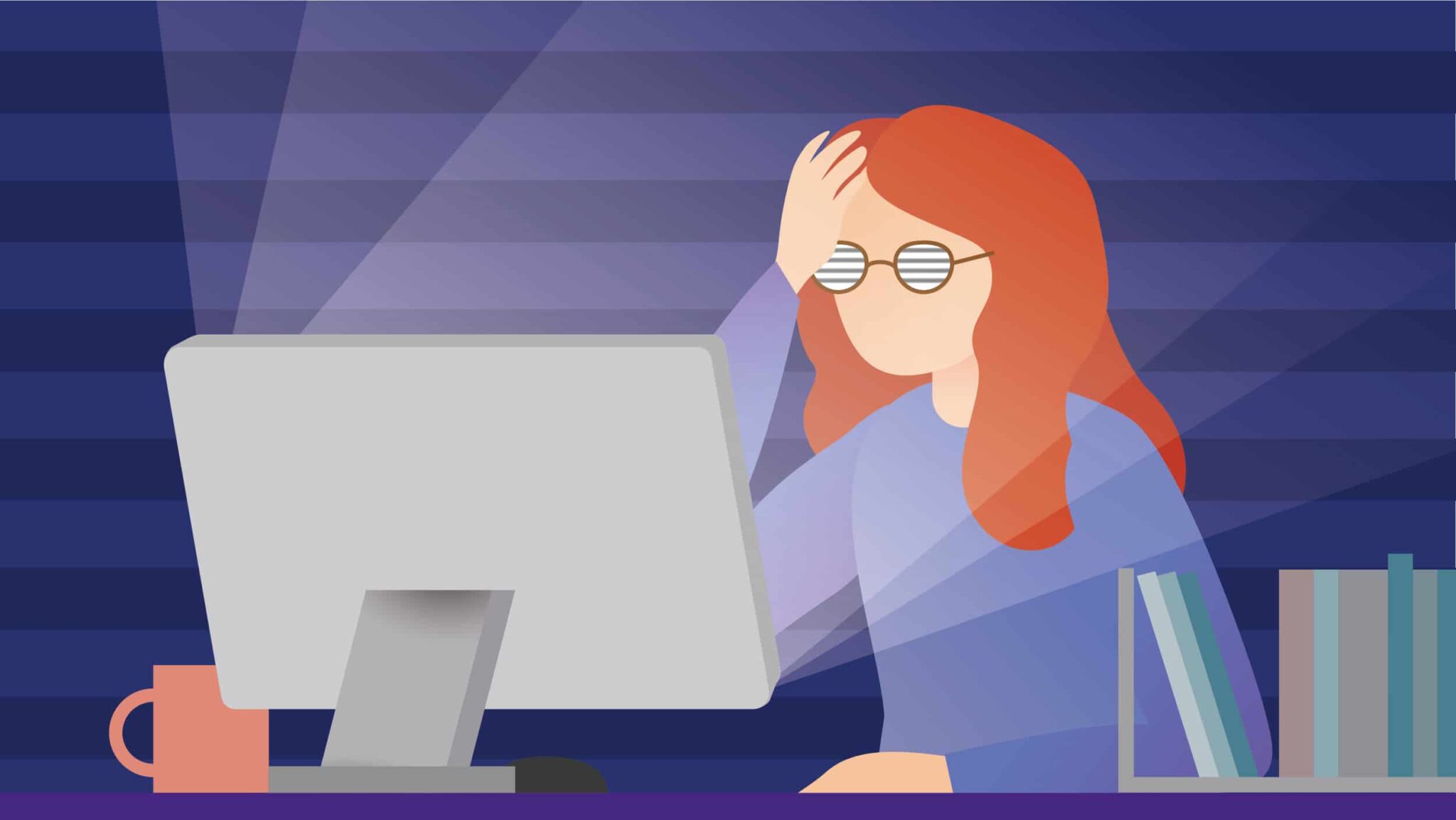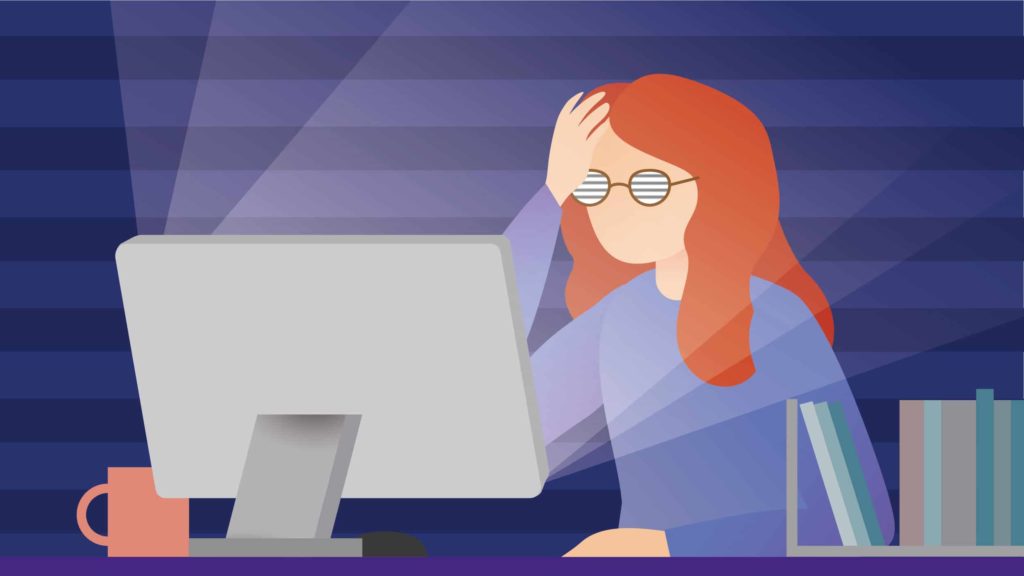 You might not notice it, but every monitor flickers since that is how monitors work. Your brain processes these flickers and keeps your eyes in a constant cycle of focus and refocus.
There is no way of excluding the flicker. Good monitors aimed at eye comfort use flicker-free technology to swiftly sync the refresh rate with the on-screen information. This ensures efficient work with less discomfort. Hence, a monitor with a fast refresh rate of 60 Hz and higher is recommended.
Also check: Best Monitors for Nintendo Switch
Screen Size:
Monitors' sizes range from 19 inches to more than 30 inches. When looking for the best eye care monitor, you should ideally consider a larger screen that provides a greater field of view. A 21/9 ratio works great in this regard because of the larger workspace it provides.
Conclusion
Long screen hours do not have any short-term disadvantages, so you may not notice them right now. But you will start experiencing those side effects in the long run such as eye fatigue, watery eyes, headache etc.
Investing in the best gaming monitor for eye strain saves you from these complications and takes care of your visual health.