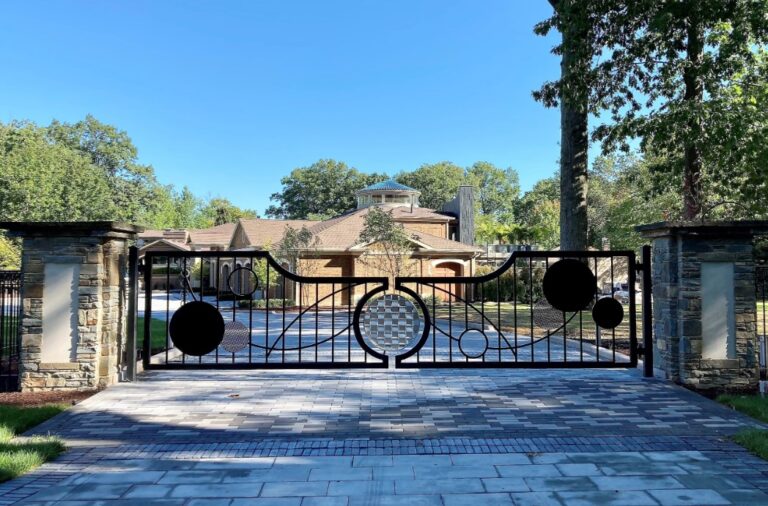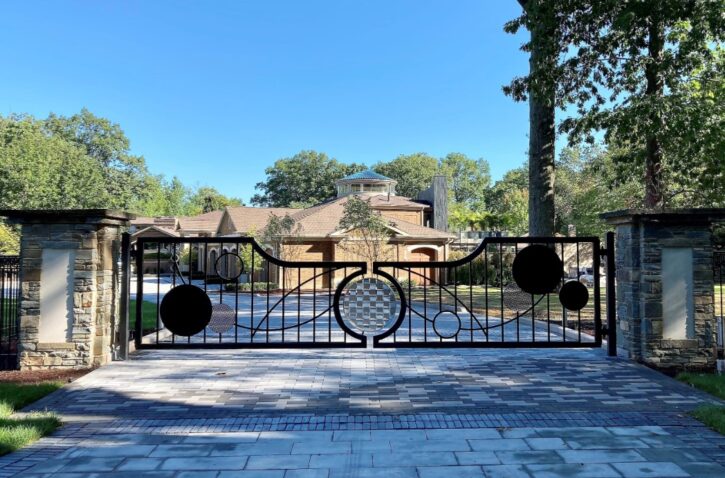 When it comes time to choose the right driveway gate for your property there are several material options to select from such as wood, wrought iron and aluminum. Aluminum driveway gates have become an increasingly popular choice among consumers in recent years due to their numerous benefits and advantages over wood and wrought iron.
While traditional materials such as wood and wrought iron certainly have their advantages, aluminum has emerged as the superior choice for many homeowners. In this article, we will discuss the benefits of aluminum driveway gates in detail.
1. Durability
This is an incredibly durable material that can withstand harsh weather conditions such as rain, wind, and snow. Unlike wood, which can rot and warp over time, and wrought iron, which can rust or crack, aluminum does not corrode or crack. This means that a driveway gate will last for many years with far less maintenance than wood or wrought iron driveway gates.
2. Low Maintenance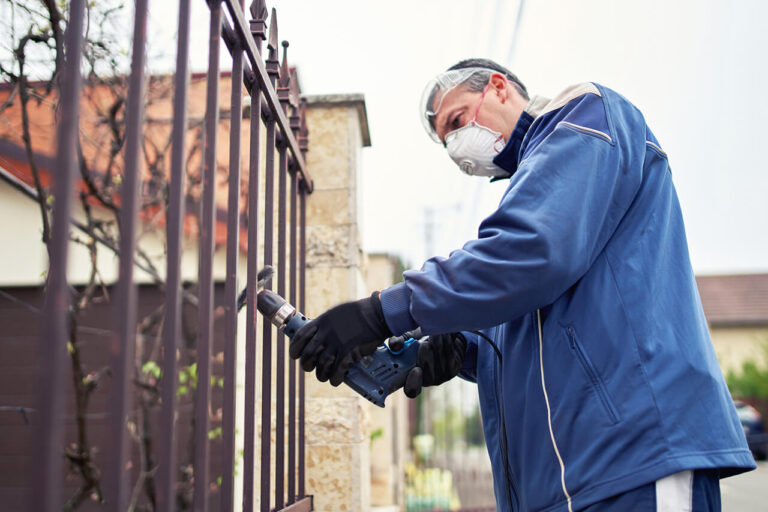 Aluminum driveway gates require very little maintenance. Unlike wood gates, which need to be regularly sanded, stained, and sealed, and wrought iron gates, which require regular painting to prevent rust, aluminum gates require only occasional cleaning.
While these driveway gates were traditionally coated with paint, today the best aluminum gates are coated with a long lasting, super durable powder coat finish. It is important to use a high grade paint or powder coat finish with a higher gloss in typically sunny areas to prevent premature fading of the finish. An occasional simple wash with soap and water is usually all it takes to keep a powder coated driveway gate looking great.
n aluminum gate that has accumulated dust, road grime and perhaps even moss over the years can thus be returned to its original state with a good power washing. This is the preferred choice in areas prone to salt exposure such as beach side homes and gates that are near snowy roads that are covered in salt throughout the winters.
3. Lightweight
Aluminum is an exceptionally lightweight material, meaning that a driveway gate is easy to install and operate. This is particularly important if you have a large gate or if you want to install an automatic gate opener. The added weight of a wood or wrought iron gate can reduce the longevity of the automatic opener.
Aluminum weighs only about 1/3 as much as a similarly designed wood or wrought iron gate. The gate will work with a smaller gate opener than wrought iron or wood gates. Gate automation installers prefer to work with aluminum gates due to their lighter weight. Thanks to its high strength-to-weight ratio, this is the best choice when considering these several factors.
4. Customizable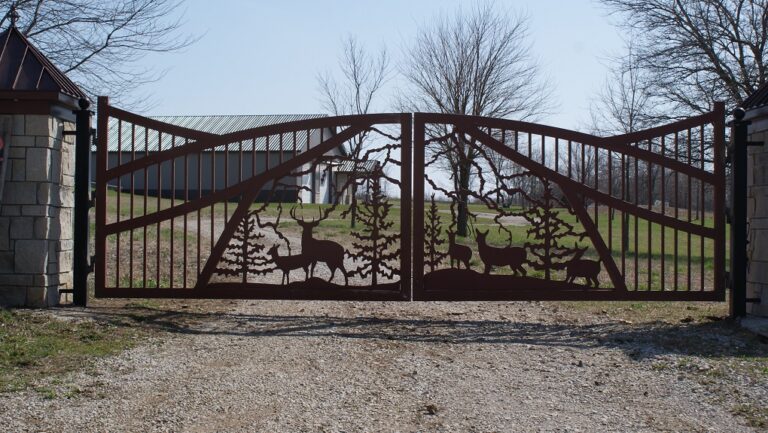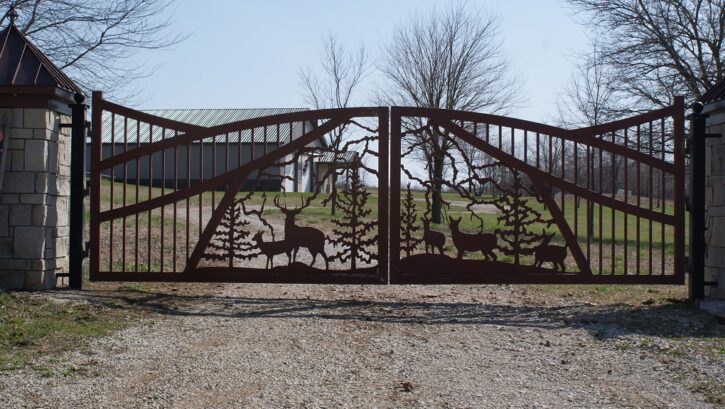 Aluminum driveway gates are highly customizable and can be designed in practically limitless shapes and sizes. They can be designed to match the style and architecture of your home and can be painted or powder coated in a wide range of colors to suit your preferences.
In addition, aluminum gates can be designed with various decorative elements, such as scrolls and finials, clavos, or perhaps even customized silhouettes to add a touch of elegance and sophistication to your property.
You may wish to add a plasma cut aluminum design with natural design themes such as trees or wildlife, or perhaps silhouettes of horses if you own a horse farm, or even your family or business name. Aluminum can be formed into many shapes that aren't possible with wood, lending itself to more creative possibilities that match and accentuate the various qualities of your property.
5. Security
Driveway gates are a great way to enhance the security of your property. They can be equipped with various security features, such as locks, keypads, exit wands, mobile phone apps, and intercom systems, to ensure that only authorized individuals can enter your property.
In addition, an aluminum driveway gate can serve as a visual deterrent to potential intruders, as it signals that your property is protected and secure. Furthermore, your aluminum driveway gate can also keep pets and children from wandering away while preventing stray animals or wildlife from accessing your property.
6. Cost-Effective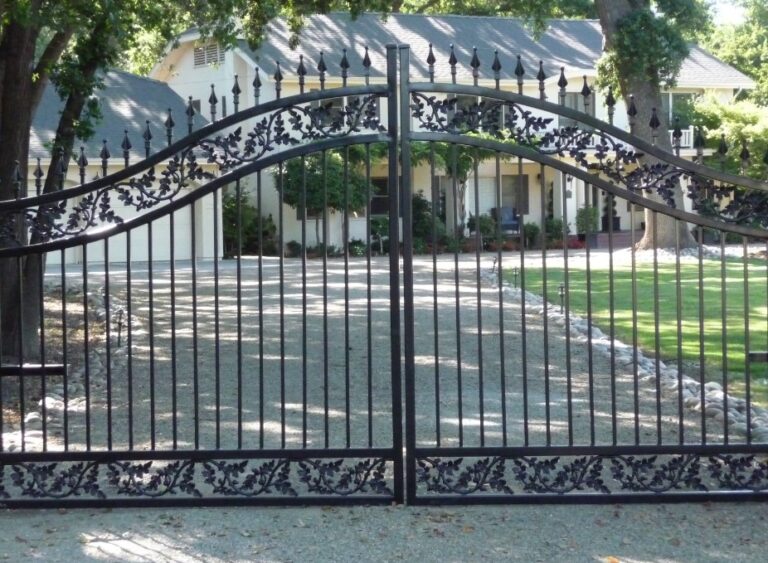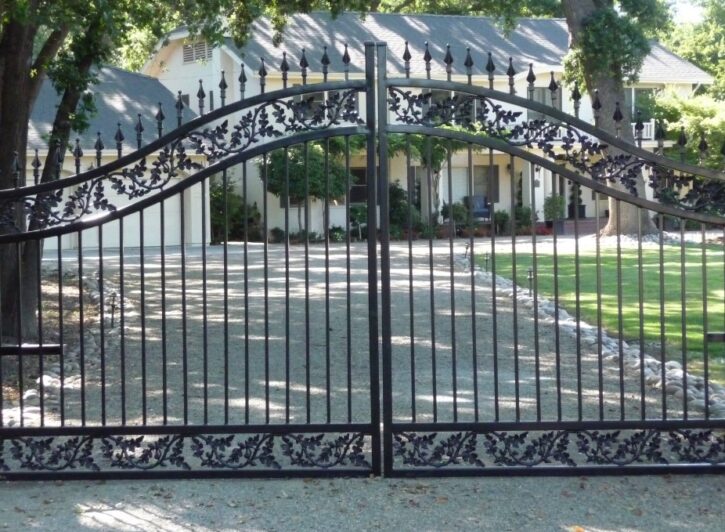 While aluminum driveway gates may initially cost more than wood or wrought iron gates, they are a cost-effective solution in the long run. These gates require minimal maintenance, so you will save money on maintenance costs over time. In addition, aluminum gates are more durable than wood or wrought iron gates, so you will not need to replace your gate as often.
7. Eco-Friendly
Aluminum is a highly sustainable material. It is 100% recyclable, meaning and that your driveway gate can be recycled at the end of its life. 50% of all aluminum is recycled by the consumer after final use. In addition, this is a lightweight material, requiring less energy to transport than heavier materials such as wood or wrought iron.
The environmentally friendly qualities of aluminum are even more appealing with the recent attention on green building and manufacturing practices.
Summary
Aluminum driveway gates offer numerous benefits over traditional materials such as wood and wrought iron. They are durable, low maintenance, lightweight, customizable, secure, cost-effective, and eco-friendly.
If you want to enhance your property's beauty and security, an aluminum driveway gate is an excellent investment. If you in the market for aluminum driveway gates, keep in mind that there are many companies who will work hand in hand with you or your contractor to design the aluminum driveway gates of your dreams.