You probably hear this all the time – technology development changed our lives inside out. Everyone can state this without a trace of doubt. Today, we're going to talk about digital magnifiers. You can no longer complain that the font is too small. Reading has never been easier even for those with impaired vision. If you ha trouble getting all the letters, and all the words, your suffering has come to an end. By now you had been introduced to the digital magnifiers. If you haven't you've come to the right place.
In this article, we are going to talk about the top four digital magnifiers for low vision. For all of you out there who have vision issues, a solution is knocking on the door. With this simple device, your personal and work life can be vastly improved.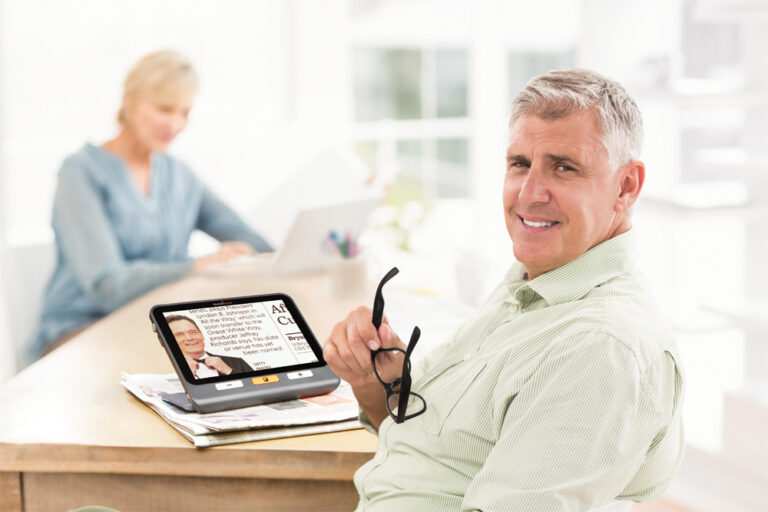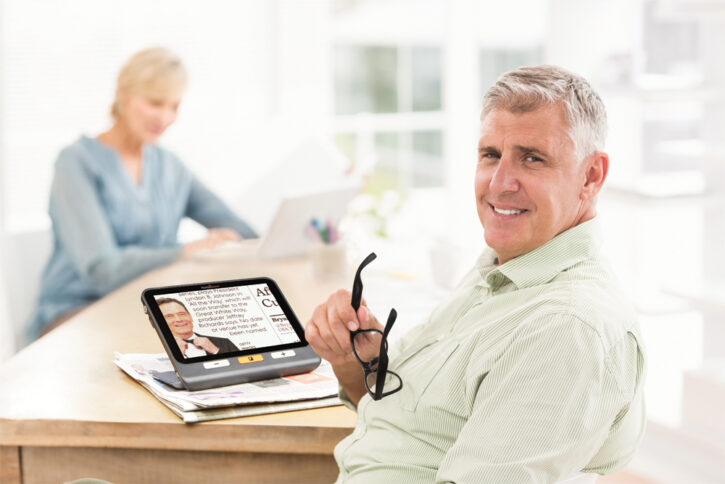 If the reading has become a nuance, it doesn't have to be anymore. Digital magnifiers are a thing now, and thanks to the competitive market you have plenty of options to choose from. We're not joking when we said that this domain is crowded. The manufacturers took care of every detail including battery life, the size of the screen, the number of available ports, and various other traits.
Many people all over the world now work in this industry. If you're curious about this technology, we're not going to stop you from investigating on your own. For one, you can learn a lot about digital magnifiers if you visit this site. As we said, a lot of effort was put, not only into these devices but into various other assets that could help people with visual impairment all over the world. If you want to leave the reading issues behind you, and start reading like you used to, please keep reading. Check out our recommendations and tell us what you think in the comment section.
1. Eyoyo Portable Digital Magnifier
Let's start with Eyoyo. This little thingy is what everyone needs if reading on the go is your passion. It's the best option you have if you love to read newspapers or magazines while commuting, sitting in the park, or in your favorite coffee place. While it's dubbed as portable, it still offers plenty in the size department with a 5-inch screen. If the small print has become your number one enemy, with this device it will be no more.
After all, there's no joking with the 32x zoom and different brightness options. As we said, it's portable, so it's best used on the go. But, you can use it both at home, at work, or whenever you feel like it. What sets it apart from the competitors is the massive screen, the quality zoom options, and the color modes available. What you might dislike is its predominant plastic design. Also, its battery has a long life, but it also takes it up to six hours to recharge.
2. Koolerton Portable Digital Magnifier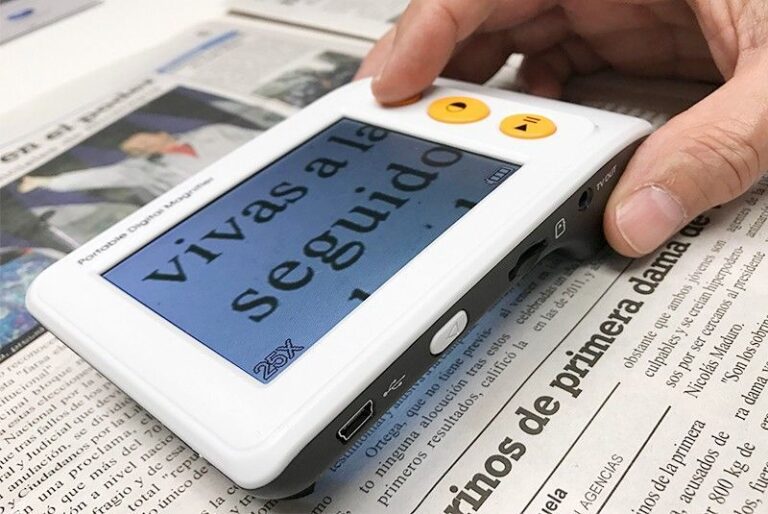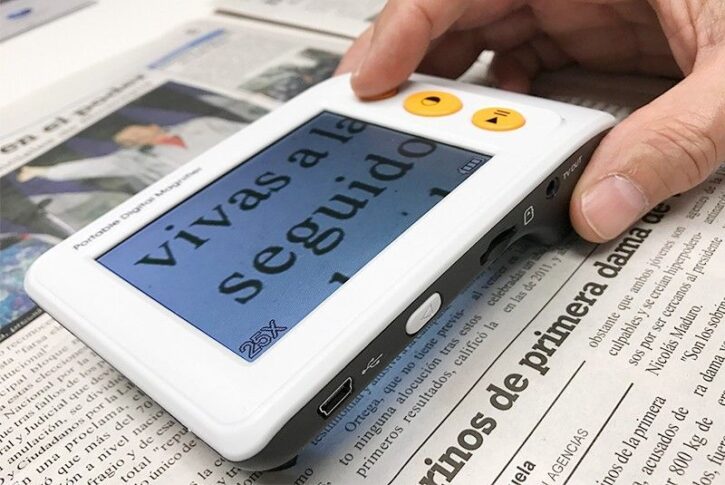 Moving on and we have the Koolerton model. This one is quite lovely with only a 3.5-inch display. For many people, this is the first option due to its design. You could say it's quite unnoticeable, a something James Bond 007 would have on himself. Its pocket size makes it ideal to be used on the go, in almost any imaginable situation. Compared to the model above, its main flaw is the shorter battery life that doesn't expand beyond three hours.
The zoom is quite impressive with the ability to go up to 32x notches. It comes with three color modes and a freeze option. What makes it better than some of the other models on this list is its size, zoom ability, and easiness of usage. On the wrongs side of quality, we have short battery life, which makes it not ideal for longer travels, the not-so-quality materials used in the building process, and the not-so-impressive size of the display.
3. Koolerton 5-inch Portable Digital Magnifier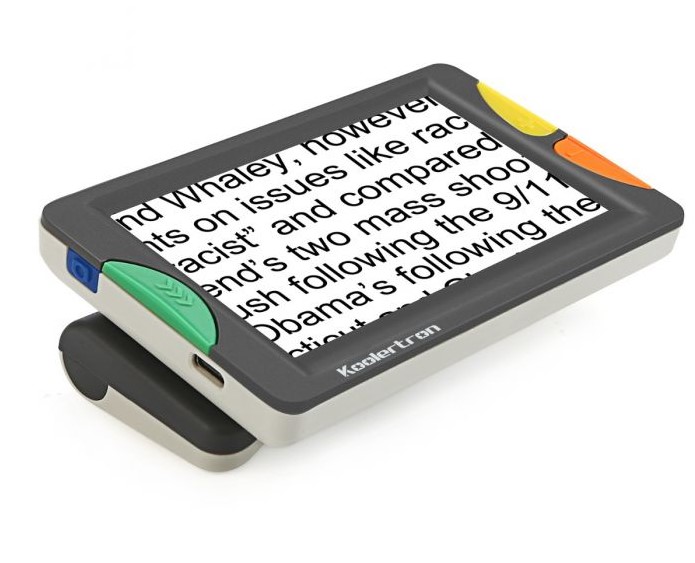 Now, if you've read carefully up to this point, you can see that the primary flaw of the model above is the small display size. The company behind it didn't want to leave anything to the case, so they tough about flaws and how to correct them. That's why we have the 5-inch model too. This one is not only bigger, but it also can brag around with its design. This domain of electronic devices doesn't invest too much into a design like, for example, Apple does with its iPhone, but with this model, they did the right thing. It's an attractive device. If you opt for this Koolerton model you'll be pleased with most of its features.
The most distinctive ones are its 5-inch screen, the easy-to-use navigation buttons, the 32x zoom, and an HDMI output. With this one, reading has never been easier. It was designed with customers' needs in mind, so it's no wonder that its main traits are the great design, a more than fine battery life, and plethora of colors from which you can choose. On the not-so-bright side, it's not cheap by any means, and it sits on the border of portable digital magnifiers.
4. LLSS Electronic Reading Aid Digital Magnifier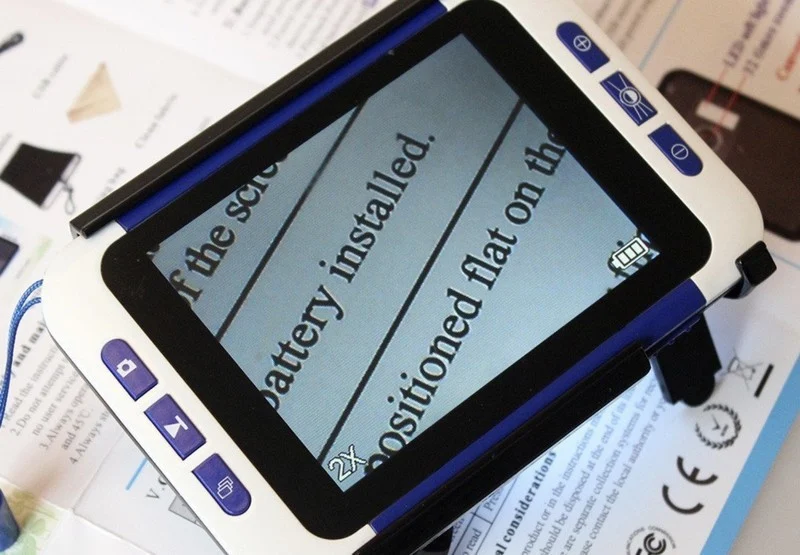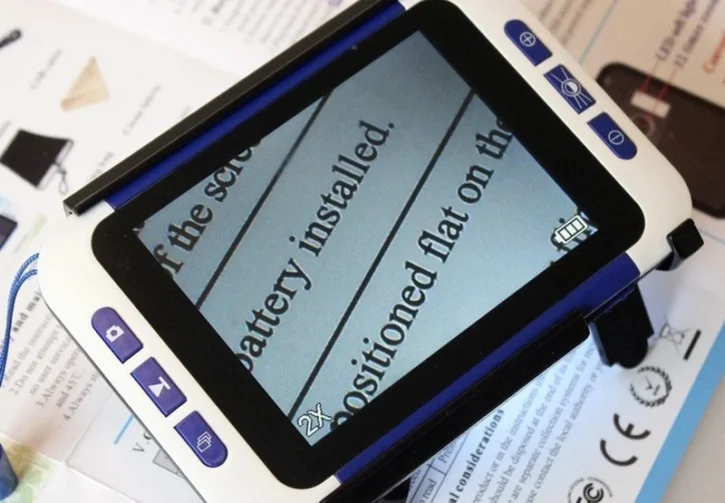 When LLSS was creating this one, they had one thing in mind – the battery life. Because of this, their magnifier comes with a built-in lithium battery. Thanks to it, you can use it for six hours straight on only one hour of charging. Quite a trait. It has built-in two-minute warnings after which it will shut down if you're not using it. It fits the description of a portable magnifier with ease due to its 3.5-inch screen.
It's ideal for people with impaired vision or the elderly who have lost some of their sight with age. It offers a clear vision of nay text, with a brilliant option to freeze and store pictures for an aftermath reading. If you have trouble reading in standard mode it offers up to 32x zoom, which is common for many of these models. While it's the last option on our list, you won't make a mistake by selecting this piece.