It's wonderful that you have decided to have a dog and fill your home with joy! The dog and its owner have a special connection that only people who have a pet can understand. You're already familiar with the sentence a dog is a man's best friend, are you? Right from the start, you must be aware that a pet brings incredible love, but it also requires a lot of obligations.
If you have chosen the Maltipoo for your pet, an incredible adventure is ahead of you! These irresistible dogs are a relatively fresh breed, developed at the end of the last century. Intelligent, small, playful, sweet, and faithful Maltipoo puppies will bring you immense happiness and joy. These dogs can have a lifespan of up to 16 years, but it depends on their care and daily diet. You must feed your puppy with quality food to help its muscle and bone structure grow and develop in the right way. With proper nutrition, your dog won't have health problems, will lead an active life, and will complete your life for many years.
So, let's search together for the best puppy food for Maltipoo!
Diet rules for these puppies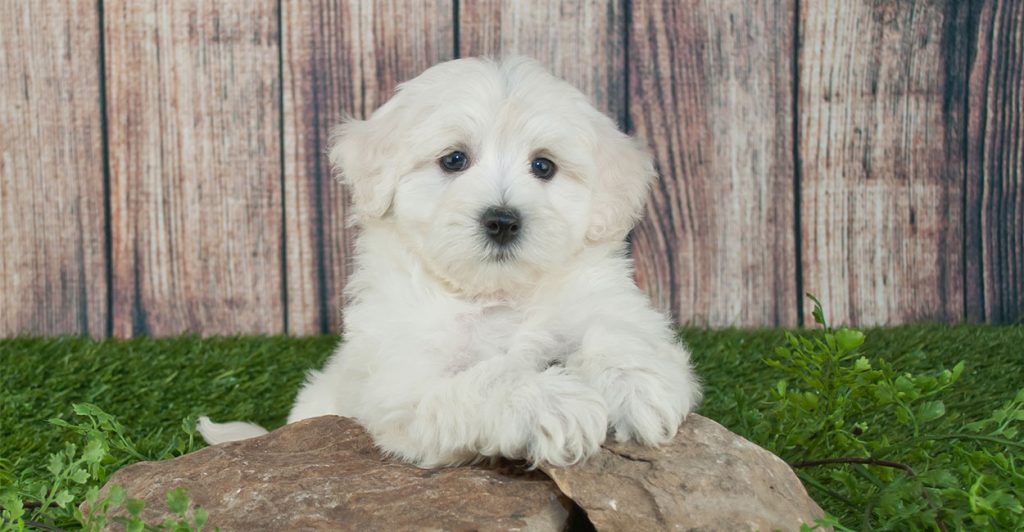 Since you've just got a pet, our advice is to give it some space to adapt to you and the new environment. You do not need to be aggressive with food in the first place, you need both your and his patience in this regard. Maltipoo puppy food should be rich in nutrients, vitamins, and minerals to improve the dog's health.
Meals should be more frequent at first, and as the dog grows the number of meals decreases.
If Maltipoo has is old from 4 to 6 months, feed him 3 to 4 times a day, smaller and more frequent portions
If Maltipoo has a year or more, two meals a day will be enough.
I'm sure this all sounds a little scary to you at first and you're wondering if you'll be able to do everything right, but don't panic, everything will be just fine! Today, there is a huge number of dog food producers on the market, as well as many types of food that your dog will adore. If you haven't had the opportunity or time to find out more about quality food for your Maltipoo, with the help of this article as well as welovedoodles.com you will make the right decision!
Dry food
Dry food is known as kibble. The use of this dog food is very common for several reasons. It lasts long, is easy to use, and is significantly cheaper compared to other types of food. It consists of biscuits, flakes, kibble, and traces of meat and is usually stored in bags that protects it from moisture.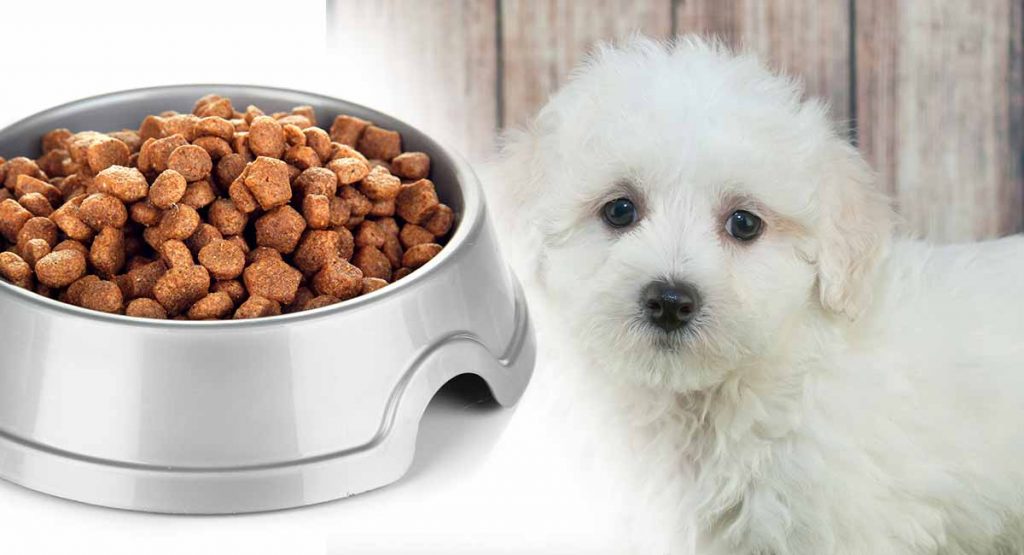 There are several types of food and threads that you can feed your dog with. These include wet food, which requires a detailed thermal treatment, as well as your homemade food, which won't always have all the necessary ingredients that your dog needs. Therefore, we recommend that you stick to dry food while your dog is still little to get him on the right track.
The best products of this type of food:
1. Nutro Wholesome Essentials Puppy Dry Dog Food, Chicken
Food is rich in useful ingredients such as protein, calcium, and phosphorus, which are also necessary for the proper growth of your puppy. It includes chicken, carbohydrate grains, and minerals. There are no traces of GMO ingredients, artificial colors, or additives.
The chicken flavor comes as a great alternative to lamb. If your dog doesn't like the taste of lamb, this product your pet will adore. The farm-raised chicken and is the main ingredient of this dish. It's a very good source of protein.
This food is priceless if dogs have sensitive stomachs. Nutro puppy food has one of the leading positions in the market and its useful ingredients help your dog in further development.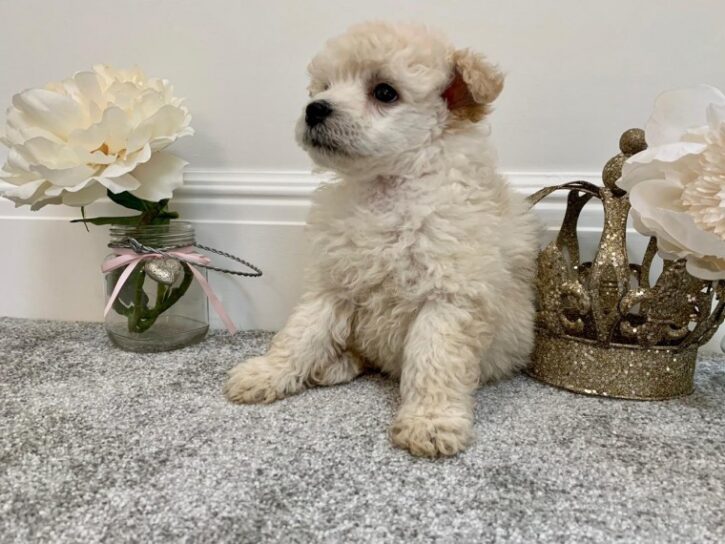 2. Royal Canin Small Puppy Dry Dog Food
This food is ideal for little puppies while growing. After the eighth month, this food will be a real treat for your pet.
It's full of protein, vitamins, and fats which is perfect for your dog's growth. Chicken and rice are the main ingredients of this food. Omega-3 is responsible for the wonderful shine of your dog's hair, which makes it so popular.
Strengthens the immune system of dogs with a mixture of antioxidants and vitamins.
The small size of the kibble is a big advantage of this meal as it's ideal for smaller breeds like Maltipoo. Royal Canin improves your dog's digestion through the prebiotics it contains and helps to reduce stool odor. Also, the shape of this food helps dogs teeth brush.
3. Hills Science Dry Dog Food
This food contains the following useful ingredients: fish oil that promotes sight and brain development, protein for the development of muscle tissue as well as minerals for strong bones and healthy teeth of your dog. The food is made with a mixture of chicken, barley, and yellow peas.
Recommended for puppies older than 9 months. It's especially effective for smaller dogs with thick hair, such as Maltipoo.
Because of the prebiotic fiber that contains, this food helps dogs with sensitive stomachs and sensitive skin. Healthy foods such as apples, cranberries, and carrots are full of antioxidants and vitamins that help maintain your dog's health. Due to the many studies that have been conducted on this food, veterinarians highly recommend it.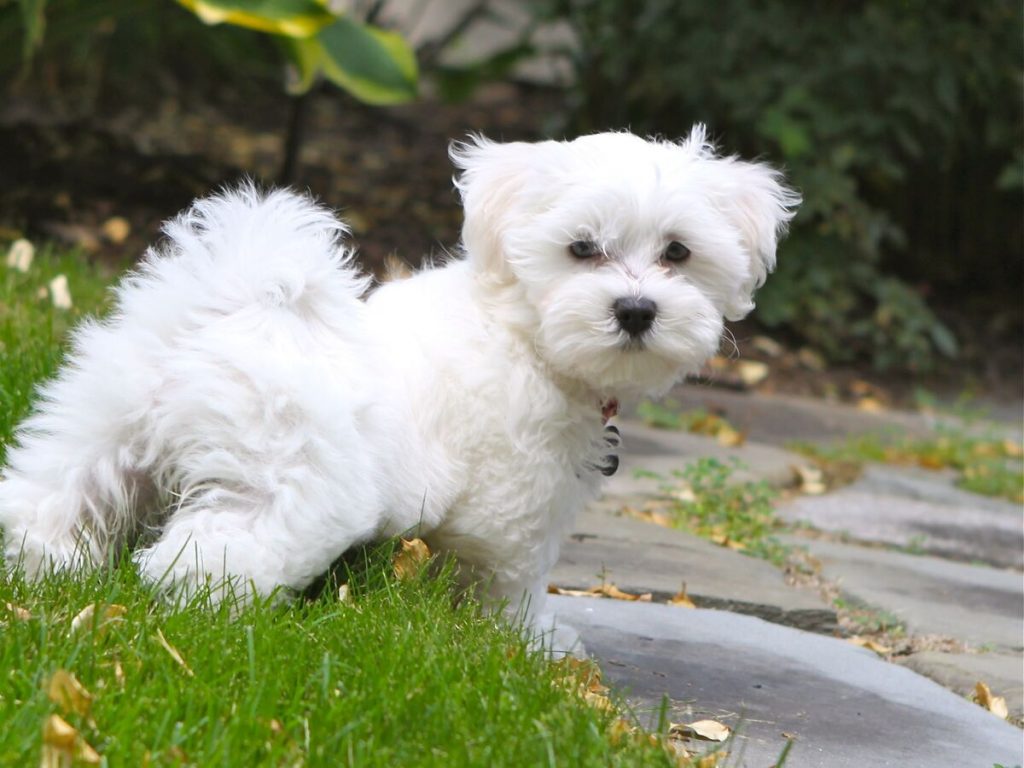 4. Solid Gold Holistic Dry Dog Food
This real treat for small dogs is full of protein, carbohydrates, fats, and fiber. Perfectly balanced for a small breed, this dry food contains oatmeal, peas, chicken fat, bison, etc. Give your Maltipoo proper nutrition to boost his immune system. The food is completely natural, free of gluten, corn, wheat, and soy. Probiotics, combined with a unique blend of nutritious superfoods, provide gut health and overall immune support.
Kibbles are very small and easy to chew and digest. Solid Gold has been working on the taste of food in recent years, so your pet will surely like it.
If you want the perfect food for your dog, choose one of the 4 options offered above. Now you know what to pay attention to and what food your pet would best adapt to. With the right food, your dog will be healthy and playful. So, don't skimp on quality and money to buy the right food for your Maltipoo. Correct your bad old habits today and give your pet what it deserves.