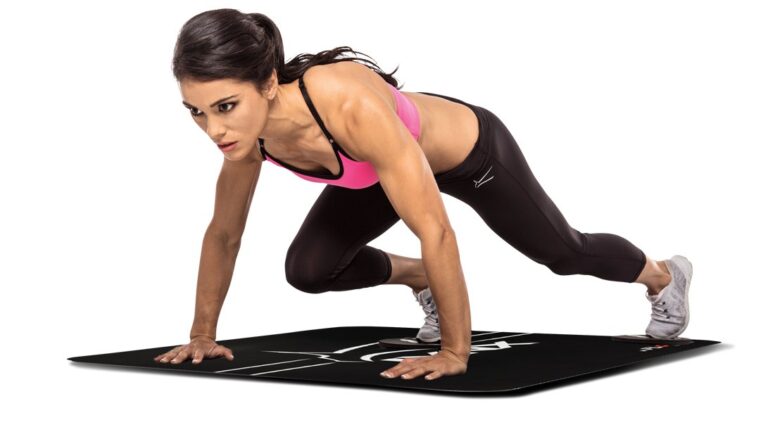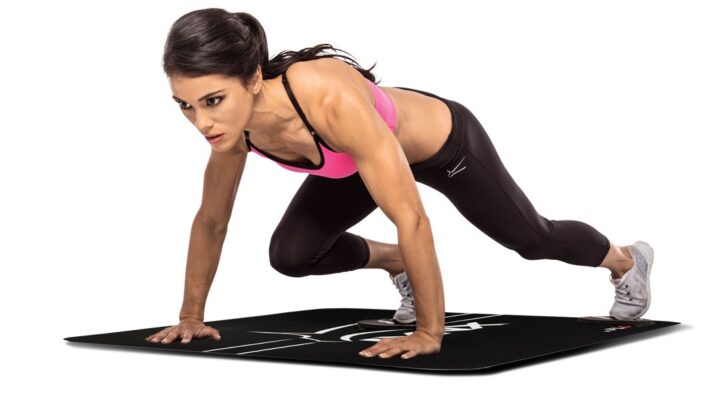 With the pandemic digging in and almost everything about life as we know it grinding to an agonizing halt, those fun times we used to have at the gym are becoming few and far between.
Many have already thrown in the towel and went back to a "couch potato" lifestyle.
However, gym or not, a few of us are still grinding it out.
There's still hope in several teensy-weensy workout equipment that we never thought might save the day. Thankfully, manufacturers are rolling them out in all sizes, shapes, designs, and for virtually any purpose.
And with the small size comes easy portability. A big plus, especially for those in need of equipment for on-the-go use as well.
However, most people, more so beginners, have a hard time figuring out where they can find the best of the best portable workout equipment.
That's actually harder than you might think, especially considering the wide array of all the El-Cheapos out there.
That is where we step in.
I had my fair share of a tough time finding the best portable and space-saving workout gear. Therefore, I threw in the best picks I came across on my search into this post — just so you won't have to spend hours searching for the ideal equipment.
What is the Best Compact Home Exercise Equipment?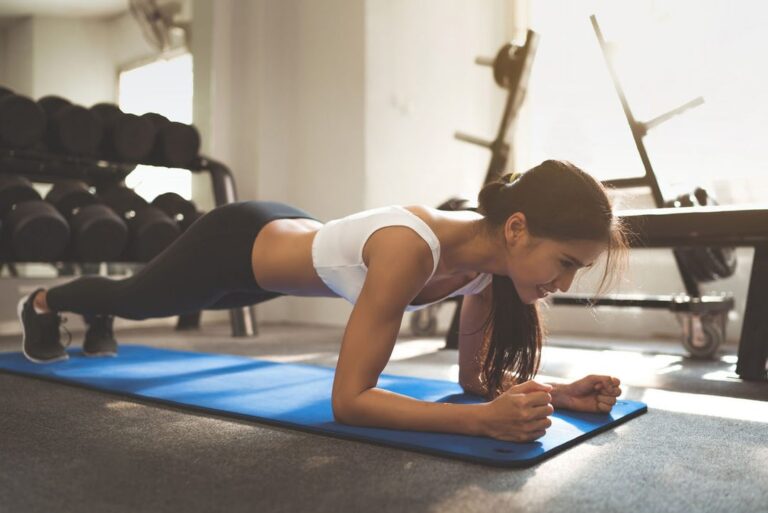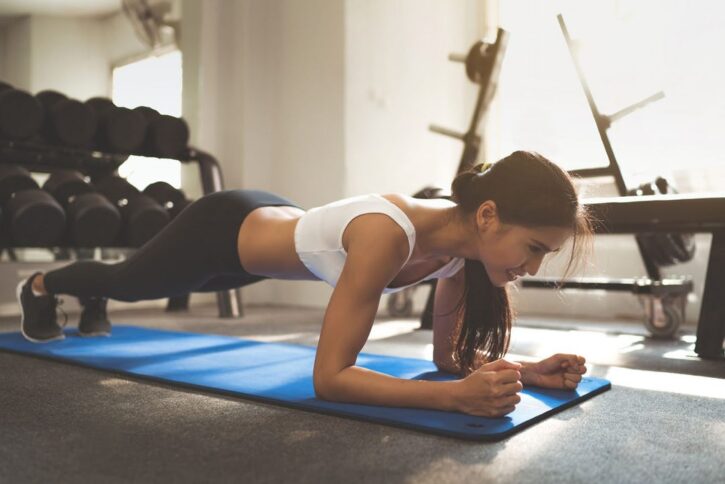 While keeping fit on the go is cool, you will be working out at home most of the time…that has become pretty much the case these days anyway.
It thus helps to have reliable equipment for at-home workout sessions. But there's a catch.
Unless you have an endless expanse of space, setting up a home gym can be tough. And it gets even more complicated for the folks living in apartments with extremely limited space.
In that case, compact exercise equipment comes in handy.
Here are some of the best compact, space-saving home gym equipment for you.
OYO Personal Gym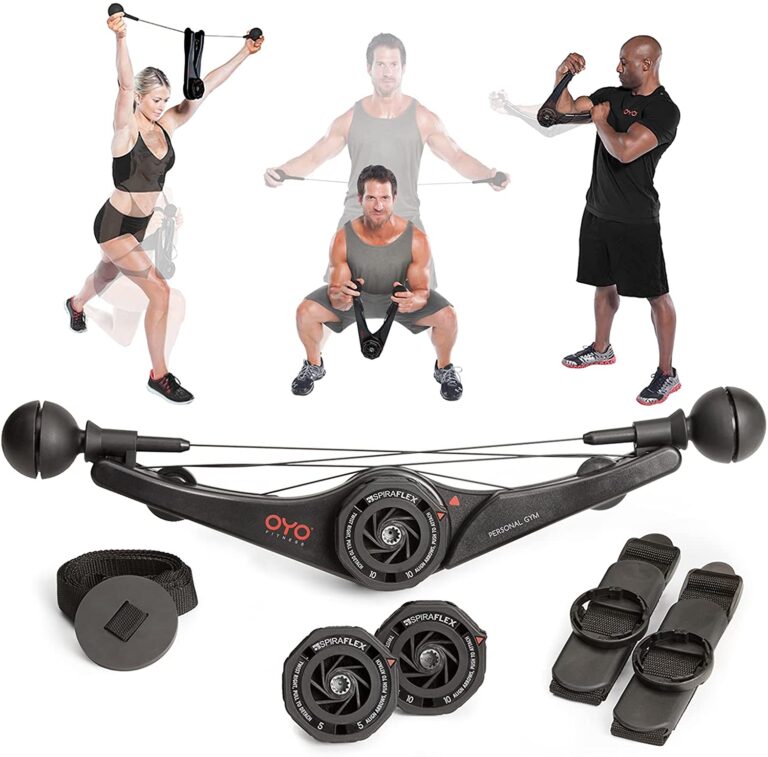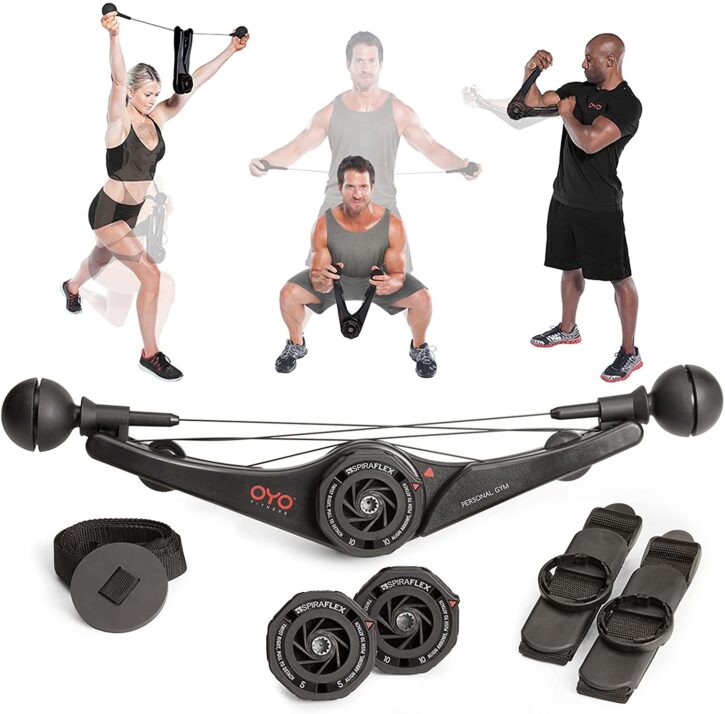 The OYO is a bow-shaped gym with a resistance system made of cables and pulleys. This sets it apart from most other bow gyms with a higher versatility in use.
Its compact design is hands down impressive, measuring just 56 inches long when unfolded, and folding down to almost half that size, it's a nice little unit for saving on space.
Small as it is, this gym is sure going to give you one heck of a workout, it's so effective, and portable, that astronauts have used it in space.
The material speaks for itself, with the frame made of heavy-duty polymer, and the stainless steel cables featuring a nylon coating for the best of strength, durability, and safety. It's so well-rounded you can use it for almost 200 workouts, engaging your core section, the upper and lower body alike.
And yeah, it weighs just 25 pounds, so weight shouldn't be much of a concern either.
Total Gym XLS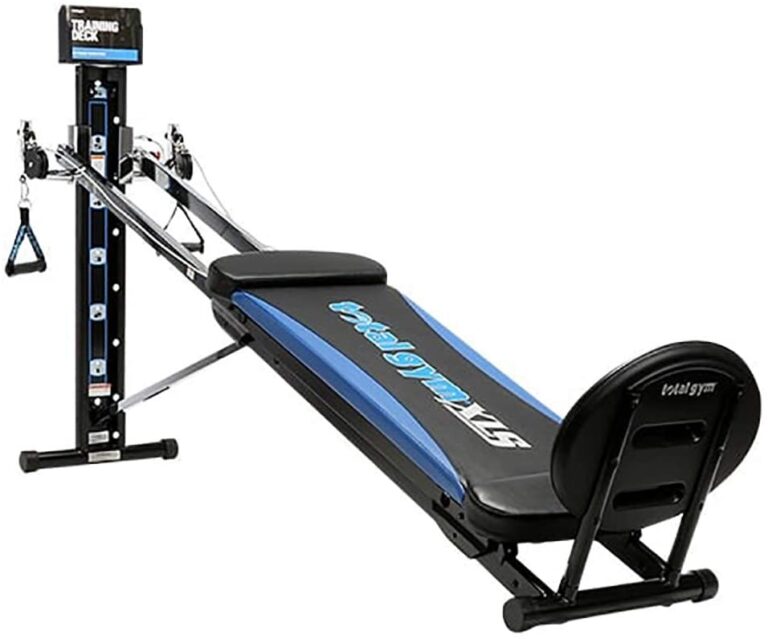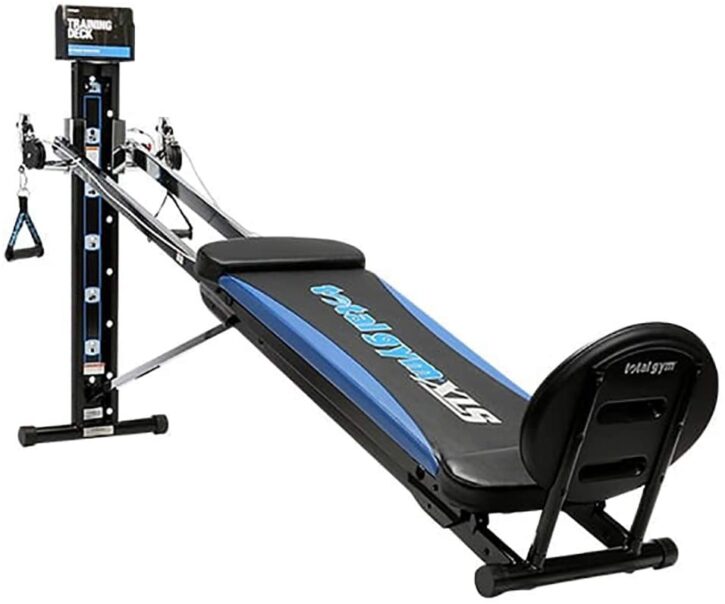 This gym is the other versatile option you can get for home use without any concerns about space. Its folding design further helps with that, collapsing from the unfolded 90" by 19" to about half this size.
It is also fantastic for a full-body workout, thanks to the pulley system design, which offers a bodyweight workout with the use of an inclined track. For more weight, you just have to increase the incline percentage.
Also, this machine is ideal for a low-impact workout, which means it's easy on the joints. Nothing comes closer to a smooth workout that best suits beginners and folks recovering from injury.
Now, the gym comes with virtually all you need for your workout sessions; including nylon handles, leg pulls accessory, straps, a wing attachment, a pilates kit, and of course, the frame.
This gym also sports a laundry list of cool benefits, but the aforementioned, along with its 400-pound capacity and enough versatility that allows you to do up to 80 exercises, are some of the best.
Best Overall Exercise Equipment For Home
If space isn't an issue for you, then you have every reason to go all out for a piece of equipment that can give you even better results overall.
There's a wide range of options to choose from, all of which have plenty of advantages. But the best way to go about this is to start nice and slow for beginners, and then work your way up to advanced fitness levels.
Here are some of the most suitable equipment for that.
The Very Basic: Gaiam Premium Extra-Thick Yoga Mat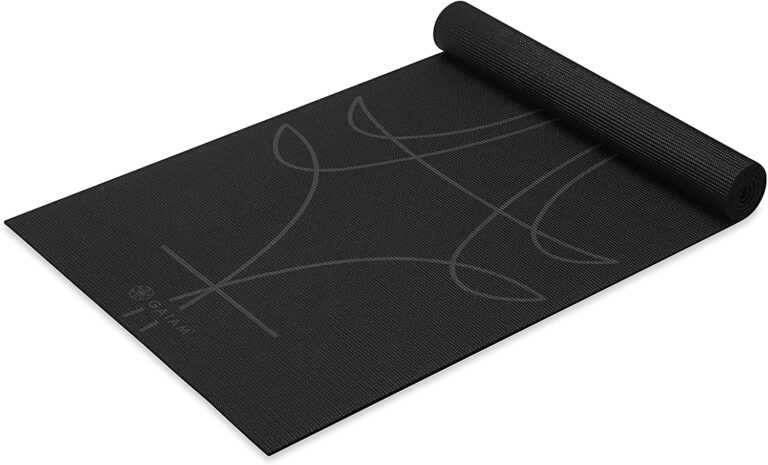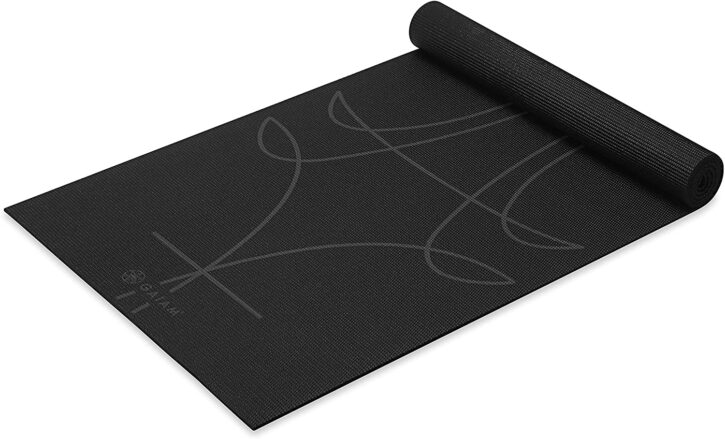 What better way to dip your toes into the fitness space than with simple and basic workouts like bodyweight and HIIT exercises. Now, you don't want to be doing some of these moves on the hard concrete floor.
That's where a mat comes to the rescue.
You will need it for several exercises, but what matters the most here is the overall build quality.
Thankfully this mat doesn't disappoint at that, not with such features as the extra thick design at 6mm of padding, a textured non-slip surface, and an easy-to-clean design on board.
Even better, it weighs just 3 pounds, making it a breeze to move around when needed.
Intermediate: Flybird Adjustable Bench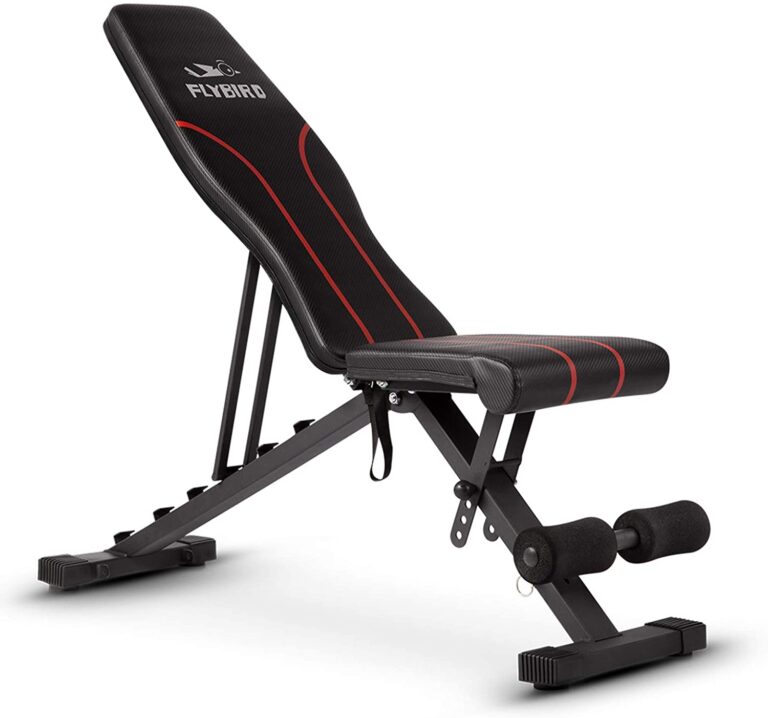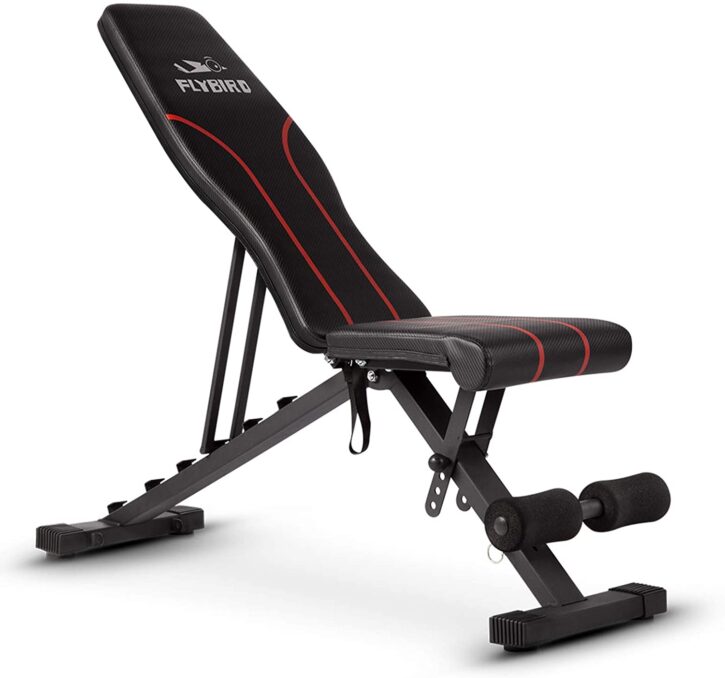 Those who have got their fitness journey underway can up the ante with this cool utility weight bench from Flybird.
The bench is built for versatility, and it does that (and more), especially with the incline and decline functions. It's no wonder, then, that it has garnered a whopping 12,000 online reviews from happy users.
Its material is one of the bits that rank it among the best, with a high-quality steel frame and lasting leather giving you a combination of high performance and durability.
That, and then the stout construction for a sturdy bench that can take up to 600 pounds on a stride.
Flexibility can't get any better, especially considering you have up to 6 back positions and 4 seat positions for the best comfort possible when working out.
Plus, the bench comes fully assembled and is easily foldable to save on space; collapsing into a nice little 31.5" by 12.6" by 11.8" package that you can conveniently store away in a corner.
Advanced: Bowflex Home Gym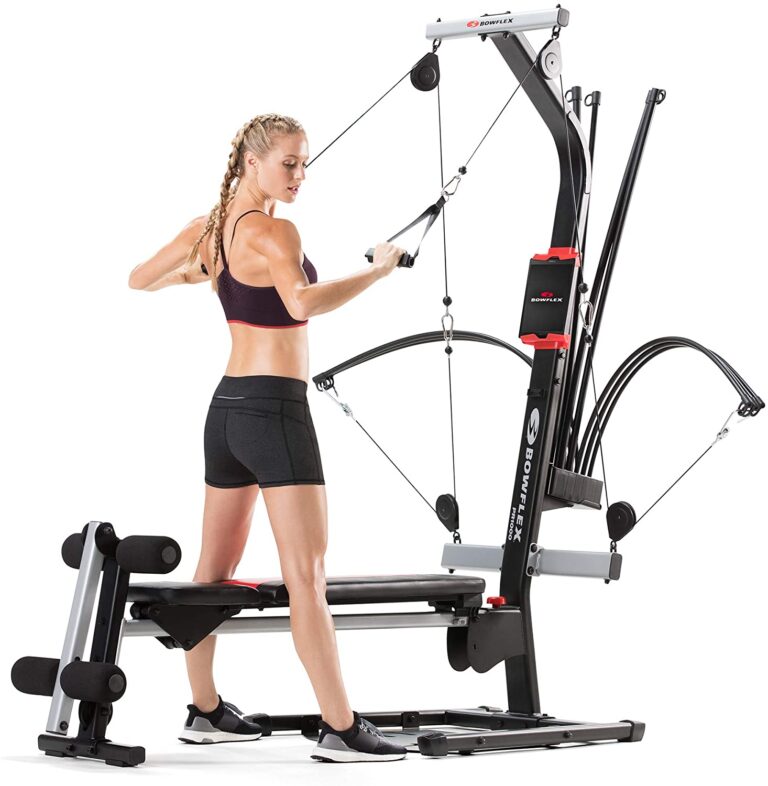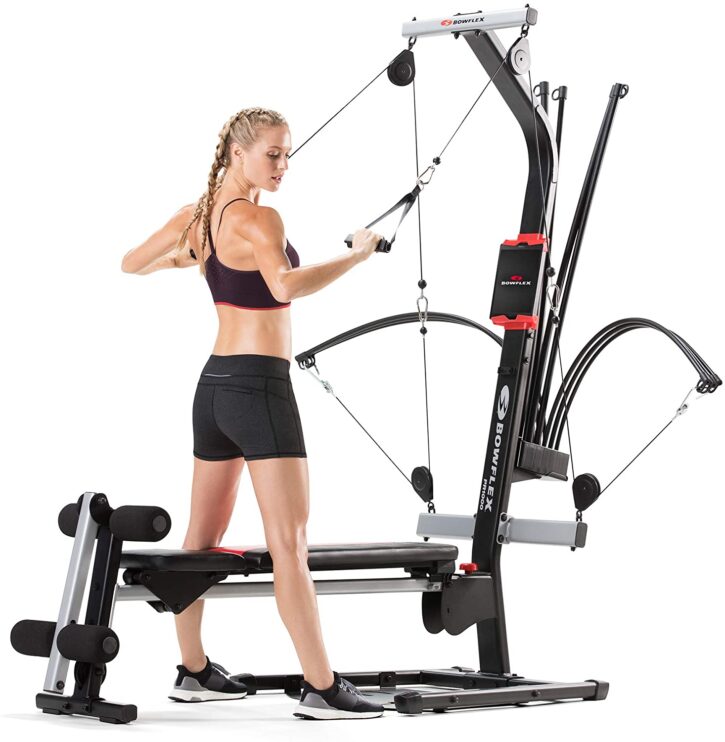 You might not have used this high-end home gym, but there's a good chance you've heard about it already.
I would sing its praises all day long if we were to go into the nitty-gritty, but simply put, it has just about everything you need in one solid piece of equipment.
That includes a built-in media rack, several cable pulleys, aerobic rowing for strength and cardio exercises, a horizontal bench press, and much more. All of these allow you to enjoy up to over 25 exercises for the whole body.
If you are on the hunt for an all-in-one gym, this one's for you.
Portable home gym equipment
Having looked at all the essential, and some advanced home workout equipment that you can, and should add to your home gym, it's worth mentioning that portability is of the utmost essence, too!
This single aspect gives you the best of both worlds when it comes to staying fit at home and on the road.
BodyBoss 2.0 Full Portable Home Gym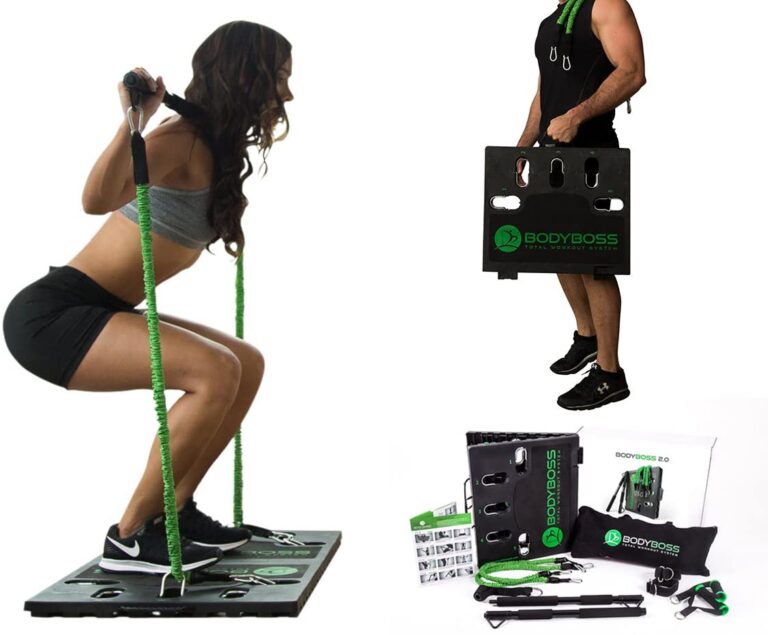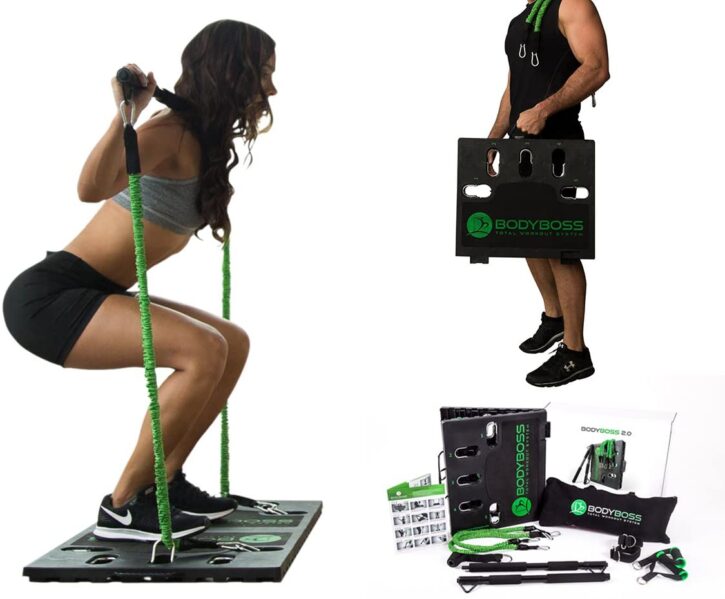 The BodyBoss 2.0 gym is not just portable, it also holds its own with remarkable performance, durability, and a cool user experience overall.
This gym proves to be yet a fantastic all-in-one choice with just about everything you need for a full-body workout. Just play around with it, and you'll be amazed at the range of moves you can pull off.
From ankle straps to grip handles, a resistance bar, a folding base, two resistance bands, it's a wide array of workout equipment in one single unit.
Yes, you can use it as just about anything from a bench press, a squat rack, and much more.
Can it be portable with all these perks? Well, albeit weighing about 16 pounds, this unit features built-in handles and a foldable design, which make it easy to pack up and carry.
Portable Exercise Equipment for Office
Listen up corporate folks, being busy isn't an excuse for not leading a fit lifestyle. There's more than enough array of equipment to help you scale the heights of your fitness endeavors.
A good one just needs to be easy and comfortable enough to merge into your desk life without chipping away at your concentration. If anything, good office workout equipment should actually help you stay focused.
And none does this better than this one right here;
Chair Gym Version DELUXE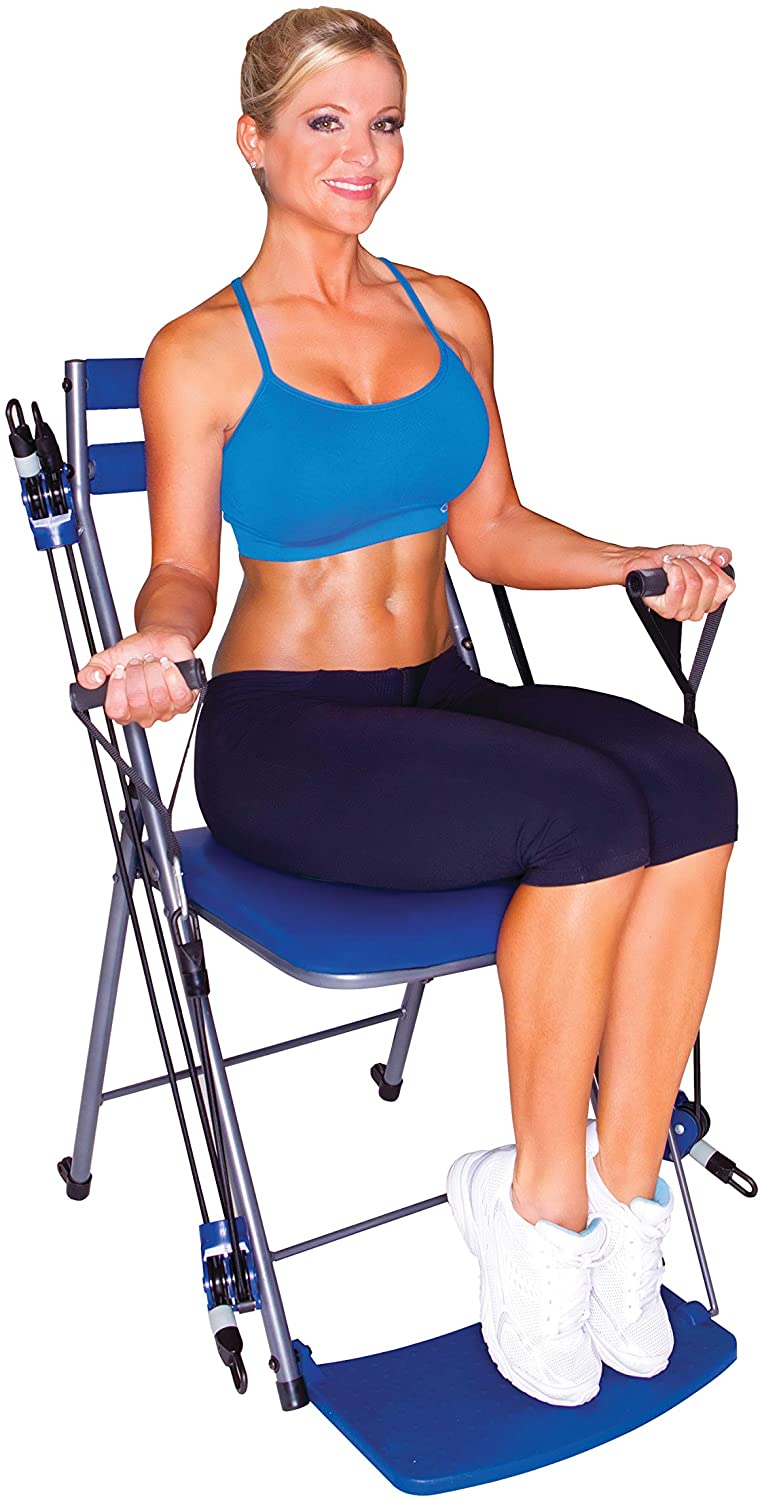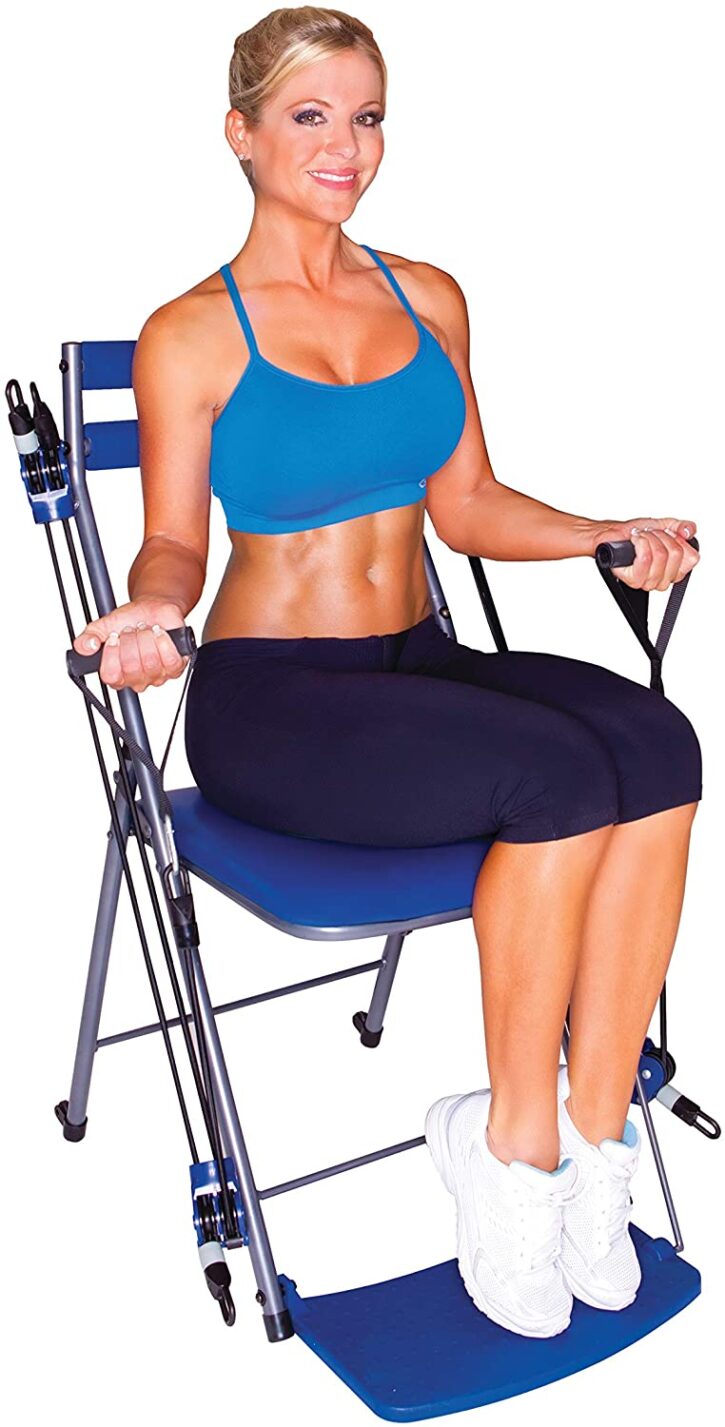 Built for low-impact workouts in the office, this chair's workouts are super easy on your body, while still giving you the exercise you need to see results in the long run.
The intensity is just right, with the resistance cords giving you a smooth, fluid motion, but still solid enough to keep you toned. And yeah, you can use it for both upper and lower body workouts.
The materials are nothing short of impressive. A steel frame, elastic and synthetic parts offer the best performance and durability.
Then there are some cool specs;
Comes fully assembled
Weight: 18 pounds
Weight capacity: 300-350 pounds
7-day meal plan included
What is the Best Portable Exercise Equipment?
There's only a fine line between a portable gym, and solid, permanent workout equipment.
And the range of options out there doesn't help either, as it can be overwhelming, if not confusing. So I honed in on two of the best pieces of equipment that are working magic for me; resistance bands and dumbbells.
They may not sound very reassuring, but these two can be all you need for one heck of a workout, both at home and away.
Resistance bands
Resistance bands don't seem as tough as some high-end complicated home gym equipment come across, but with a good set, you will be hard-pressed to find anything better.
That's right, all you need is the right set of bands, use them well, and you can be sure to see results soon enough.
Here are some of the picks that I've actually tried, and came to love.
Whatafit Resistance Band Set (11 Pieces)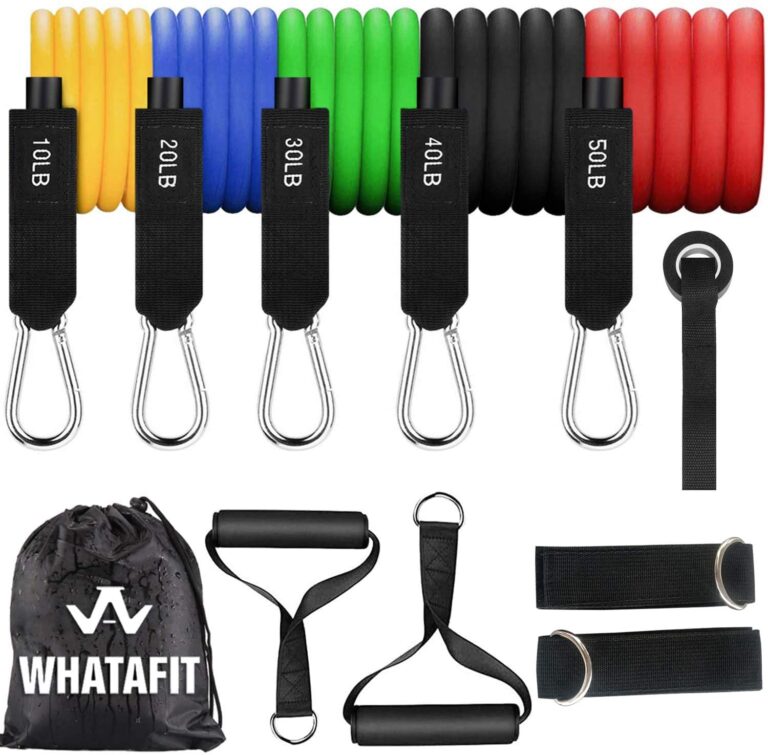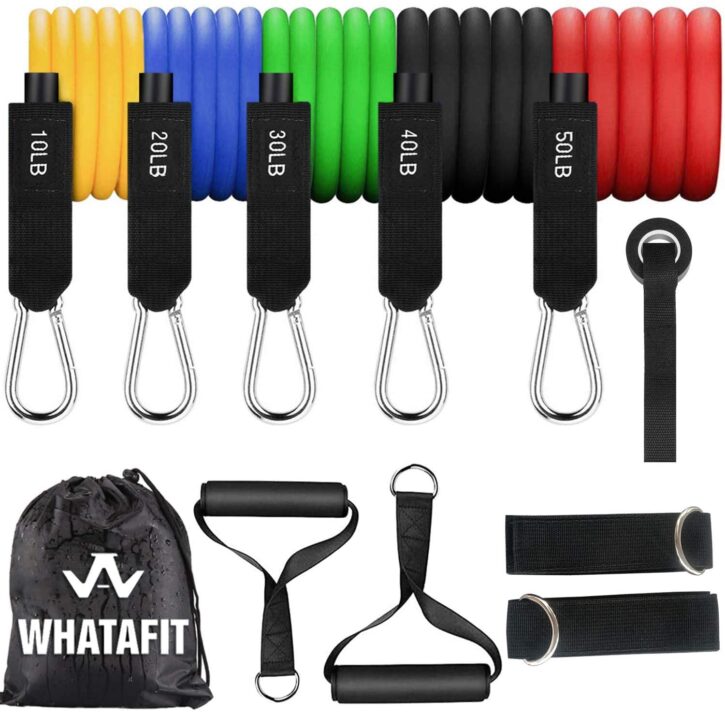 This set of 11 pieces is one of the best that I could find out there, and I've come to love it so much I still own it.
They are the go-to gear that I grab when I don't feel like taking on the weights or facing the heavy bag. Did I mention that they work great for tight spaces as well? I don't need an acre of storage space for these, they fit just about anywhere.
Plus, the pocket-friendly price tag is a lifesaver if you are tight on budget. Then there's the wide range of resistance options, up to 50 pounds, which has proven very effective at growing and toning my glutes, arms, chest, and shoulders over time.
It gets even better, as the kit also comes with several extra accessories;
2 ankle straps
2 handles
A door anchor
And a storage bag
Whatafit Resistance Bands Set (16 Pieces)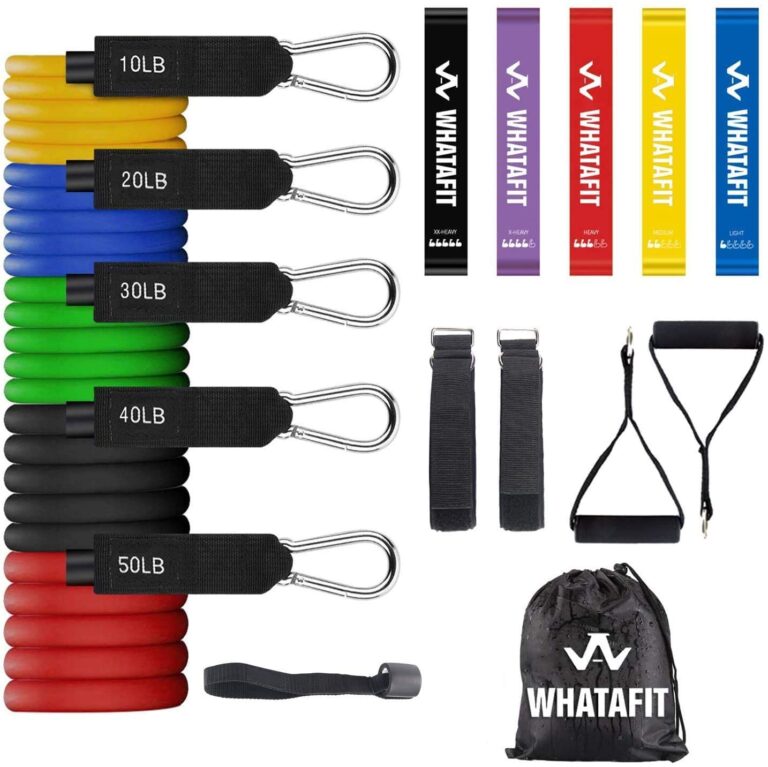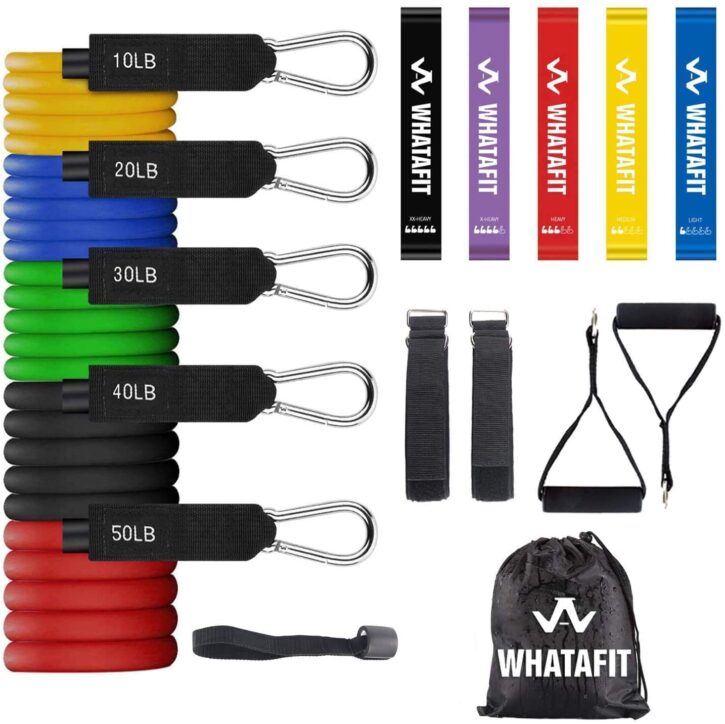 If the above 11-piece resistance band set doesn't seem to suit all your workout needs, then go a notch higher and grab this 16-piece package. You can bet the extra 5 pieces are going to make a difference.
Quantity aside, this set too is just as awesome as the one above, perhaps better. The bands in this one are up to 36" long, and you can use them individually or combine a few of them to achieve higher resistance, maxing out at an insane 150-pound resistance.
Made of natural latex, the bands are not just strong and resistant to wear, but also environmentally friendly, a big plus. You don't expect them to snap or break within a few months, and yes, they don't disappoint when it comes to strength, elasticity, and tenacity.
Then comes the cool part; they are in different colors, so it's easy to pick the different resistance capacities:
Yellow -10lbs
Blue – 20lbs
Green – 30lbs
Black – 40lbs
Red – 50lbs
Also included in the package are extra, quite handy accessories as well:
Non-slip handles
5 loop bands
1 door anchor
2 cushioned handles
A carrying case
A manual
Adjustable dumbbells
Dumbbells are the go-to fitness equipment for strength training. But the adjustable dumbbell is the crème de la crème of this awesome equipment, especially in terms of saving space and giving you an exceptional experience, not only that but they have been going down in price. Nowadays, there are quite a few options out on the market that is not only affordable but also quality.
Bowflex SelectTech Dumbbell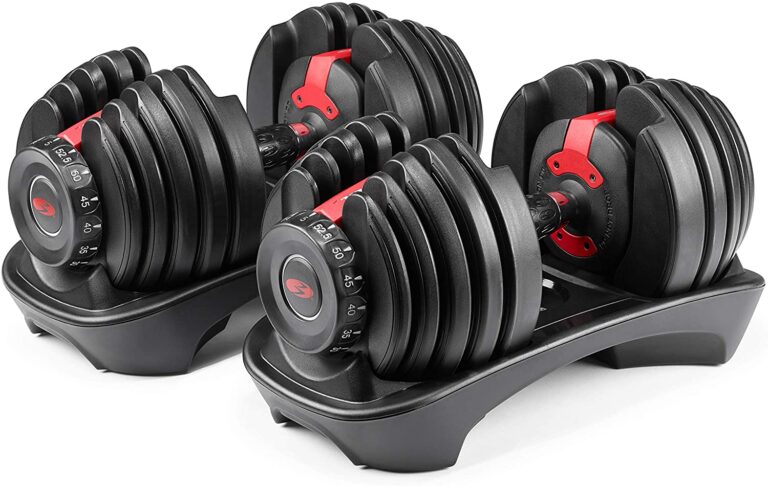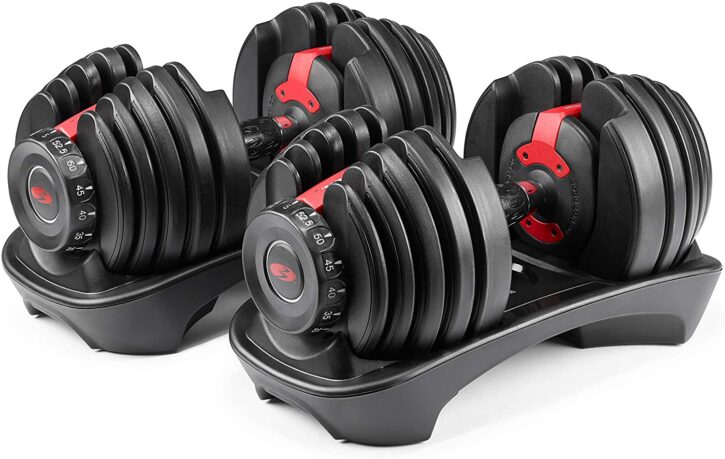 Bowflex is a renowned brand in the fitness and strength training space, and their dumbbells are by far some of the best in the business.
The wide weight range in this one (giving you a wide range of weight options from 5lb to 52.5lbs) is quite impressive. But the best thing about it yet is that you can work your way up with anything between 2.5 and 25-pound increments.
Of course, if you have used different types of dumbbells then you know adjustable ones take the prize at saving space. You don't need a hoard of fixed dumbbells all over the place, this single set got you covered.
The ease of use is very remarkable as well since all it takes is a simple turn of a dial and you have the needed weight.
And then there are other cool advantages like the durable molding surrounding the metal plates for smooth, quieter workouts. Not forgetting, you are covered by a 2-year warranty on the weight plates as well as parts.
Cool, isn't it?
FLYBIRD Adjustable Dumbbell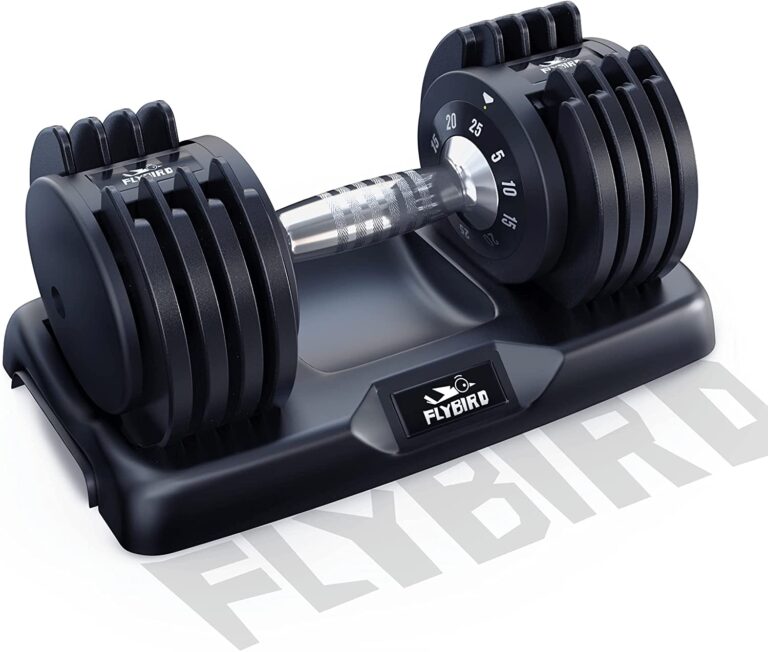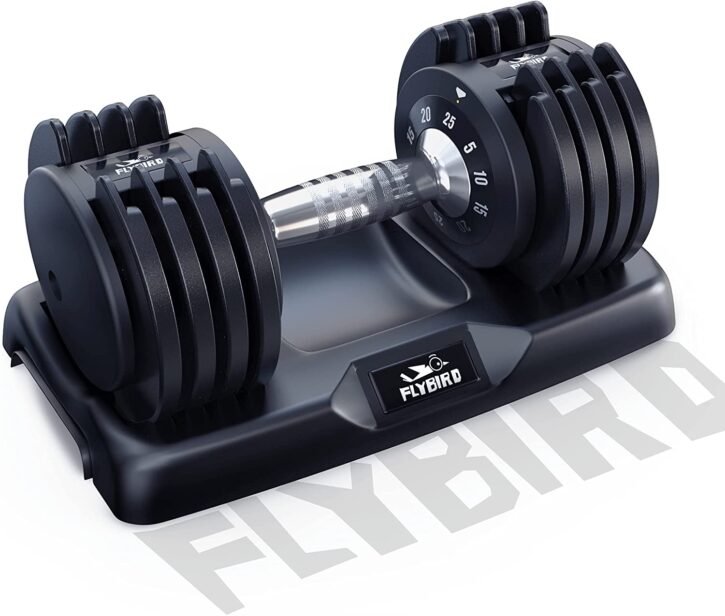 This FLYBIRD set is smaller than the Bowflex set above but still makes for yet a cool choice. This one too comes with a tuning handle that's easy to select the needed weight and leave the rest of the plates in the tray.
Also, each dumbbell is adjustable from a meager 5 pounds up to 25 pounds, of course, with several increment options in between.
As far as space efficiency, this set lives up to adjustable dumbbells' repute, saving on space by up to 80% as each one measures a measly 14.6" by 7.9" by 6.7."
One more thing, this set comes in a new structural design with a finer adjustment counterweight plate for faster, seamless changing of the weights. This also goes a long way in helping toggle between different exercises.
Final Word
Training on the move can be a tad harder than you might think. But the good thing is, it's very possible. With all the portable gym options I've listed here, and all the portable fitness equipment, you have every reason to keep fit on the go.
This post has virtually all the equipment you need to exercise your way to that ripped stature that you've been dreaming of.
Go ahead and get it on, folks!